The $10,000 Yard G2A Fest Ep 1 will be the first tournament to showcase reverse captain's draft, where players from both teams are selected will be voted in by the community as part of a showmatch. The tournament itself boasts Yard Festival's biggest prize pool yet, with the organisers moving away from charity events which they organised in the past to put forward a tournament to cater for the up and coming teams.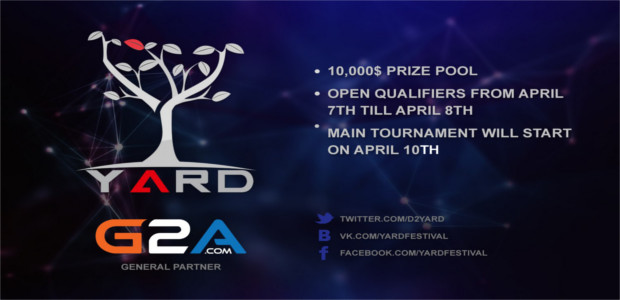 A slew of teams have been invited to participate in this tournament, including fan favorites
Burden United
,
STARK*
,
London Conspiracy*
and
The Balkan Bears*
. It will also be the first tournament for
4clover and lepricon and
MOLODOYA KOMANDA, who are stocked with a bunch of top CIS players, which includes former Navi player
Artur '
Goblak
' Kostenko,
Aleksey '
Solo
' Berezin and
Ivan '
Vanskor
' Skorokhod. For a full list of all the teams rosters, click
here
.
This will also be the first tournament to include reverse captain's draft, a gamemode whereas both teams draft a hero pool in which the opposition is force to play with. To promote viewer participation, both teams will be chosen by community vote, so be sure to vote for your favorite players.
A qualifier will be held on the 7th and 8th of April at 16:00 CET, with the winner joining the other 15 teams. The main tournament will be held from April 10th till the 30th.
Invited teams
Burden United
Basically Unknown*
STARK*
London Conspiracy*
FlipSid3 Tactics*
XPC.ro*
mYinsanity*
The Balkan Bears*
Vega Squadron *
GOOMBA Gaming*
Moscow Five*
ScaryFaceZZZ*
Power Rangers*
Mamas Boys*
MOLODAYA KOMANDA*