Day two of the Major All-stars LAN finals bore stark contrast to the first, as tournament organizers sought to make up for lost time in the wake of significant day one delays.
Team Empire, who were unable to finish their round one series versus
Team Redemption* yesterday, came out of the gate roaring, championing an undefeated streak that has led them to the winners' bracket final alongside
Invictus Gaming. However, as the European teams continued to dominate; it was the SEA teams that struggled, with not a single team from the host region making it to day three.



IG's new roster has been highly anticipated coming in to their first LAN event, and they did not disappoint, making quick work of both
Can't Say Wips* and
Ninjas in Pyjamas* to secure themselves a spot in the winners' bracket final. The Chinese squad opted for a relatively fast paced play style, utilizing superior laning presence to snowball early leads into convincing victories.

IG have yet to concede a game at the event, but their most formidable challenge is still ahead of them with Team Empire showing spectators that they are able to match their Chinese counterpart blow for blow, taking out both Redemption and
Natus Vincere 2-0 to earn their spot right alongside IG in the winners' bracket final. Empire owes their success to superb play from the likes of
Roman 'Resolut1on' Fominok and
Airat 'Silent' Gaziev, who have decimated every player who has stood in their way. Tomorrow's clash between IG and Empire will be a showing of what happens when two seemingly unstoppable forces collide.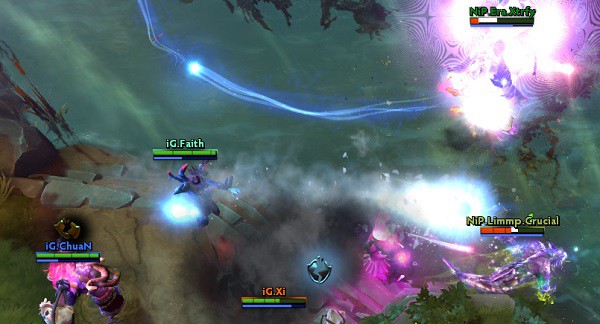 Look at it go! NIP struggle to deal with IG's teamfight





Southeast Asia struggle to keep up


It was a tough day for Southeast Asia, with all four of the regions attending rosters failing to overcome their respective opponents in the first round; relegating both the tournament's invited teams to a BO1 elimination match against their regional counterparts. The result was desperate success for Team redemption, who upset
Rave* with an impressive storm spirit played by
Kok 'ddz' Yi Liong, knocking the DAC veterans out of the tournament and showcasing that they were still a formidable opponent despite their troubled past. Joining Rave was Can't Say Wips, who lost their elimination match to
Invasion eSports* in a 70 minute long contest.


Unfortunately Jeyo's SF was not enough to keep Rave in the tournament


However — despite the momentary success of Redemption and Invasion — it wasn't long before Southeast Asia's hopes were dismantled, with Invasion becoming the latest casualty of
Adrian 'Era' Kryeziu's Shadowfiend and Team Redemption falling prey to
Alexander 'XBOCT' Dashkevich's Slark. Both matches continued a trend of 2-0 series' which have all but saved the tournament schedule, which was hampered by significant delays on day one.

Na'Vi and NIP are now veterans of the lower bracket and will have to face off against each other tomorrow for a spot on the podium. The winner of their showdown will then contest the loser of the highly anticipated match between Empire and IG for a shot at the grand prize.





Day 3 Standings







This article was written by
Matthew Elmas, joinDOTA's trial writer. Matthew has been an e-sports fan since 2008 and is currently undertaking the second year of his university studies as a journslism major. He also manages the Southeast asian team Can't Say Wips. Location: Melbourne, AustraliaFollow him on @Moxjoo.