Electrical surges have rendered the first day of the Major All-stars LAN finals nothing short of a disaster, with tournament administrators struggling to keep computers online amidst a tide of criticism and questions about whether or not they were prepared to host an international event.
Team Empire were left with nothing more than frustration when their first series versus
Team Redemption* was stalemated by internet outages and reports of computer fires, with on-site personalities showing that if nothing else - twitter was online.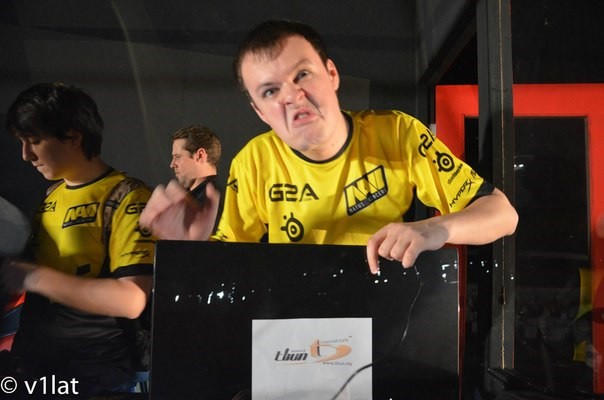 XBOCT looks less than impressed - Image courtesy of V1lat



Organizers had originally planned nine hours worth of games for day one, including two elimination matches and the winner's bracket semi-final; however it wasn't long before administrators were facing a number of major delays, with the first game taking more than five hours to conclude.

Major All-stars attributed the delays to an electrical surge, but independent sources on twitter reported experiencing unstable internet connections and a short-circuiting computer in
Natus Vincere's booth during their round one match with
Invasion eSports*.

"The biggest problem is the PCs. They don't use real PC's at the event at all. Players/casters have small remote clients," Starladder representative
Vitalii 'V1lat' Volochai said. V1at was particularly vocal on twitter throughout the day, criticising the administrators for the lacklustre nature of their infrastructure.

In light of these problems Beyondthesummit's onsite caster,
David 'Godz' Parker revealed that the tournament administrators have opted to postpone the majority of day one's matches, stipulating that they would instead be played tomorrow. Major All-stars have yet to comment on how these changes will affect day two's schedule, but observers are speculating that it may mean an increase in the amount of simultaneous matches taking place.



Zyori hopeful the second day will run better



"Don't think any live event camera shots or team video stuff on the twitch stream for today. Hopefully fixed tomorrow for @Majorallstars," Godz said, having spent day one observing various on-site performances and manning an unstable Beyondthesummit twitch stream.

Fortunately the event avoided a brush with the fire department, with our sources revealing that the alleged computer fire in Na'Vi's booth was nothing more than a computer short-circuiting; however this may have been the only redeeming factor for the tournament, who are now faced with the prospect of making up for more than six hours worth of games in the next two days.





Day 1 Standings







This article was written by
Matthew Elmas, joinDOTA's senior writer. Matthew has been an e-sports fan since 2008 and is currently undertaking the second year of his university studies as a journslism major. He also manages the Southeast asian team Can't Say Wips. Location: Melbourne, AustraliaFollow him on @Moxjoo.