As a result of the Canada Cup incident involving Union Gaming, joinDOTA and MLG have decided to take action in regards to their participation in our own competitions. Union Gaming will be disqualified from the inaugural season of the MLG Pro League effective immediately due to violation of tournament rules. Our statement as well as background into the decision can be found inside.







Therefore, we have decided that the evidence developed by Canada Cup is sufficient to prove that at least one Union Gaming player had a stream of the game in which he was participating open. While we cannot prove that the team has done this in a joinDOTA-sponsored league or tournament, we feel this violation of Canada Cup rules speaks against the sportsmanship of the Union Gaming players presently participating in the joinDOTA-MLG Pro League.

As a result, we have decided to disqualify Union Gaming from Season 1 of the joinDOTA MLG Pro League, meaning their record for the season will be 0-18, thus relegating them to the second division. Based upon its performance in Season 2, Union Gaming may therefore be able to again qualify for Division 1 in Season 3. To further protect against any unethical activities, we have further decided to prevent the five Union Gaming players from switching or acting as a stand-in for any another team playing in the joinDOTA-MLG Pro League before the end of Season 2. As for other tournaments hosted by joinDOTA, uG will be excluded for three months.

Recently, substantial allegations of unsportsmanlike conduct against the players of Union Gaming participating in the Canada Cup tournament have come to light. We have carefully reviewed both the evidence developed by Canada Cup, the decision reached by Canada Cup based upon this evidence, and Union Gaming's response. Tournament Rule 6.4 explicitly allows joinDOTA's tournament staff to punish violations of the rules of other tournaments.


Dennis "HolyMaster" Schumacher






The Background


Canada Cup hosted a semifinal match last night,
Union Gaming versus
Team Fire. While Union Gaming won the series 2-1 and advanced, substantial allegations of streamsniping were raised shortly after the victory. Eagle-eyed viewers quickly spotted an irregularity - a Union Gaming player alt-tabbed out of the game to watch what seemed to be a Dota 2 stream.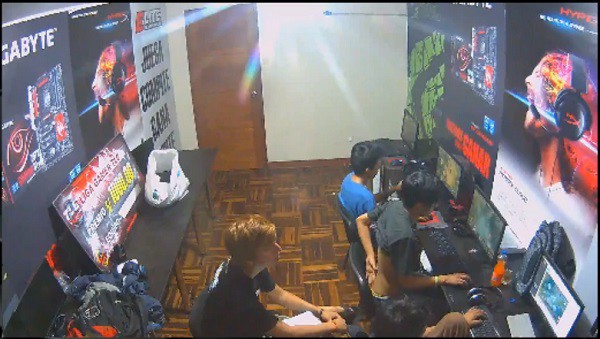 A stream is clearly visible on the screen of a Union Gaming player in the bottom-right corner



These revelations prompted Canada Cup to take a closer look, as it violates their rule 9.3 which states: "Players Prohibited from Watching Streams. Players playing within a game may not watch or listen to these streams at any time during their match." This then led to a decision announced today.


The Decision


Canada Cup has decided that:
1) The stream was of a Dota 2 game
2) Specifically, the stream was the Spanish-language broadcast of the game
3) This act was intentional
4) As a result, Union Gaming is:
- ejected from the present Canada Cup tournament
- not permitted entry into Canada Cup Season 4
- banned for six months from future Canada Cup tournaments


Canada Cup's Evidence


In its Reddit post, Canada Cup offers two primary pieces of evidence in support of its decision:

1) The following breakdown of the image seen by the Union Gaming player: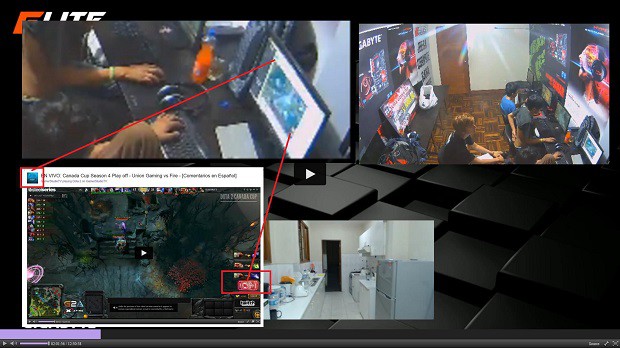 2) A rather thorough breakdown of the times in which Union Gaming's player was watching the stream and favorable in-game outcomes in close temporal proximity to the alleged stream sniping. Please see Canada Cup's statement on reddit for a more thorough breakdown of this point.


Union Gaming's reply to Canada Cup decision


Union Gaming replied to the decision earlier today on their Facebook page, challenging the sufficiency of the evidence relied upon by Canada Cup in rendering their decision. Union Gaming states the following:

1) The stream was not that of the game, but rather Arteezy's stream (Which Canada Cup claims is a lie)
2) The Spanish-language stream of the game had the required five-minute delay
3) The actions taken against them are the result of bias stemming from unethical and unsubstantiated distrust of the squad as it "mak(es) a breakthrough" into the competitive scene.}

*UPDATE*

Union Gaming have since issued another statement, appologizing for their actions:




- We'd like to apologize to the Canada Cup organizers and to all the organizers of the tournament for breaking any rule, for our mistakes and for not reading the rules.
- We'd like to apologize to all of the Dota 2 community for our actions, we will try our hardest so situations like this won't happen again.

It's time to understand that we are and up and coming team and that we have to be professional and have to realize that our actions might have consequences ( good or bad ).
For less than a month we have a Gaming House with cameras to show that we are transparent in our actions, we have new PC's so that we won't have any problems in-game and we have the best team possible.
And if we lose the chance to play in tournament we lose everything.

We have always been humble, we are a "ghetto" team that is looking to become the best.
Union Gaming asks the Dota community and tournament organizers for a second chance to show how talented we are and improve our selves and make our fans happy.


We are sending this declaration to all of the DOTA community (Organizers, players and spectators) and to all that can will read this document, we want to the say the following:

Translated by iamshockwave.



Edit: The following was removed after further investigation "It is disgraceful that a fellow Peruvian would make such an allegation against a Peruvian squad"