E-Sports in Malaysia has attracted the official recognition of the national government and are from now on under the aegis of the Sports Commission of Malaysia who operate as Esports Malaysia (eSM) This is a big step towards the global acceptance of E-Sports as being treated like any other popular sport.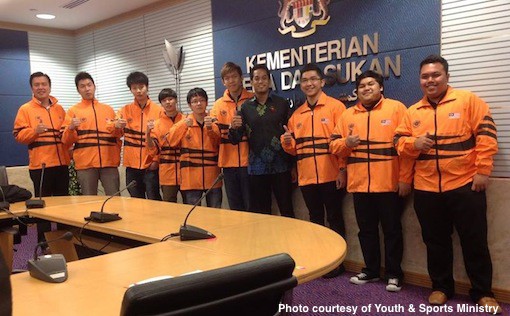 After
Team Orange's third place finish at The International 2013 esports began receiving serious public recognition within Malaysia, with Youth and Sports Minister of Malaysia, Khairy Jamaluddin taking an interest in the sport. Since then Malaysian esports have endured a turbulent period after revelations surfaced that
Arrow Gaming were involved in match fixing. In the wake of this crisis the government has stepped in, giving esports official recognition so that they can properly regulate and protect the interests of players, teams and the community in general.


ESM will be unveiled to the media at Dewan Perdana Felda on Wednesday, January 28th.

E-Sports Malaysia's official announcement:




We would like to invite all gamers in Malaysia to witness a historical moment for e-Sports in Malaysia where will be having the media launch for e-Sports Malaysia (eSM) at Dewan Perdana Felda this 28/1/2015 Wednesday 5pm-7pm.
eSM is a governing body for electronic sports in Malaysia and is a registered sports body under Malaysia Sports Commissioner. Our role is to spearhead and develop the e-Sports industry in Malaysia.
Details of the media launch is as follow:
Date: 28 January 2015 (Wednesday)
Time: 5pm - 6pm - Arrival
6pm - 7pm - Media Launch
Venue: Dewan Perdana FELDA, Kuala Lumpur

This will signal the start of e-Sports in Malaysia to truly become a national sport. Please invite as many gamers as you can to witness this historical event as it is FREE. Due to limited seating please RSVP through this link: http://goo.gl/forms/xN3ePCfCLZ
Come gamers, its time to rise, its time to shine and its time for e-Sports! Majulah sukan elektronik untuk semua! grin emoticon

Dear gamers in Malaysia,

The Malaysian government has made regulatory history with their effort, with this recognition being the first major step towards E-Sports becoming globally recognized. Hopefully, more countries will take Malaysia's example and follow suit.


This article was written by
Dimitris Kolovos, joinDOTA's writer.Dimitris has been a Dota enthusiast since the WC3 days. He's studying linguistics and loves Tolkien's works, Blind Guardian and Sports in generalLocation: Thessaloniki, GRFollow him on @DimitriosKolovo.