The StarLadder XI LAN finals start tommorrow and a combination of visa issues and a less top heavy online stage have ensured an intriguing list of competitors including DAC EU qualifiers winner
Hell Raisers. With the groupstage ditched in favour of playoffs for this season, the LAN finals this time around will definitely be different, but will they be memorable?

As at the end of 2014
Cloud 9,
Team Secret and
Evil Geniuses decided to pull out of the StarLadder and just yesterday Chinese qualifier winners were denied visas. The first StarSeries of 2015 isn't as stacked with big names as it could be, however, this has resulted in a composition of teams very close in skill, which includes all the European winners of the DAC qualifiers.

The formatThe format have been changed and unlike in previous seasons there will be no group stages. This time we will go straight into a double elimination bracket with all matches being played in a best of three format aside the grand finals which will be best of five. The bracket is as follows:


Schedule (in CET)

15th of January
09:00 - Empire vs FIRE
12:30 - HR vs NaVi
16:00 - VP.P vs MVP.P
19:30 - NiP vs PR

16th of January
09:00 - LB Round 1
12:30 - LB Round 1
16:00 - WB Semifinal
19:30 - WB Semifinal

17th of January
09:00 - LB Round 2
12:30 - LB Round 2
16:00 - LB Small Final
19:30 - WB Final

18th of January
13:00 - LB Final
17:00 - Grand Final, bo5, 1:0 for WB


HR with a standinProbably the most anticipated team in Kiev will unfortunately not play with their full lineup as HR announced on twitter that former Empire player
Alexei "Solo" Berezin will standin for
Dulat "goddam" Seidimomyn who "urgently left for Kazakhstan to obtain his CN VISA for DAC". The Russian team also made it clear that there are no roster changes and it's only for this tournament.

More visa drama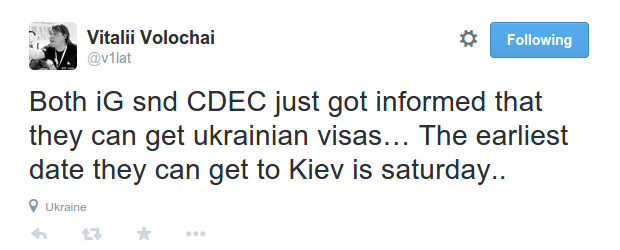 After the possibility of a last minute turn-around for
iG and
CDEC in their quest to obtain visas for the event looked impossible,
Navi and
Power Rangers were called in as replacements. Both Chinese teams did eventually find a way to attend the event, but could not arrive before Saturday. According to
Vitalii "v1lat" Volochai even if the tournament would be rescheduled for two days instead of four the Chinese would still be unable to participate. He summarised that "iG and CDEC lost a lot of time and a possibility to go to a LAN. SL lost 11000 usd on tickets and visa support."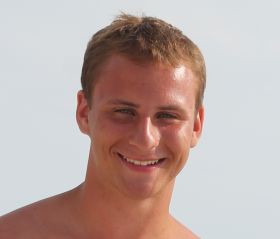 This article was written by
Jędrzej Smaruj, joinDOTA's writer.Proxy has gotten into eSports in late days of SC:BW, then he got absolutely consumed by SC2:WoL. After TI2 he started following Dota 2. If he isn't doing any Dota related stuff at the moment he is probably playing poker, watching cycling or trying to figure out IT for his university.Location: Gdańsk, PolandFollow him on @ProxyPL.