SK Gaming is one of the oldest names in electronic sports based in Germany and best-known for housing one of the renowned Dota teams. It will now be a memory since they have decided to release their Dota 2 squad.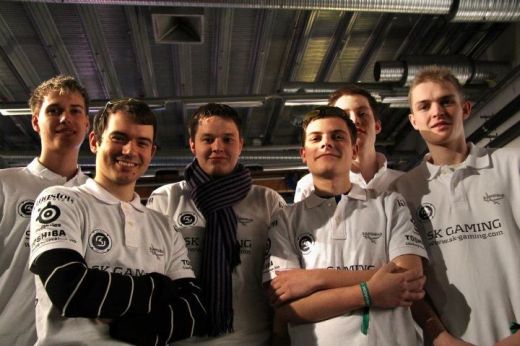 Formerly known as MonkeyBusiness, the team showed some solid performances and earned themselves a third place finish at Dreamhack Winter and placed first in the first edition of the BenQ Dota 2 Clash.

Statement from
Min-Sik [B]'reis'[/B] Ko's, Team Manager:

I first met the team at ESWC Paris and signed them before Dreamhack Winter. When both sites signed the contract we agreed on talking about better conditions in end of January 2012.Right now it is hard to see where dota2 is going and it is still in the beta version, so we couldn't find an agreement between both parties. I am very thankful for the effort that those guys put into the game for SK and hope that they will find a new organization which can fulfill their needs.



joinDOTA sat down with
Christoffer [B]'Ryze'[/b] Winther to discuss more about this issue.



[B]Firstly, it has just been made official on the SK Gaming website that they are dropping their DOTA 2 team, from a players perspective can you explain what lead to this decision?

[/B]

The SK organization is great and I'm sad to leave it. In the end with Dota 2 being beta, we currently have different views and goals.



[B]Where did the concept for your new name 'dd' come from?

[/B]

Haha, this is actually a funny story! I only want to share my own point of view and let everyone else figure out my teammates angles =D dd is ofcourse the famous dancer Dee Dee from Dexters Lab. Go to youtube and find some awesome ninja moves.



[B]Your current roster has been having alot of success recently, with the departure of the SK sponsor is this roster going to change as well?[/B]



Ofcourse not! We are very good friends and all play at a high level and fit each other well. We are here to stay for a long time. *winks*



[B]What is in the future for dd, tournament wise or sponsor?

[/b]

dd will participate in many online tournaments to keep active and for the practice it brings. We are all eager to attend LAN events and compete against the best teams in the best conditions. Sponsor? Yes, we are searching for a longterm sponsorship/organisation.

Considered as one of the best Dota 2 teams in the world, the danes will now be playing under 'dd' tag after losing their sponsor. However, the team has made it clear that they will continue playing together and is also actively searching for a sponsor.



[B]Current Roster[/B]




Martin [B]'AngeL'[/B] Olsen

Sylvester [B]'Link'[/b] Hoelgaard

Brian [B]'MaNia'[/b] Strandby

Mikkel [B]'miGGel'[/b] Berg

Christoffer Borregaard [B]'Ryze'[/b] Winther

Gaelle [B]'MystresS'[/B] Pavillon (Manager)