The 2014 MPGL Grand Finals has now concluded, with
Rave taking home the first place prize with their 3-1 victory over
Arcanys. They will take home the first place prize of approximately $17,600 USD, one of the largest prize pools to ever grace the Southeast Asian region. The entire tournament was a convincing show of Rave's ability, having only dropped one game to their opponent in the final BO5 series.



After some surprise schedule changes the final four contestants for the MPGL 2014 title were clear, first
Aces managed to overcome
Team Malaysia in a surprising victory, they then moved on to face Arcanys, who proved too strong for the Vietnamese squad, defeating them 2-0. With their convincing win Arcanys earned the right to face Rave in the Grand finals, a best of five series in which Rave would maintain a one game advantage for their earlier success.



Rave claim victory! The final series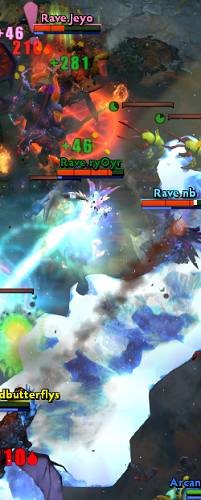 Arcanys found themselves on match point only half an hour into the series, after struggling to gain any momentum versus Rave in game one. Rave managed to utilize the same playstyle that has proved so dominant for them throughout the tournament; namely two aggressive cores complimented by a heavy farmer that can transition into the late game with ease. However Rave had no need for the late game in the first match, carrying out a multitude of successful rotations that saw them rocket to a 7000 thousand gold lead by the 22 minute mark. From there Arcanys could do little to stop the impending push, ultimately being forced to concede the first game, granting rave a 2-0 advantage.

It wasn't long into the second game before the casters were wondering if Rave would take the series in straight sets; however, even with their backs against the wall Arcanys managed to buckle down and begin to make a serious comeback; taking several advantageous fights that placed the momentum in their hands for the first time in the series. Their Templar Assassin proved pivotal in these engagements, drumming up multiple kills and using her farm to threaten Rave into a defensive stance. From there it was only a matter of time before Arcanys were poised to push Rave's base, in the end utilizing their Batrider to initiate one final fight that saw Rave GG out at the 43 minute mark. With their win Arcanys managed to force a game 3, keeping their tournament hopes alive and changing the series score to 2-1

Despite their game two victory Arcanys were still only one loss away from a second place finish coming into game three, and it wasn't long before Rave shot out to an early lead in the same manner they had done in the two previous games. They once again utilized a Gyrocopter pick played by
Jio "Jeyo" Madayag, taking advantage of their early game presence to pressure Arcanys in the laning stage. They then proceeded to take control of most of the map, including any farming space that Arcanys needed to mount a comeback, from there it was only a matter of farming up their cores sufficiently before a well timed base push put the nail in the coffin of Arcanys' finals hopes. They ended up forcing the GG call at the 36 minute mark, claiming the first place prize and roughly 17,600 thousand dollars in the process.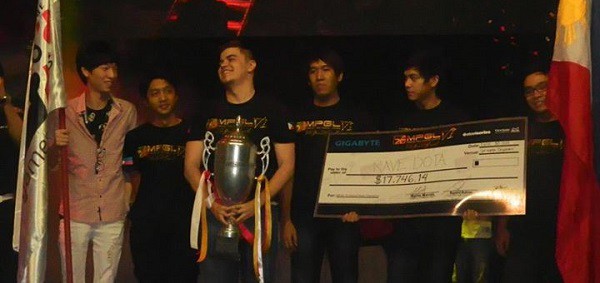 The MPGL 2014 Champions! - Image courtesy of
Mineski
Final Standings
1st place
2nd place
3rd place
Rave
Arcanys
Aces
$17,666.79 USD
$7,361.16 USD
$4,416.70 USD

This article was written by
Matthew Elmas, joinDOTA's Writer. Matthew has been an e-sports fan since 2008 and is currently undertaking the second year of his university studies; majoring in journalism. He also manages the Southeast asian team Can't Say Wips. Location: Melbourne, AustraliaFollow him on @Moxjoo.