The third and final phase of the DreamLeague Season2 ended moments ago, with Evil Geniuses taking first place and $40,000. The grand finals opened with promise as Evil Geniuses draft of Sven, Dazzle and Zeus was a crowd pleaser, and aside from a flash of resistance after C9 won game 3, EG could not be stopped.



Both Cloud9 and Evil Geniuses finished Phase with 10 wins and 4 losses, giving them an advantage going into the third and final phase. Whilst EG comfortably disposed of VP.Polar and VP without breaking much of a sweat, Cloud9 were victims to the formidable form that VP have shown in the competition. The Russian team knocked Cloud9 down to the lower-bracket in the first round of Phase #2, and then were whiskers away from a 3-0 victory in the LB Final, were it not for an incredible comeback by C9 to go from 0-2 down to win 3-2.

After the gruelling bo5 with VP, Cloud9 went almost straight into the Grand Finals versus Evil Geniuses, with the EG captain saying in an interview at the start of the competition that Cloud9 often choke in high stake matches versus them. Would it be a case of deja vu?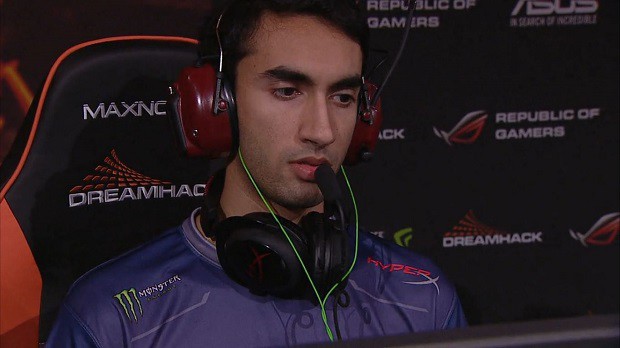 Universe's Sven in game one had a field day



The drafting phase of game one of the Grand Finals didn't reveal many surprises, save for a core Zeus pickup from EG. C9 smartly ban out as much aoe CC as they can to keep Envy's TB from being locked down in teamfights - Tidehunter, Enigma and Magnus are all banned out in hopes of diminishing EG's teamfight prospects. C9 round out a 4-protect-1 lineup around the Terrorblade. EG picks up another core Lycan for Arteezy and Sven for Universe.

Universe started the game off with a first blood on the Elder Titan after grabbing a haste rune - and the lanes got worse from there for C9 as the shuffling put them far behind. By 20 minutes - Fear, Universe and Arteezy were the top farmers in the game. Things looked bleak for C9 but a few well-executed ganks and teamfights in the mid game put them in a fighting-chance position. EE climbed the net worth to 2nd place and some swift Sunder usage kept C9 in the game.

However, just as things started to look good for Cloud9, EG won a huge fight on the back of a megafarmed support Zai ogre magi - sporting Bots, blink force and aghs by 40 minutes. After a smoke gank by EG to pick off FATA-'s puck and Aui_2000's Elder - they pushed into the final barracks on top lane and finished the game at 51 minutes. EG's ability to constantly take Roshan and stay on top of map control was too much and C9 was unable to make their comeback happen.

In the second game EG also got a considerable lead early in the game, as Cloud9's Zeus and Lion struggle to find the space to get the levels they needed. Their dual lane top was a disaster zone and EG outfarmed them. Zai became the 5th core and quickly wiped any hopes for C9, with Fear and Universe pivotal in creating the necessary space for their team.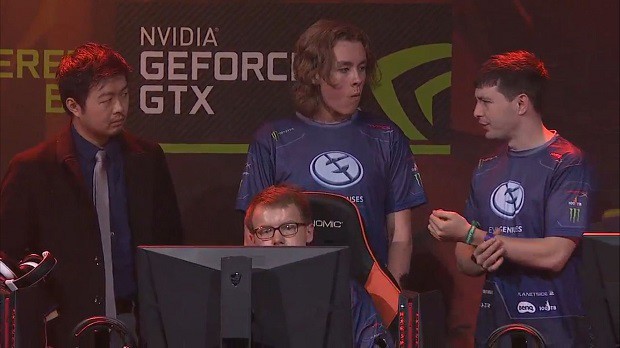 The third game was a completely different story. Both teams started off with standard picks, but C9 shifted gears into push with the powerful Necrophos/Wisp combination. EG rounded out their draft with classic core pickups Slark, Death Prophet and Elder Titan. C9 finally found the lanes they wanted with the Necrophos/Wisp going bottom against an Elder Titan/Naga lane. Bone7 found an easy matchup in top lane vs Fear on Slark. FATA- lined up in mid on Brewmaster vs. Arteezy's Death Prophet. Pieliedie scored first blood with a bottled DD on Zai's Naga. Bottom lane was torn open for C9 after another kill on Zai and they took down EG's tier 1 tower before 7 minutes.

C9 continued to gain their lead as their farmed Timbersaw and Necrophos proved to be too strong for EG to contest as they lost most of their towers. C9 knocked on EG's door at middle at only 20 minutes after securing an aegis. The slow Jakiro siege proved too much as EG lost their middle tier3 tower. Any attempts at pickoffs were shut down by some quick savior relocates from Pieliedie's Io. Envy's consistent Reaper kills with Aghanims left EG without any buybacks, forcing them to defend without their entire team alive - and after the 10 minute siege EG called the game at 35 minutes, which kept C9's hopes alive.

By game four, over 120,000 people were watching the ENglish stream on Twitch. Game four saw Arteezy on TerrorBlade, a hero that Eternal Envy played thrice, in their last two series. A nice first blood on Pieliedie by EG helped Universe get space on bottom lane to get a ten minute blink dagger on his Tide Hunter. An 11-minute Roshan attempt by EG was foiled by Cloud9, and Arteezy's TerrorBlade fell, but it was of minor significance. EG's roamer gave the space for their three cores of Terror Blade, Venomancer and Tide Hunter, to take hold of the game from 20 minutes on and did not let go. 3-1 was the final score in a gripping series, with game one the clear highlight.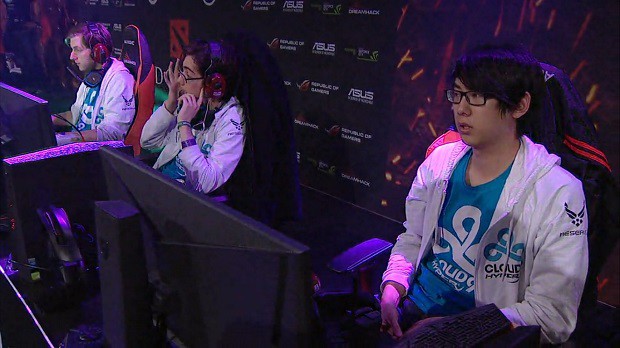 Final Standings

1.
Team EG - $40,000 + ticket sales
2.
Cloud9 - $25,000 + ticket sales
3.
VP - $15,000 + ticket sales
4.
VP.Polar - $10,000 + ticket sales
5.
Tinker - $6,500 + ticket sales
6.
4ASC - $3,500 + ticket sales