Rave and
Team Malaysia emerged victorious from the second day of competition. Malaysia managed to survive the bubble bracket and then defeat execration 2-0 in the final match of the day. Whereas Rave proved too strong for Aces, defeating them 2-0 to secure their place in tomorrow's clash versus TM to determine the first Grand Finalist.

Rave off to the Semi Finals! The winners bracket commences


The first winners bracket clash of the day between Rave and
Aces set the tone for an exciting series, going for just over an hour and featuring an amazing comeback from Rave, who seemed to be all but defeated in the first game until some brilliant team fight play and base defence saw them turn the match around,
Djardel "Chrissy" Mampusti's void was particularly instrumental in the comeback, landing some key cronospheres that left Aces decimated, forcing them to ultimately concede game one.

Rave opted for the same Void and Ember Spirit combination in Game 2, but this time they didn't need to comeback, taking an early advantage that gradually increased throughout the game to amounts of over 20,000 gold. Aces attempted to counter the strategy with a silencer pick; however Rave were able to bait out convenient silences on multiple occasions, taking team fights after the spell had finished.

Using this strategy Rave were able to take three decisive team fights, all of which resulted in the Vietnamese squad giving up considerable amounts of map control. From there Rave continued to apply pressure, farming aggressively to extend their lead and prepare for a base push.They were eventually able to take a fight near Aces' base at the 37 minute mark, leading to a team wipe and two lanes of raxes, effectively ending any hopes Aces had at coming back into the game.

With their win Rave have positioned themselves nicely with a spot in the semi-finals tomorrow reserved for them. Aces will now face the winner of the bubble race in the loser's bracket later today to determine their MPGL future.




Arcanys to join Rave in the Semi Finals!


The second series of the day saw
Execration take on
Arcanys to determine the second semi-finalist. Execration hit the ground running in the first game, opting for an unorthodox Axe pick which clearly caught Arcanys off guard, racking up a kill score of 15 to 1 in the short 27 minute game.
Earlwin "Ewe" Libre's Axe was however not alone in his efforts, with both Execration supports being present for most of his kills.

Game two turned out to be far more competitive than the first game, with both teams trading kills and farm for a considerable period; however throughout this time it was MightySaviour's Medusa who was coming out ahead, maintaining a considerable net worth advantage over Execration's cores. This advantage then translated into map dominance for Arcanys who were determined to take the series to a game three, they utilized their farmed Medusa to pressure the map, giving execration no recourse but to attempt to take a fight. Arcanys ultimately came out ahead in the clash and managed to secure the game at the 50 minute mark.

The deciding game came down to the wire, with Execration getting off to an early lead that was quickly recouped by Arcanys after a decisive team fight followed by some fortunate rotations. They then managed to extend their advantage to well over 10,000 gold; however Execration proved that they were still able to compete for the game three victory, winning some fights to begin to bring the game back into their favour; however it was ultimately too late as Arcanys' Phantom Assassin had already farmed her core items, overcoming Execration's viper carry to claim a 52 minute victory and move on in the winners bracket.

Arcanys' victory over Execration has secured their place alongside Rave at the top end of the tournament going into day three. Aces and Execration on the other hand have been subjected to playing off versus the winners of the bubble bracket.



It wasn't clear who would come out ahead in the final game until the very end.





Loser Bracket A winner Team Malaysia take on Execration!


After their successful run in the losers bracket Team Malaysia stood poised to take on Execration, who had just dropped a series to Arcanys; however they found themselves struggling in the first game, with execration taking an early lead in the clash, utilizing a Templar assassin pick to pressure Malaysia's Medusa. Despite their initial difficulties TM did manage to find their feet eventually, and off the back of some solid play from
Lee "kYxY" Kong Yangon's Death prophet they turned the game back into their favour and closed out the match in just under an hour, taking a 1-0 advantage in the series.

The second game in the series followed the same trend as the first, turning into a back and forth hour long clash with KYXY once again proving dominant, this time on void. However not to be outdone Execration managed to take several key team fights that kept them maintain a gold advantage for the majority of the game. This was, in the end, not enough though as TM proved that the graphs aren't necessarily indicative of fighting strength, taking a pivotal fight at the 50 minute mark that proved too much for Execration to come back from. With their 2-0 win over Execration Team Malaysia have advanced to a matchup with Rave tomorrow to determine the first Grand finalist.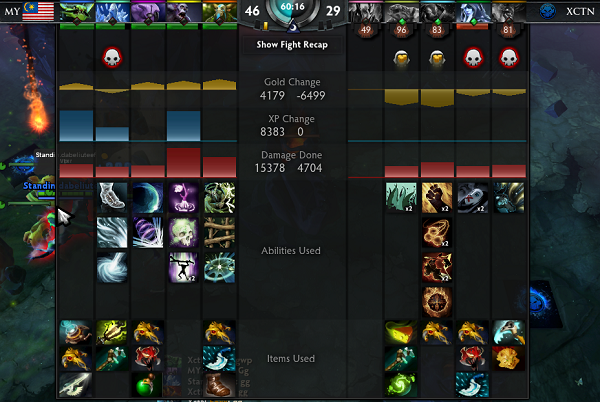 The final teamfight of the match resulted in a massive gold swing





Day 2 Standings



[swap=>>>View the winners BracketView losers bracket AView losers bracket B