Just a couple of hours ago Bruno Carlucci tweeted that the Asian contestants for the upcoming DreamLeague playoffs,
LGD and
invictusGaming, got their visas denied and won't be able to participate. *UPDATE*
MVP.Phoenix and
Alliance will be the teams taking their place.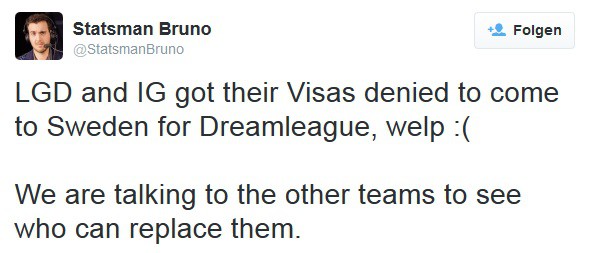 @StatsmanBruno 04:37 - 14. Nov. 2014
iG saw their visas to Sweden denied due to not submitting the required documents to the visa administration:



The required documents for a Schengen visa with purpose to visit Sweden for two competitive events were submitted. However, the information is not in original and some required documents are missing [...] Your intention to leave the territory of the Member States before the expiry of the visa could not be ascertained.


Sweden's Visa Administration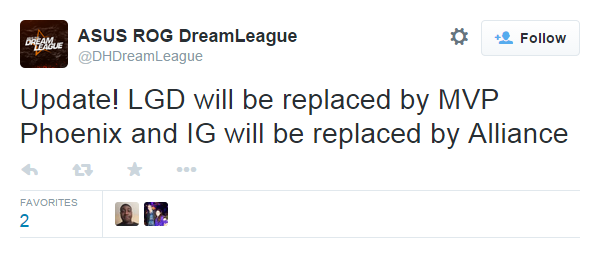 @DHDreamLeague 21:48 - 14. Nov. 2014




UPDATE: Alliance and MVP replace Chinese teams
Luckily, DreamLeague have quickly found replacements for the two Chinese teams, as
MVP Phoenix takes the place of
LGD in the playoffs, defending DreamLeague Champions,
Alliance, who missed out on qualifying replace iG. Alliance recently withdrew from the D2L stating roster issues, so it will be interesting to see who will play for them next week.


This article was written by
Markus Fischer, joinDOTA's Senior Writer. Vekus started to follow Dota rather late, as he joined the community in 2012. From then on he tried to get a job in Esports and found it later at joinDOTA. Reallife is mostly spend at university trying to understand physics and running. Avid wearer of Bandanas.Location: Chemnitz, GermanyFollow him on @VekusDota.