Team Malaysia has defeated
Inter Active Philippines 2-1 to claim the second Southeast Asian qualification for the upcoming Synergy League playoff stage, they will now join
Invasion at the Russian LAN later this month. Once there they will compete with the likes of
Vici Gaming and
Newbee for over $50,000 dollars. Furthermore their qualification nearly rounds out the LAN line-up, with only one more European placement available.



The final series of the Southeast Asian Synergy League qualifiers was a showdown between Team Malaysia and Inter Active Philippines, with both teams fighting for a chance to join Invasion in Russia at the end of this month. Despite the recent departure of
Joel "XtiNcT" Zhan, Team Malaysia were off to convincing start, opting for a well rounded team fight line-up that saw them trade fights and towers with IAP for the duration of the 44 minute game. In the end, even though the game was a back and forth affair,
Chai "Mushi" Yee Fung managed to farm up on Void, ending any hopes that IAP had of taking game one.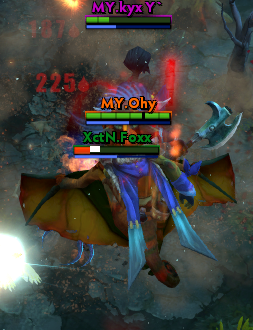 TM pressure every lane



Determined to keep their Synergy League hopes alive, Inter Active Philippines drafted a heavily aggressive line up in game two. Aided by a weaver pick that quickly got out of control the Filipino squad rushed over Malaysia's tri-core in the early game, leaving them with no recourse but to wait for IAP to give them an opportunity to come back. Fortunately for them they managed to take two pivotal team fights that left the casters wondering if the series would be a 2-0 sweep after all. However IAP were quick to put those sentiments to rest, barrelling down TM's base and forcing out a 40 minute GG call, tying the series at 1-1


The final game of the series saw Malaysia draft a Storm Spirit, with Mushi securing some early kills to kick off the TM snowball. From there it was clear that Malaysia's game plan was aggression, pressuring all of IAP's lanes and lengthening their lead as they headed into the mid game. IAP managed to hold out for a considerable period; however TM had already escalated their gold lead to 20 thousand by the 30 minute mark. IAP put up a valiant defence, but Mushi was miles ahead, turning a four man gank into a triple kill to stifle any hopes IAP had at taking the final game.





Team Malaysia opted for a superb teamfight lineup in game one



The LAN finals will take place in Novosibirsk, Russia from November 28-30 and with the addition of Team Malaysia seven teams have now qualified, including both TI4 finalists Vici Gaming and Newbee. Unlike the Southeast Asian and Chinese divisions four teams will qualify from Europe, which has thus far seen the likes of
Team Empire and
HellRaisers qualify. The final team to secure their ticket to the LAN will be the winner of a BO3 series between
VP.Polar and
Denial.eu. They will all compete for $50,000, an amount which will increase as more in-game tickets are sold. You can support Synergy League by buying the in-game ticket, allowing access to the Dota.TV coverage of the event.



[swap=>>>View final bracket