An official apology finally came out of the Arrow Gaming camp which claims that the Arrow Gaming manager Jaren faked the evidence that was posted on Reddit last night. *UPDATE* 2P has published that the Arrow players were threatened with fines following match-fixing, whilst team manager Jaren claims he was "merely trying to defend them."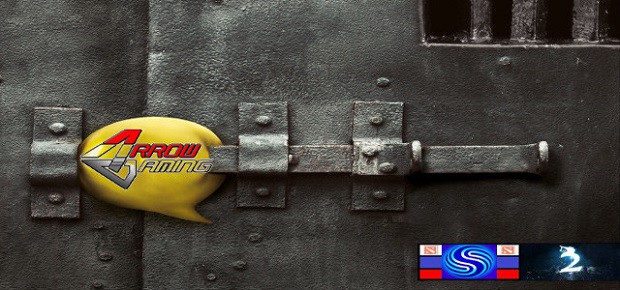 The apology came in the form of a Facebook post on DDZ's page. "We, the 5 members of Arrow Gaming as well as XiaoTing and Hishiko (DDZ and Lance's girlfriends), would like to sincerely apologize to the organizers, Synergy League and BeyondTheSummit, and to our fans as well as the Dota 2 community for all the trouble we have caused. (...) We want to admit that the 322 by DDZ and Lance is true, and we are very sorry for this mistake."

The post explains that the players acted out of fear after results of their match fixing were discovered. " We approached our management for help and we were advised to cover up for the sake of our reputation."



The post on DDZ's Facebook page.

Read full post



The motive given for the match-fixing was economical. " We considered doing it in the first place because we were desperate for money. We live in the city, and being underpaid, things are just very tough and harsh on us sometimes. We are very very sorry for this action and we should have never done it. It was an extremely stupid mistake, and we made it worse by doing something we knew was wrong instead of admitting it straight away."

However, the apology may come too little too late given the Reddit thread entitled "I AM DDZ, I am NOT 322", which presented "evidence" that the players were in fact innocent. The integrity of the screenshots in the thread were questionable, with several conflicts in terms of the timing of the screenshots and the fact that they looked like they had been tampered with. In the post the blame is placed primarily on the manager Jaren, as they "felt extremely pressured to follow" him.

"The statement, as well as the 'evidence' provided, that was made in DDZ's name, was not written by him, but by Jaren for damage control. We know this is wrong and it made things even worse by covering up a mistake with lies. We should not have let it happen."

"We are also very sorry that we were too stupid to realize how unethical it was… we are sorry for everything that we have done. We have betrayed our fans' trust and faith in us, and we will never forgive ourselves. We hope that you can forgive us even after all we've done."


It has been a rollercoaster of emotions for Arrow Gaming, with several posts appearing on various outlets of the organisation but later being deleted. The DDZ "evidence" followed just over 24 hours after the incident but seems now to have been a farce. However, there may yet be another twist to the tale given this apology was posted on DDZ's Facebook page, we can not be entirely certain it was done with the 100% approval of all the parties involved. Stay tuned, we have a feeling this is not over yet.

*UPDATE* #1: The saga continues on 2P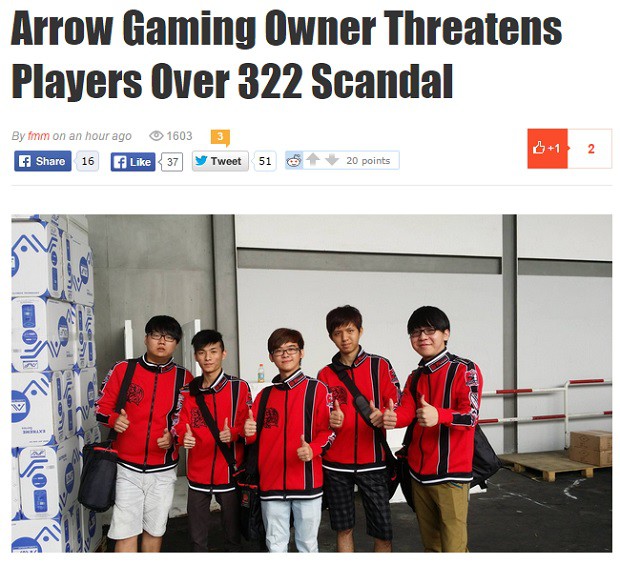 2P have published an extension of the story, which paints a negative picture of manager Jaren. "When the match fixing was made known to the public Jaren insisted that the players cover up the incident or face paying a very large fine. This penalty is written into their contracts if they leave the team or in regards to any other breach of contract." You can read the full article here.

*UPDATE* #2: Lance and DDZ contracts terminated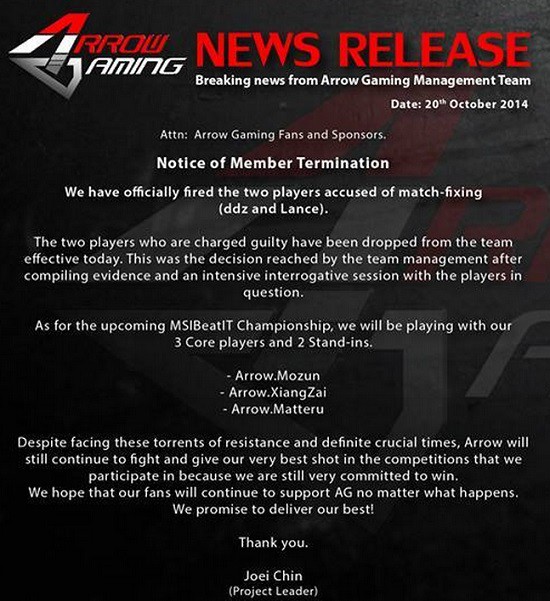 Official post, also includes an official

letter

.



Arrow Gaming has now ended the contracts of Lance and DDZ stating their "actions constitute serious misconduct". An official post is also attached to the Arrow Gaming Facebook post.




"To be honest right now I am feeling extremely livid and flabbergasted. The AG boys and I, we stay together in the same condominium and I take care of them like brothers. Since they are younger than me, I treat them like my little brothers. I am extremely disappointed. I have sacrificed a lot to form this team and to manage them; most of the times at the expense of neglecting my gf and my loved ones and even my personal well-being and now this false accusation is thrown in my direction instead.

When the rumours of the match-fixing first cropped up, I chose to trust my boys. After all, we have been together through thick and thin and I am always there for their tournaments. I always want them to be on their best form when playing but that's not to the extent of cheating. I want their true talents and skills to be honed instead.

I was merely trying to defend them after they kept insisting that they are not wrong. The 2 girlfriends kept providing me with evidence to back-up their claims proving that they are innocent in this case. Although there were inconsistencies in their evidence, I tried my very best to make a defence for them on that reddit post because I believed what they convinced me to.

I did ask them repeatedly and gave them a choice, whether to apologize publicly or defend their case. Lance and ddz agreed to defend their case claiming they have good evidence from their gf claiming they are not involved in match-fixing. Then, the next day, it turned out worse. Everyone was messaging me asking me what's next. After consulting the management from the higher-ups, we decided to fire the players. The players were then told about this. They were quite disappointed with the decision.

Next thing, ddz's gf used his facebook to make false claims (underpaid & pressured by me to cover-up for the real issue). I think they are unsatisfied with the decision and tried to drag the organisation along with them to downfall even when I had tried my best to help them to defend their case. That's all from me."

Statement from the Manager:


Team Manager Jaren's statement



This article was written by
Lawrence Phillips, joinDOTA's Editor-in-Chief.Malystryx has been in eSports since 2004 working as eSports Editor for Razer and Editor-in-Chief of SK Gaming in the past. He misses the days of Warcraft3 but makes do with the world of DOTA 2.Location: Bristol, UKFollow him on @MalystryxGDS.