SEA organization Mineski recently released the results of their investigation into a match-rigging scheme, which ended in eight players resigning from their teams and admitting they were involved in match fixing for the sum of approximately $900. *UPDATE* We now have translations of the apology statements issued by Joven "jvn" Pancho and Carlo "Chin/ShenRui" Rivera.



The basic scheme Mineski discovered is simple enough to understand and hearkens back to similar schemes in other sports - the players involved intentionally drafted poorly in matches where bets had been placed against them on DOTA2Lounge, essentially throwing the game for money. In two of three matches where the draft was intentionally made worse, participating players lost, and received a payout.

The Mineski organization responded quickly to these allegations, conducting a very thorough investigation of the alleged scheme. Mineski's investigation revealed that the scheme is deeply-entrenched, extending to members of
MSIEvoGT as well as the main Mineski squad.

Eight players have confessed to their role in the scheme and resigned from their teams while offering apologies to the SEA scene according to the Mineski website:



Richard "Paseo" Minowa (Mineski)

Mark Anthony "Jacko" Soriano (Mineski)

Joven "jvn" Pancho (Mineski)

Patrick "JyC" Pascua (MSIEvoGT)

Denver "yNd" Miranda (MSIEvoGT)

Mark "Byb" Gavin (MSIEvoGT)

Carlo "Chin/ShenRui" Rivera (MSIEvoGT)

Jo "Jotan" Tan (MSIEvoGT)




*UPDATE*: Translation of player apologies

Thanks to Xairylle, here are translations for the apology statements issued by JVn and Chin:





Our management gave us a lot of support, but what we gave them was humiliation. That is why I am deeply asking for everyone's forgiveness. I am willing to face what punishment I deserve. I no longer have what it takes to face you, but I only wish that you forgive me. I know that I'm not a bad person. I am just a human being capable of making mistakes. Perhaps this is a big lesson to all of us. Please don't follow our example.

I am Joven Pancho of Gigabyte Mineski. I admit that I was involved in the match fixing incident. I cooperated with it because I was blinded by money and that time, I was desperate for funds. Because of that, my judgment was clouded and I didn't realize what was going to happen after that. That's why I did that. I am so ashamed of what I did especially because there are people who are striving to find ways to improve eSports in the Philippines.


Joven "jvn" Pancho - Mineski





I am MsiEvoGT.Shenrui.TRIC. I admit that I sold the match against Mineski. I would like to ask for forgiveness for our mistakes. We were bribed and blinded by money from Vallejos. Because of my misbehavior, I am asking for forgiveness from everyone that got dragged into the issue, the people who supported us... They got dragged into this. Sorry. And because of that, I will be leaving MsiEvoGT. Sorry and thanks to our sponsors. We failed to reach your expectations. We regret everything we did and if given a chance to make it right, we will do everything we can to prove that we have changed. Thanks to MSI and to TRIC because of the big help they've given us. Sorry to all the fans. What we did was wrong, but to Pinoys out there, please don't get tired of supporting PH Dota. What we did was an example that you should not follow. I hope you can forgive us. Good luck to all current and upcoming Pinoy teams.


Carlo "Chin/ShenRui" Rivera - MsiEvoGT



Such schemes are, unfortunately, not uncommon in esports, having occurred in StarCraft BW and even in our own DOTA 2 with last year's allegations against
Aleksey "Solo" Berezin. As the result of a similar match-fixing scheme, Solo was banned from StarLadder for life, a ban that has since been rescinded for the popular player.

Mineski has not yet revealed if a similar punishment is on the way for the six players, but having been unceremoniously fired by one of the Phillippines' biggest esports organizations, it remains to be seen if the players will ever be able to secure positions on other teams in their native land.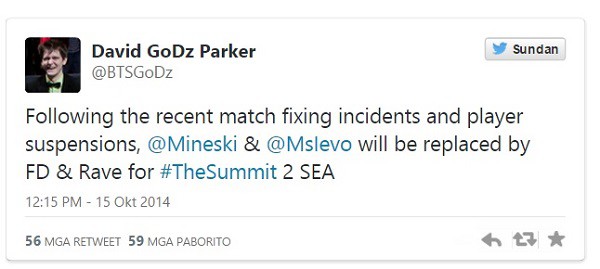 Following the discovery of the match-fixing scandal, Mineski and MSIEVoGT - who were both invited to participate, lost their place in the Summit2 organised by BeyondTheSummit. The two teams have been replaced by
First Departure and
Rave.

What do you think should happen to these eight players? Tell us in the comments below!

This article was written by
Matt Chesser, a joinDOTA Writer. Matt secretly enjoys having this question mark to the left, as it lets him pretend to be the Riddler. More seriously, he would like to express his admiration to Mineski for their handling of this matter and express his regret that it was necessary. Florida, United States