The i-League LAN finals have barely started and both
Power Rangers and
Virtus.Pro are forced to abandon their objective. The latter stumbled upon
TongFu OB in the first quarter final, followed by a ruthless victory from
Rave against Shachlo and his Belarusian friends.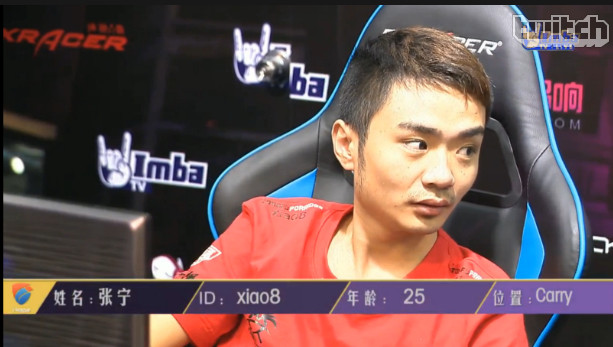 xiao8 temporarily returns to the scene to replace YYF



After both European squads qualified for this amazing event through the Western qualifier, many fans expected alot more from their idols. The elimination of
Team Tinker during these qualifiers came as a shock, and now there is noone left in i-League to fill the void while the Asian line-ups continue to display their dominance.

Tomorrow, The International Champion
Newbee enters the battlefield. Noone less than
Invictus Gaming will be waiting for them, ready to strike. If Newbee manages to defeat them, they will face the winner of the last quarter final between
Vici Gaming and
LGD.CDEC before a possible encounter between TongFu OB with xiao8 and Newbee can take place.





Veterans bounce back after game one


Level 1 Roshan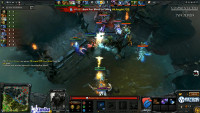 With their enormous physical damage, Virtus.Pro started off the series with a Roshan attempt before the creeps spawned. Despite TongFu OB scouting them out and collecting a favourable trade as they lost 2 allies for 3 enemies, Virtus.Pro came out on top in game 1.Virtus.Pro drafted very strong in the first game as they borrowed
Cloud 9's Drow-Visage combination which rendered the Old Boys speechless - literally. Despite a few magnificent Burrow Strikes from LongDD, the veterans were unable to overcome VP's pushing power. With Drow Ranger's Precision Aura boosting three familiars and the global presence of Nature's Prophet, Bane and Mirana, Virtus.Pro breached Team OB's base after 35 minutes.

For the second game, xiao8 and his allies changed their structure with DD leaving his offlane to LongDD while picking up the support role himself. This decision proved successful as DD eliminated God's Meepo in almost every fight with his version of Sand King. Despite the early skirmishes favouring Virtus.Pro, they were forced to concede the second game after Meepo got caught out several times in a row.

In the deciding game three, xiao8 pulled out his surprise card with a Necrophos offlane. At first, Zhou got absolutely demolished in his lane, dying 2 times while the game had barely started. But once he started gaining more experience, he began to exterminate the members of VP. With his powerful heals and strong ultimate he sustained his allies through VP's engagements. While xiao8 racked up kills on his Viper, TongFu OB pushed their advantage and they brought down Virtus.Pro a second time, winning this quarter final despite some brilliant Disruptions from Yol who saved his teammates from Reaper's Scythe multiple times.



Power Rangers mocked by Rave


Blink Lycan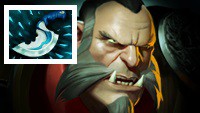 A rather unnecessary purchase highlights the second game of the second series as Jeyo picked up a Blink Dagger on his wolf. Considering Rave's huge advantage in this game, he poured even more salt into PR's open wound. Being an extremely fast and dangerous wolf was not enough for him as he added the popular item to his Skull Basher and Black King Bar.The next match featured a clash between the relatively new Korean squad Rave and legend killers Power Rangers. In the first game, Rave surprised the Belarusians with a core Jakiro that burned through both their heroes and towers. In a game that took only 25 minutes, Rave rampaged though PR's line-up, which consisted of Dire Lycan and the Wisp-Gyrocopter combination, while only giving up 1 kill to Power Rangers as Witch Doctor took one for the team. Cast on the doctor and ninjaboogie's Vengeful Spirit were the glue that kept Rave's structure together in game 1.

Power Rangers tried to fight back in the second encounter but they failed to disturb Rave's momentum. With a Lycan on Jeyo and the same support duo as in game 1, Rave quickly ended the reign of Moon's Wraith King. Clockwerk, Enigma and Razor were unable to repulse the wolf while his team made short work of PR's lifepoints. After 24 minutes and a few unimportant seconds, Power Rangers called the "GG" while Rave's Lycan chewed through their towers. Moon's decision to buy a Hand of Midas despite losing battles left and right came around to bite them in the ass.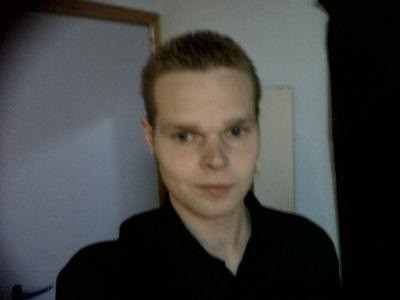 This article was written by
Tom Laeremans, joinDOTA's Writer. Tom finally made his way to Dota last year after two years of "training" in LoL. In his spare time after college, he spends most of his time behind the computer outside his football addiction.Location: Testelt, BelgiumFollow him on @Morantyx.