The GameShow event at DreamHack Moscow ended with Goblak's NVMI finishing first and claiming $20,000 in prize money. It was Goblak's second 1st place on LAN, and the Ukranian was not afraid to break the mould when it came to drafting. However, the grand finals left the commentators and the viewers lost for words. #TPGaming.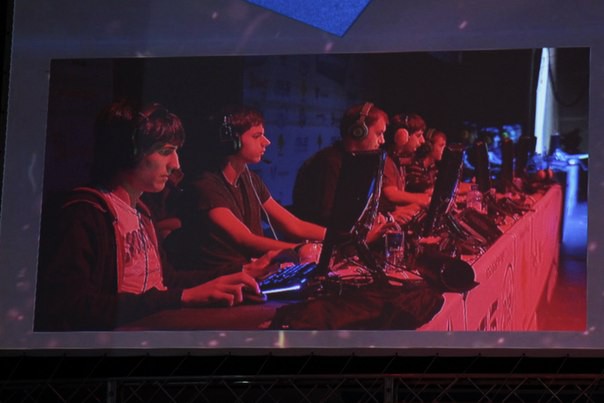 NVMI on stage - Image courtesy of

Dreamhack Moscow



The event is a giant triumph for Goblak and NVMI, who only formed a month ago, and who a fortnight ago replaced afoninje with the infamous
Scandal. For Goblak, who was ironically Na'Vi's coach for TI4 over the summer, this is his only his second ever victory at a major LAN event, with his previous and only 1st place finish at Techlabs Cup as a stand-in for Na'Vi*. (Thanks ShindoHikaru)

NVMI impressed throughout the competition - aside from a bumpy groupstage, coming back from their 0-1 defeat to VP in the groupstage to then eliminate the Russian team in the playoffs with a 2-1 victory. Goblak living up to his reputation of not being afraid to mix it up when it comes to drafting, with Drow Ranger, Slark and Omniknight all getting play time in their run through the GameShow DOTA 2 League.

Following visa issues for Team Tinker the GameShow event turned out to be a CIS-only event, with
Empire,
Moscow5,
HellRaisers and
Virtus Pro the other four participants. However, it was the two Ukranian organisations, NVMI and Na'Vi who made it the grand finals. The competition attracted a large crowd of eSports fans as well as over 100,000 following the English and Russian live streams.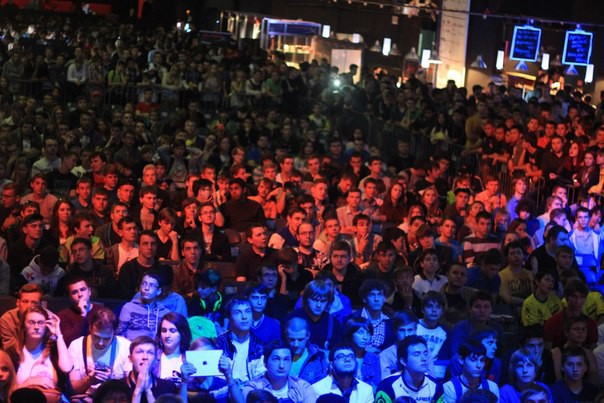 Fans at the Moscow Cyber Arena - Image courtesy of

Dreamhack Moscow



However, despite it being the Grand Final of a professional competition, the final games were scrappy and perhaps not befitting of such a momentous occasion, in particular the second game where Na'Vi were all over the place. "This game feels so clowny," said co-commentator H4nn1 during game two, "the funny part for me is, I haven't watched a game in a long time where halfway in a team fight they tp out." The teleports out were so frequent it sparked a spam of "TP GAMING" from Twitch chat.



After feasibly throwing away a good lead in the first game to concede, Na'Vi went all in in the second, opting for Enchantress, Undying and Venomancer, taking down all tier1 towers of NVMI by the 8 minutes mark. However, they quickly ran out of steam and with Dendi looking out of sorts on the Lycanthrope, the game left many viewers baffled by what they were witnessing.

Commmentator H4nn1 questioned the heroes for Na'Vi, mentioning that the nature of the hero picked for Dendi was not well suited to him. "Dendi doesn't want to be a hero that doesn't care what's happening in the game, just pushing," said H4nn1 during the cast. "He wants to join the team he wants to join the push, this is not his style." Meanwhile, XBOCT's choice to give himself the Razor did not turn out well with the veteran finishing the game with 3-13 as emotions ran high. "I understand he's frustrated because he doesn't have bkb, but I don't think suicide is going to help."



LD was at times speechless in the Grand Finals



As much as this was a great showcase for NVMI as a new CIS-superpower and rightly so, it was also glowing evidence of how far Na'Vi still have to go to replicate the success of the glory days. The logical and calculated approach of Puppey was sorely missed in this particular finals. This will be a day Goblak and NVMI will never forget, but for Na'Vi a finals they may hope nobody will remember, as their performance did not really do justice to the progress they've been making recently.

Final Standings
1.
NVMI - $20,000
2.
Na'Vi - $10,000
3-4.
VP - $7,000
3-4.
Empire - $7,000

--


** Thanks to ShindoHikaru for pointing out GoBlak's 1st place at TechLabs Cup in 2013




This article was written by
Lawrence Phillips, joinDOTA's Editor-in-Chief.Malystryx has been in eSports since 2004 working as eSports Editor for Razer and Editor-in-Chief of SK Gaming in the past. He misses the days of Warcraft3 but makes do with the world of DOTA 2. After taking a 3-month hiatus as Editor-in-Chief he is now back.Location: Bristol, UKFollow him on @MalystryxGDS.