Team DK rises from the ashes with the help of B-God and an all new roster which includes the prominent Cty, along with some familiar faces and new talent. Questions were being asked when Team DK was listed as a participating team in ECL, it seems those questions have now been answered. Team DK has been reborn, but not as you expected. Many were surprised to see
DK on the list of teams competing in the Chinese ECL. Having recently lost all of their star-studded lineup, with
Burning and
Lanm retiring,
MMY! and
iceiceice moving on to
LGD and
VG respectively and
Mushi returning home, their participation was nothing short of mysterious. However, this mystery was quickly resolved, when this morning, DK's new team was revealed on Twitter.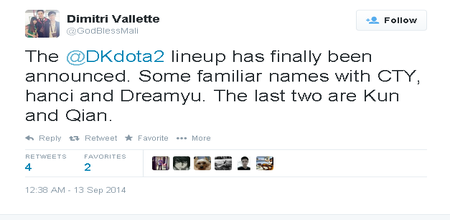 The self-proclaimed Chinese expert revealed the roster
Cty, who is regarded as one of the best individual players on the scene and has played for teams such as
Vici Gaming and
Rising Stars is joined by two familiar faces as well as two newcomers in hopes of resurrecting the DK name.
Hanci, who has previously been a part of
For.Love and
CNB.cn along with
DreamyU (previously seen competing for
Dream Time ) will look to bring their experience and guide the team's collective talent to glory. The roster is rounded off by
Kun and
Qian. Last, but not least, this hopeful team will be coached by Dota and DK veteran,
BurNIng. The extent of his role is currently unknown, seeing as how he has also announced he would like to try his hand at casting.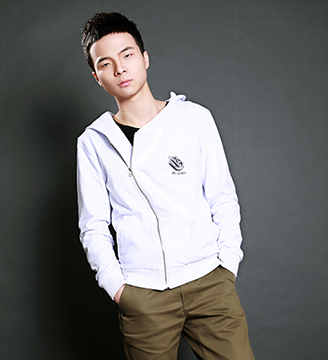 Cty during his stint with Vici Gaming



The freshly formed DK roster is only competing in ECL at the moment and will also compete in I-League in the near future. Many will surely follow the tracks of the former G-League champion and hope to see their rise to the stars once again.


DK's new roster
Chen "Cty" Tianyu

Huang "Hanci" Hanci

Xue Zhuo "DreamyU" Rui

Long Xu "Kun" Kun

Li Wen "Qian" Yao

Xu "BurNIng" Zhilei (Coach)



Click here to view team DK's database profile



Sources:
DK's Weibo
Dimitri 'Mali' Vallette's Twitter