In addition to the fuss surrounding invites and visas prior to the WEC LAN Finals, the tournament itself has delivered its own fair share of surprises, the biggest that not a single Chinese team has made it to the Grand Final of the $167,490 competition. Newbee and VG have both been slain, and now only Team EG and Cloud9 are left standing.

Despite recently losing SingSing and replacing him with
FATA, Cloud9 have made their way to the Grand Finals of the WEC through the upper bracket. Their biggest challenge in reaching the Grand Finals was having to go through TI4 finalist Vici Gaming, who already disposed of Newbee 2-1 in the previous round.

Following the WB Final match versus VG EternalEnvy said in an interview by Skim from GosuGamers that "I don't feel too much during the tournament, unless you play like a really hard, difficult game, but the last two games we played were kinda like, easy-ish, so you don't really feel that happy when you win those games."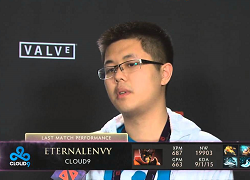 Ahead of the game however, EternalEnvy was far from composed, sharing the lead up to the WB Finals. "Before the games, Iceiceice, we both have different rooms to practice - you can switch though, but like we're there and they're there. I was practicing for like three hours because I came really early, and no one was there, "said EternalEnvy in the recent interview.

"Then like the fourth hour I started thinking about picks, writing them down, and iceiceice was standing right behind me. He actually looked at my picks for like a good minute before I realised anything, so I was like, "Oh, we're actually fucked."

EternalEnvy later explained how the rest of his team arrived later than expected. "And when they came they had like diarrhea and everything, and I was stressed out, so I actually lied on the floor and was listening to music on max and I was like "Fuck this!" for like ten minutes. I was relaxed after that, but I thought we were gonna lose." However, they did not, and despite the matches being "easy-ish" according to EternalEnvy, their performances were well deserving of a place in the Grand Finals.

The other grand finalist Team EG came up from the lower bracket after a 2-0 defeat to VG in the first round, where the team broke their usual mold by picking a support Tusk and a farming Jakiro. Arteezy however, put their loss down to mistakes in game.

Team EG's drafts versus VG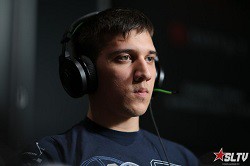 Arteezy shared his thoughts - (StarLadder)

"We played like a Inhouse together, we talked about the drafting together and thought those are good picks, but it turned out those strategies were not that good and it ended pretty poorly," said Arteezy in an interview on 2P.com. "But aside from the draft, it is more about the mistakes we made in game, the draft was not clear to other people, but it was not the main issue for why we lost the game."

Team EG may have lost the battle but they are one match away from winning the war after making their way all the way through the lower bracket defeating both TI4 Finalists
Newbee and
VG as well as the new
Na'Vi.

It is quite a turn of events for Team EG, given that only two months ago they missed out on a TI4 Grand Finals with stand-in
Mason after losing to Newbee and VG, but yet have beaten both those teams 2-0 to reach the Grand Finals of the WEC with
Fear back in the team.

"If you compare EG now with TI, I think we are pretty different because we have Fear now, so we are exploring the heroes instead of picking Panda safelane the whole time," said Arteezy, "like we can do Panda mid now, and all different stuff. So that's why you can see different heroes in EG picks."

When asked about Cloud9's recent "new meta" involving Warlock and Nature's Prophet, Arteezy gave his stamp of approval on using Warlock and also made clear that C9's strategy has been well practised on the training ground. "I've always tried to tell my team that Warlock was a very strong hero, but they played a support Warlock, so that's weird," Arteezy told 2P.com. "When we played against them (c9) in scrims practice, they picked Warlock and we called it a pretty good strategy. The western teams like EG, C9 talked about strategies together a lot, they thought support Warlock is very good, so they tried it and it worked well."

When Secret and Tinker were forced to tap out after visa issues and VG filled the empty slot, it looked as if the Western teams would be in for a rough ride, but who could have envisioned a Grand Final without a single Chinese team? Be sure to tune into the WEC Grand Finals between Cloud9 and Team EG tommorrow at 10:30 CEST broadcast live on joinDOTA Red to see the ultimate champion.


This article was written by
Lawrence Phillips, joinDOTA's Editor-in-Chief.Malystryx has been in eSports since 2004 working as eSports Editor for Razer and Editor-in-Chief of SK Gaming in the past He misses the days of Warcraft3 but makes do with the world of DOTA 2. After taking a 3-month hiatus as Editor-in-Chief he is now back.Location: Bristol, UKFollow him on @MalystryxGDS.

Who will win the Grand Finals?