Just moments ago
Evil Geniuses announced the long-awaited return of a Dota veteran
Clinton "Fear" Loomis into active duty as the fifth member of the roster. Many had already put one and one together as
EG parted ways with Mason almost a month ago, but we now finally have the confirmation on the matter.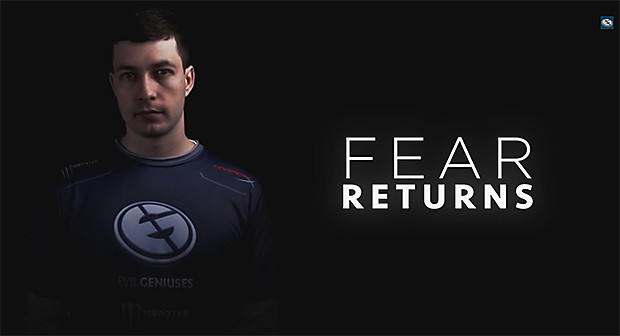 Image courtesy of Evil Geniuses.



Back in early 2014 Fear was forced to take an extended hiatus from the team as he was suffering from an arm injury and
Mason "mason" Venne was brought in to take his place in the competitions that followed. Fear remained an active part of team
EG as their coach and always showed eagerness to step back into the fray as soon as his arm had fully healed. Now
Evil Geniuses have officially announced the return of a Dota legend we've all grown fond of. Fear will round up the new (old) five-man roster of team
Evil Geniuses, which will test its strength in the Megafon Battle Arena in just two days' time.



Evil Geniuses Roster


Clinton "Fear" Loomis

Artour "Arteezy" Babaev

Saahil "UNiVeRsE" Arora

Ludwig "zai" Wåhlberg

Peter "ppd" Dager






This article was written by
Teemu Ikonen, joinDOTA's Senior Writer. Meliora.Infinitum got absorbed into Dota during a LAN party between TI and TI2, and has been captivated ever since. Spends his spare time outdoors taking photos and writing a book. Believer of alternate universes, no legs strat and Half Life 3. Location: Espoo, FinlandFollow him on @MelioraInf.