With The International 2014 kicking into full gear today, we are rounding out the last team previews for your viewing pleasure. This time around we take a look at one of the most revered Chinese multigaming organizations
LGD Gaming and their Dota 2 squad, which has lot to prove in this year's International.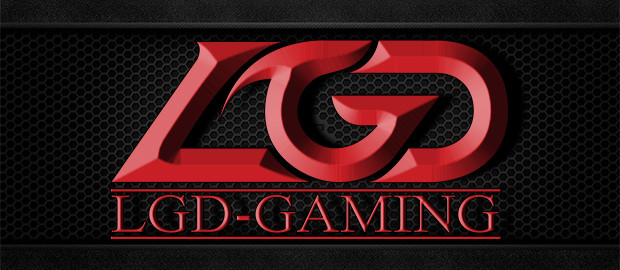 History


The Chinese multi-gaming organization
LGD took its first steps in DotA in early 2010, by sponsoring a Chinese superstar team,
For The Dream. Led by the infamous
Wu '2009' Sheng alongside
Gong 'ZSMJ' Jian, the team had already made a name for themselves by taking the first place at SMM Grand National DotA Tournament in late 2009. Just a few months later the dynamic duo and three new recruits formed their very own team under LGD banner. The very first team that consisted of 2009, ZSMJ,
Xing Gao 'Gx' Shun,
Jiang 'YYF' Cen &
Zeng 'WAQT (Faith)' Hongda quickly became one of the most notable teams in China. In 2010 they won multiple different tournaments, such as G-League not once or twice, but thrice and placing high in many others, like WCG and Intel Extreme Masters.

It wasn't all sunshine and rainbows though, despite their amazing run in early 2010. The team was plagued by internal problems that only multiplied as they started to dip in form towards the end of the year. When 2009 decided to retire from competitive gaming in July 2010,
LGD lost a part of its heart and soul, and was no longer the same force to be reckoned with. Although they ended the year on the high note, placing second in the SMM Grand National DotA Tournament, the real upswing for the team was seen after
Wong 'Chuan' Hock Chuan, the Malaysian star player, joined the team in January 2011, during the Great Chinese Reshuffle. They went on to win the Starswar 6 & G-League 2011 Season 1, while finishing strong in many other tournaments, and were ultimately invited by Valve to join the very first International. The joy was short-lived, as their hopes to get into International under LGD banner were shattered, when
Invictus Gaming made a move which took away 4 of LGD's core players, leaving them unable to participate in the event.

While
LGD quickly build up a new team around the last remaining player ZSMJ, his retirement in November 2011 put a lot of stress on the team, but eventually the issue was solved by the addition of
Liu 'Sylar' Jiajun from
World Elite. Having found their groove the team stuck together through thick and thin all the way to the aftermath of The International 2012, which was also one of the first major events they participated after transitioning from DotA to Dota 2 in early 2012. Before the biggest spectacle of the year they had won Gigabyte Dota 2 Masters & It's Gosu Monthly Madness Asia, showing that they were truly on form going into TI2. The International 2012 was a huge success for LGD as they went 14-0 in the group stages, only to be beaten by
Na'Vi and
iG in the playoffs, ultimately snatching an impressive third place finish and $150,000 worth of prize money.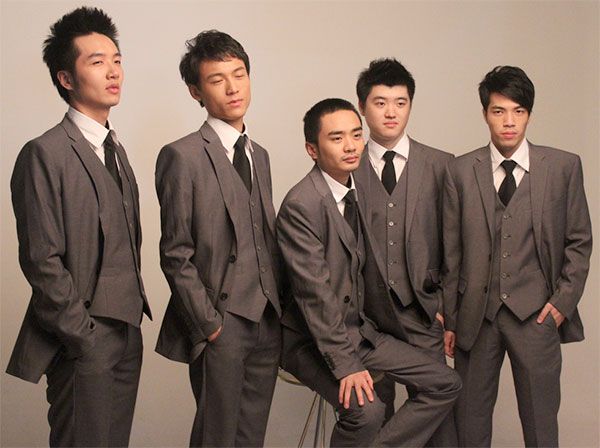 LGD looking dapper in their prime. Image by Sgamer.



While the main
LGD squad continued to perform admirably, placing in the top three in almost every single major tournament in late 2012, the organization had also made an acquisition and formed an international lineup consisting of well-known players Pajkatt, Brax, MiSeRy, 1437 and God. While the endeavors of the international squad did not last for very long, they had a quite successful run placing second in the G-League 2012 Season 2 and doing well early on. Their brother team on the other hand placed second in the Alienware Cup 2013 Season 1 and first in the Red Bull Esports Champion League 2013, and looked to be a strong contender for the International 2013, to which they were invited to before losing the direct invite due to roster changes. While they were able to make their way through the qualifiers to the main event, they were sorely disappointed after being eliminated by
Team Liquid just two rounds into the playoffs.

The abysmal performance prompted heavy changes in the
LGD roster after the International 2013. Sylar was the first to leave the team, while the rest of the players were still tied up by their contracts to the team. With
Zhang 'Rabbit (Xiaotuji)' Wang filling the void left by Sylar, LGD was still able to perform rather well, placing third in the Sina Cup Season 2, finishing first in the Dota 2 League Season 4 and ending up on the third podium in G League 2013. However, rumors tied the LGD superstar
Zhang 'xiao8' Ning to the new and upcoming dream team, and in February 2014 it all came to pass as Xiao8 left LGD for
Newbee and the pubstar Yao 'Maybe' Lu was brought to his place.

With the late addition of
Peng 'Icy' Weng in March 2014, Maybe was given a chance to build his own team under the
LGD banner, which eventually got the name
LGD.CDEC. Icy however, had troubles of fitting into the main roster and was quickly replaced by
Xu 'Lin' Ziyang in April 2014, still staying as the official sixth member of the squad. While LGD has not had all that much time to practice with their rather new lineup, they are coming to this year's International as one of the dark horses. It's unlikely that their squad will last beyond TI if the results aren't superb, but for the first time in a long while they have found a relatively solid group of players that can make things happen, even on a larger scale. Time will tell what will be the next step for one most revered Dota 2 organizations of all time, but for now all eyes are on the International.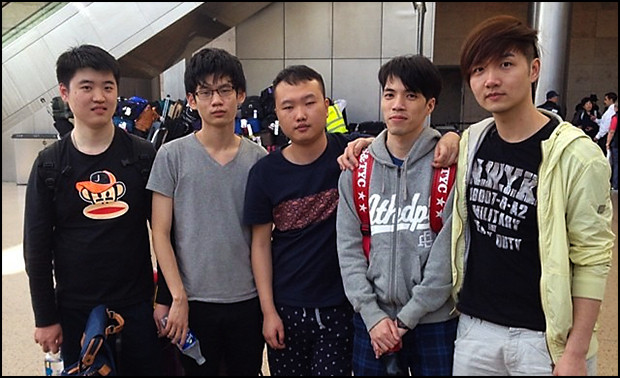 LGD arrives in Seattle for The International 2014. Image by Valve.
Rosterchanges





2010



January 20 - LGD forms their own DotA squad around 2009 and ZSMJ, after briefly sponsoring For The Dream, who won the SMM 2009; the new team consist of: 2009, ZSMJ, GX, YYF & WAQT (Faith).

March 1 - ch is brought in as a new player after WAQT (Faith) leaves for iG.

July 28 - 2009 retires from DotA and BeNz is brought in to fill the void.

October 30 - 830 joins LGD as GX is let go from the team.




2011



January 20 - BeNz leaves LGD for DK's new team.

January 25 - Chuan rounds up the LGD's five.

August 2 - iG rips apart the promising team snatching four of LGD's players to their new team. Only ZSMJ is left in LGD.

August 25 - LGD announces their new team: xiao8, ZSMJ, Yao, DD & DDC.

November 18 - ZSMJ retires; LGD is left searching for replacement.

November 20 - Sylar joins LGD from WE, making LGD a full 5-man roster again.




2013



April 11 - LongDD replaces DD who's been sidelined by surgery.

May 7 - DD returns to the team and LongDD is let go.

August 17 - Sylar is no longer part of LGD.

September 7 - Rabbit (Xiaotuji) moves to LGD to replace Sylar.




2014



February 19 - Maybe replaces the team captain Xiao8 in LGD.

March 17 - Icy is brought in to replace Maybe, who's given an opportunity to create his own team under LGD banner.

April 11 - LGD adds Lin to their roster making it a six-man squad; Icy is benched for the time being.



Achievements



DotA
1st Place - U9 (2010)
1st Place - G-League 2010 Season 1 (2010)
2nd Place - World Cyber Games China (2010)
3rd Place - Intel Extreme Masters (2010)
1st Place - G-League 2010 Season 2 (2010)
2nd Place - MYM Prime Defending #12 (2010)
3rd Place - TopGamer (2010)
2nd Place - SMM Grand National DotA Tournament (2010)
1st Place - G-League 2010 Season 4 (2010)
1st Place - Lunar New Year Cup (2011)
3rd Place - Asian DotA Championship IV (2011)
3rd Place - i-City Pro DotA Tournament (2011)
3rd Place - DotA Master Tournament (2011)
2nd Place - VS E-sports League (2011)
1st Place - CREG-M (2011)
1st Place - Starswar 6 (2011)
1st Place - G-League 2011 Season 1 (2011)
2nd Place - E-Sports Champions League Season 2 (2011)
3rd Place - PLU Dota League Season 1 (2011)
3rd Place - Wuxi International eSports Champions Cup (2011)
1st Place - GIGABYTE RTS Xmas Fight (2011)
1st Place - Hao Fang Golden League (2011)
1st Place - China Joy National Esports Championship (2011)
3rd Place - E-Sports Champions League Finals (2011)
2nd Place - PCGames League (2012)
2nd Place - G-League 2011 Season 3 (2012)
3rd Place - World Gamemaster Tournament (2012)
3rd Place - G-1 Champions League Season 3 (2012)
1st Place - Nvidia Gaming Festival 2012 (2012)

Dota 2
1st Place - Gigabyte Dota 2 Masters (2012) - $3,000
2nd Place - It's Gosu Monthly Madness Asia (2012) - $500
3rd Place - The International #2 (2012) - $150,000
1st Place - G-1 Champions League Season 4 (2012) - $28,500
1st Place - The Asia (2012) - $15,000
3rd Place - G League 2012 (2012) - $1,600
2nd Place - G-1 Champions League Season 5 (2013) - ~$12,800
1st Place - TI 3 EAST Qualifier (2013) - TI 3 Invite
3rd Place - Dota 2 Super League (2013) - ~$16,220
2nd Place - Alienware Cup 2013 Season 1 (2013) - $12,000
1st Place - Red Bull Esports Champion League (2013) - ~$16,000
3rd Place - Sina Cup (2013) - ~$490
1st Place - GEST - The Challenge 4 (2013) - $1,000
1st Place - National Electronic Sports Tournament 2013 (2013) - $16,500
2nd Place - Sina Cup Season 2 (2013) - ~$1,640
1st Place - HyperX Dota 2 League Season 4 (2013) - $25,000
3rd Place - G-League 2013 (2013) - ~$1,600


Gameplay and Strategies


Boasting one of the most versatile set of players in China,
LGD has the ability to change things around when it comes to laning and who plays what hero, which gives them an distinctive advantage over their opponents. Especially Lin and Rabbit have been seen switching things around, with Lin sometimes taking on the carry role in the safelane, while Rabbit occupies the midlane. LGD does not lack variety, but thats partly due to the fact that they are still trying to find their style of play. If they can click together properly and find that perfect medium, they can potentially go far in this years' International.


LGD's up and down performance has left a lot of questions going into The International 2014, but it won't be long now until most of them are answered. The key thing for them is to keep the balance between experimentalism and traditional picks, and work with what they know how to play. With many pocket strategies undoubtedly coming into play in this years' International, the team that can adapt the best on the fly will go the furthest, and this is what LGD most certainly can do.


Players




DD

(Captain)

Xie Bin


Signature Heroes: :d2_sk: :d2_sd: :d2_chen: :d2_rubick:

Player Position: 4 - Semisupport

The 24-year-old veteran
Xie 'DD' Bin saw his professional career first become reality as he joined
Dream alongside Yao 'Yao' Zhengzheng &
Zhang 'xiao8' Ning in 2010. A year later he was recruited by
LGD Gaming and has been part of the team ever since. He's won numerous tournaments as a part of the LGD brand and looks to strike again in this year's International.

DD started his career by playing various semi-carries, but later transitioned to support role alongside DDC. He specializes on heavy gankers and jungle heroes, initiating aggression and making space where it's needed. As a captain of the team he has huge role in making sure the flow of the game always keeps going
LGD's way, and he does that by being where he needs to be at any given time. He's unselfish and meticulous in his play, which makes him a support to look out for




Yao
Yao Zhengzheng


Signature Heroes: :d2_panda: :d2_invoker: :d2_cw: :d2_wr:

Player Position: 3 - Offlane

Similarly to DD, the 24-year-old
Yao 'Yao' Zhengzheng (formerly known as XiaoD) began his career in gaming in 2010, when joined the Chinese team
Dream. In early 2011 he took a hiatus from gaming due to his school obligations, but later returned in
Nirvana.cn before moving on to
LGD Gaming in August 2011. During his short stint in Nirvana.cn, Yao played a more support oriented role, oftentimes taking reigns on a heavy ganker. Later under the LGD banner, he took over the mid role, excelling with heroes such as Invoker, DK & Brew, but after the International 2012 Xiao8 took over the mid role and Yao rotated to the offlane positions, which he still plays this very day. Occasionally though he still returns to his beloved mid role with Invoker or Brewmaster.

Yao is a versatile player who can take on almost any role required. He excels in a high pressure situations and was considered as one of the most talented mid players during The International 2012. His experience and game sense make him a valuable player for
LGD going into this year's International.



Rabbit (Xiaotuji)
Wang Zhang


Signature Heroes: :d2_weaver: :d2_naix:

Player Position: 1 - Carry

The 20-year-old Wang 'Rabbit (Xiaotuji)' Zhang is a part of the second generation of Chinese Dota players. He started his career 2012 in
Lord of Host, but only a month later joined
Noah's Ark, which he was part of for a couple of months. Rabbit dropped off the radar for a while only to rise again to the stars with
RisingStars in early 2013. He made a name for himself, with his brilliant performance in multiple different tournaments, including the third place finish in Red Bull ECL Dota 2 Championship in July 2013. In September 2013, Rabbit joined
LGD to fill the void that Sylar had left after the miserable success at International 2013. With Rabbit rounding out the LGD's five their performance skyrocketed and LGD was once again on form going into the new year.

Rabbit is a carry with a capital C, excelling on battle-type carries such as Lifestealer & Weaver taking the fight to the enemy, while still maintaining a respectable creep score. For the longest of time he was mainly playing just two carries, the formerly mentioned Lifestealer and Weaver, but he's been diversifying his hero pool as of late. His ability to perform at the highest level is one the key factors for LGD and their success at the International 2014.




Lin
Xu Ziyang


Signature Heroes: :d2_invoker: :d2_viper:

Player Position: 2 - Midlaner


Xu 'Lin' Ziyang is an extremely talented mid player and the second generation Chinese Dota player. Only 18 years of age, he started his professional career by joining
RattleSnake in late 2013, later moving to
LGD Gaming after a brief hiatus from gaming. He took over as a full time mid player, but still occasionally switches roles with Rabbit. He's been playing multiple different heroes on the midlane with varying efficiency, but his two most common heroes, and the ones he's most comfortable with, are Invoker and Viper.



DDC
Liang Faming


Signature Heroes: :d2_visage: :d2_rubick: :d2_lesh: :d2_es:

Player Position: 5 - Hardsupport


Liang 'DDC' Faming is one of the longest standing players of
LGD. After his early endeavors in
CCM (later acquired by
iG), with whom he also attended the first ever International in 2011, he was recruited to
LGD Gaming alongside Xiao8, Yao & DD. With LGD he's won numerous different tournaments and placed high in many others, proving that he's one of the most stable supports in the world.

DDC is able adapt to any situation and take on next to any role, which makes him one of the more versatile supports in the world. He's a team player at heart, excelling in creating space, while still finding the room the get some farm for himself. Together with DD they make a terrifying duo that synergizes together like a well-oiled machine. He's oftentimes the babysitter of the crew, but at the end it's as important role as any.


Predictions for The International


The new and improved
LGD Gaming squad has been struggling a lot on their way to the biggest tournament of the year, and their shaky form is not to be overlooked. Once, arguably the best team in the world, has gone through many changes and not all of them have clicked in a way they would have wanted. Taking all of this into consideration, we are fairly certain that LGD won't make it to the top eight.

Even at their best LGD Gaming has struggled to beat the four giants of China (
NewBee,
DK,
VG &
iG), and with many of the Western teams being able to challenge the China's elite, it's unlikely that LGD will reach all that far in this year's International. There's always the slim chance that they will pull of a miracle or two, but most likely they will fall somewhere between 10th and 14th place.


How far do you think LGD will go in this year's International?






This article was written by
Teemu Ikonen, joinDOTA's Senior Writer. Meliora.Infinitum got absorbed into Dota during a LAN party between TI and TI2, and has been captivated ever since. Spends his spare time outdoors taking photos and writing a book. Believer of alternate universes, no legs strat and Half Life 3. Location: Espoo, FinlandFollow him on @MelioraInf.