BeyondTheSummit has posted up their brilliant yet slightly ridiculous stretch goals for their offline LAN finals The Summit. Stretch goals include Dendi playing table tennis, an inflatable pool party, a Pudge Wars allstar match and Merlini interviewing your favourite players... from his tub.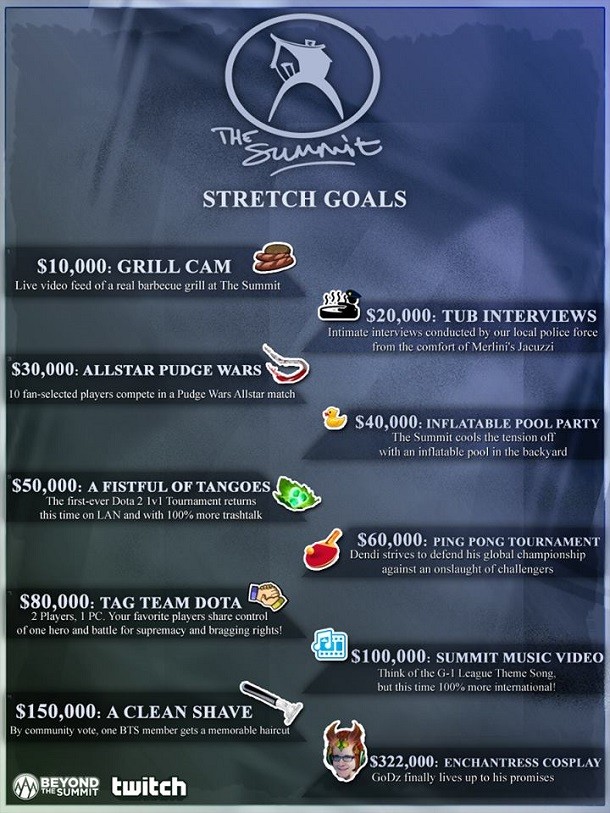 Players are going to be hanging out, relaxing with their own peers at our house, and generally chilling at the BTS house. The bulk of our goals are designed to give viewers more opportunities to enjoy that casual, fun atmosphere.


David "LD" Gorman



The Stretch Goals

The stretch goals are for The Summit, a $80,000+ LAN event held at the BTS Studio in Los Angeles from June 5th - 8th. Both
Na'vi and
Team DK received direct invites, with four remaining slots being contested over in the Asia, Europe and America qualifiers. Ticket bundle available here.

Tier 1: $90,000 - Live video feed of a real BBQ grill at The Summit
Tier 2: $100,000 - Merlini interviews your favorite players from his tub sanctuary
Tier 3: $110,000 - 10 fan-selected players compete in a Pudge Wars allstar match
Tier 4: $120,000 - Iceiceice, Puppey, & more will be chillin' in an inflatable pool.
Tier 5: $130,000 - The long-awaited sequel to Dota 2's first-ever 1v1 tournament returns!
Tier 6: $140,000 - Dendi returns to defend his championship belt first earned at TI2
TIer 7: $160,000 - 2 Players, 1 PC. Your favorite players team up in a tag team Dota showdown.
Tier 8: $180,000 - Think the G-1 League Theme Song with more International flavor!
TIer 9: $230,000 - The community will choose one member of BTS for a buzzcut
Tier 322: $322,000 - GoDz will finally deliver on that Enchantress cosplay
TIer 10: $330,000 - Yung Lean will perform at The Summit 2 this Winter.



This article was written by
Lawrence Phillips, joinDOTA's Editor-in-Chief.Malystryx has been in eSports since 2004 working as eSports Editor for Razer and Editor-in-Chief of SK Gaming in the past He misses the days of Warcraft3 but makes do with the world of DOTA 2.Location: Bristol, UKFollow him on @MalystryxGDS.

Which stretch goal tickles your fancy?