Alliance took on Cloud9 in the Dreamhack Bucharest 2014 Invitational grand finals in front of a live audience earlier today, putting on a performance befitting of the TI3 reigning champions. It was however, quite a down-market end to the competition, with Loda's Ember Spirit and Luna having a field day.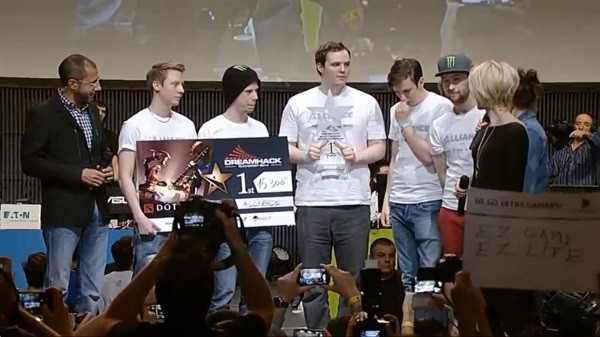 Alliance had in fact lost 2-1 to
CLoud9 in round2 but the grand final was a different story, with the match almost being an anti-climax to the LAN finals given how easily Alliance controlled and out-manoeuvred their opponents both in the draft and the match itself.

The interviewer on stage even went so far as to ask
Johan "pieliedie" Aström post-match if they choked. After losing against his compatriots, he did not seem comfortable to agree his team choked, but did commend Alliance for their composure and ability to play on LAN.

Dreamhack Bucharest 2014 Invitational only featured four teams; Fnatic, Alliance, Cloud9 and Fluffy Bears. Fluffy Bears was composed of Na'vi's
Dendi and
XBOCT along with three local Romanian players - including
Alex 'ComeWithMe' Craciunescu, due to the fact the rest of their Na'vi team-mates had fallen ill, with the duo deciding to play under a different name. Fluffy Bears despite losing 0-2 to Cloud9 in the first round, did pull off a 2-0 win against Fnatic and eventually finished in third place.



Final Standings
1.
Alliance ($13,000 + 40% ticket revenue)
2.
Cloud9 ($7,000 + 30% ticket revenue)
3.
Fluffy Bears ($5,000 + 20% ticket revenue)
4.
Fnatic (10% ticket revenue)



Highlights of build-up and Game 1




Highlights of Game 2



The victory will be an important one for the team given that they have not won a LAN finals in 2014. It also bodes well for Alliance as this is around the time last year when the team officially became part of the Team EG family and started to get a good run of form together winning G1 Season 5 in May and finished first at Dreamhack Summer and StarSeries VI in June.

What did you think of DreamHack Bucharest?


This article was written by
Lawrence Phillips, joinDOTA's Editor-in-Chief.Malystryx has been in eSports since 2004 working as eSports Editor for Razer and Editor-in-Chief of SK Gaming in the past He misses the days of Warcraft3 but makes do with the world of DOTA 2.Location: Bristol, UKFollow him on @MalystryxGDS.