The final eight teams for the Starladder XI have now been decided as Alliance and Rox.Kis join the six teams qualified so far. Cloud9, VG, Fnatic, LGD and Newbee all narrowly failed to qualify for the LAN finals, find out which teams DID qualify inside.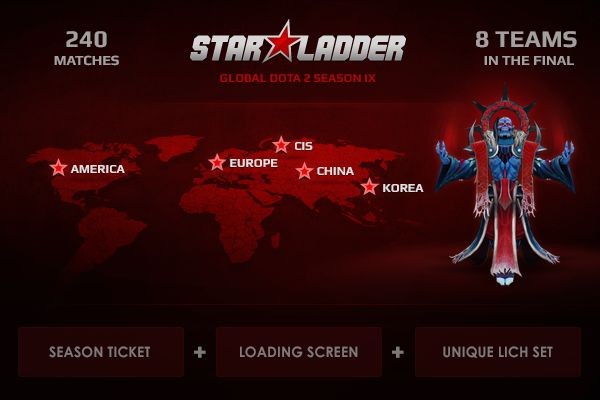 The StarLadder season IX was the first time the organisers stretched beyond Europe, with the announcement of regional StarSeries in America, China and Korea. A total of 40 teams competed in the four StarSeries, with eight places available in the grand finals. StarSeries Europe was awarded half of the places, with StarSeries China allotted two places and Korea and America only given one.

StarSeries Europe was the only StarSeries to not have a playoffs following the groupstage, with the final four simply being decided by who finished top of the group stage. Na'vi and Empire secured their place in the finals earlier in the week, but it wasn't until today that the three-way tie between Cloud9, Alliance and Rox.Kis was finally broken. A double victory for
Alliance over Rox.Kis and Cloud9 sealed the deal for the Swedes, while Cloud9's defeat to Rox.Kis ended their hopes of the grand finals. It is a brilliant result for the Russian team, who also managed to triumph against
Na'vi and
Fnatic earlier in the groupstage.[Swap= (View StarSeries Europe Table)]
[/swap]

Meanwhile in
StarSeries China,
Newbee started to get themselves into shape after they finished second, with
VG trailing behind in fifth and failing to reach the playoffs. Newbee went onto to finish third following a 2-0 result versus LGD in the lower bracket, but it was
Dk and
iG who went all the way to the grand finals of the playoff, securing both their places at the LAN finals.



StarSeries America was expected to have less contest for the single spot, with Cloud9 competing in StarSeries Europe it left just
Team Liquid and
Team EG as the main contenders for the place, despite many expecting some resistance from
Team Dog. However, as Team Liquid were plagued with internal strife and other teams stepped up their game - including Peruvian Revenge who finished second, the groupstage ended with a 4-way tie between; Team Liquid, eHug, CNB eSports and Osiris Gaming, who all had 4 wins and 3 losses. By the time it came to the tie-breaker matches Team Liquid had already waved goodbye to Fluff, and had
Demon as a stand-in, which clearly played in their favour. As Osiris Gaming decided to forfeit their matches, Team Liquid were just left with eHug and CNB Esports, both of which they took care of to snatch the last playoff spot.

In the playoffs
Revenge were the first to fall, with Team Dog putting up a good fight but ultimately taking third place after a 2-1 loss to
Team EG followed by a 2-0 drubbing by Team Liquid. The final was between Team EG and Team Liquid last week, with Team Liquid coming out the loser. Team Liquid have had a terrible record of late versus their American counter-parts, losing all five of their recent matches against them, with an overall aggregate of 11-3 in favour of Team EG. Team EG's victory earned them the only LAN final ticket for StarSeries America. [Swap=(View StarSeries America Table)]
[/swap]

Finally in StarSeries Korea, which was notably without NSL silver medalist EoT.Hammer, MVP.Phoenix had an incredible run remaining undefeated in the groupstage, and then going straight through the playoffs, only dropping a single map to be the Korean representative at the Starladder IX LAN finals. [Swap=(View StarSeries Korea table)]
[/swap]

StarLadder XI LAN Finalists

Empire (StarSeries Europe #1)

Na'vi (StarSeries Europe #2)

Rox.Kis (StarSeries Europe #3/4)

Alliance (StarSeries Europe #3/4)

DK (StarSeries China #1)

iG (StarSeries China #2)

MVP (StarSeries Korea #1)

Team EG (StarSeries America #1)

What did you think of the StarSeries online stage?