The Techlabs Cup Grand Finals concluded earlier today with Team Empire facing off against Next.kz. These teams battled each other in both the Upper Brackets as well as the Grand Finals. In the intense matches that followed -with a grand prize of $10,000 on the line- one team beat their opposition to a decisive victory! Read on to find out who!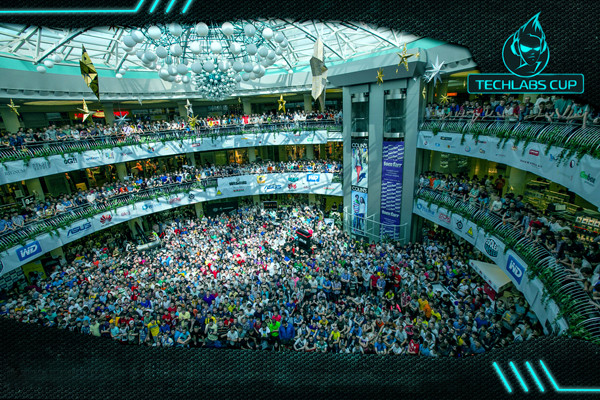 Team Empire picked up 10.000 USD as the undefeated champions of the Techlabs Cup 2014 in Moscow. After taking down Next.kz a first time in the upper bracket final earlier today, they cleaned them up a second time in the grand finals with two solid victories.


Game 1 : Lycan does it again for Empire
Before the game

Although Lycan had been favoured by Team Empire lately, Next.kz let them have it again in the first game of this series. They chose to ban Ember Spirit and Ancient Apparition instead, while taking both Batrider and Centaur Warrunner for themselves in the first phase of this draft. Invoker was the second choice of Team Empire after removing Naga Siren and Enchantress from the pool.

In the next phase, both teams got their support heroes. Rubick and Leshrac were picked up by Team Empire, while Next.kz went for Dazzle and Bane to support their ranks. Four other great support heroes were removed as Team Empire denied Shadow Shaman and Chen to their opponents and Next.kz took out Visage and Nyx Assassin.

After Clockwerk and Slark got banned, Team Empire grabbed themselves a Beastmaster as a response to the Gyrocopter of Next.kz.


Summary

Next.kz started the game with an aggressive trilane featuring Bradwarden, Dazzle and Bane. With Brain Sap and Shadow Wave being used regularly, they managed to push Lycan out of the lane for a while, as he was unable to farm safely in the pressence of these ranged supports. Meanwhile, Roman "Resolut1on" Fominok brought his Invoker in the middle lane to fight up against Batrider and Gyrocopter seemed to have the upperhand against Beastmaster in toplane.

Despite the advantage they had in botlane during the first minutes of the game, Next.kz got obliterated in early skirmishes. 10 minutes into the game, Team Empire lead with 4 kills to 1 after a solo-kill from Invoker on Batrider and Centaur getting crushed by the combination of Rubick's lift and Leshrac's Split Earth.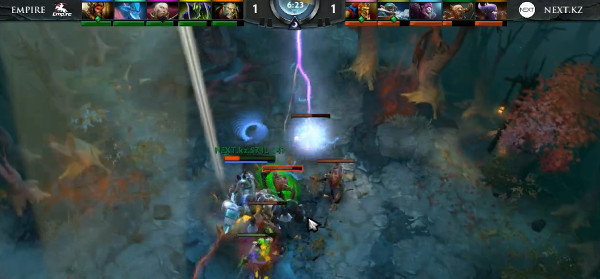 Sunstrike will connect on Bradwarden and claim his life.


The next 10 minutes, Team Empire capitalised even more on their advantage, as they get 8 more kills while only giving up 4 themselves. The first good fight for Next.kz came around the 20 minute mark. They removed Beastmaster from the map before he could use his Roar, enabling Next.kz to take out some core heroes of Team Empire.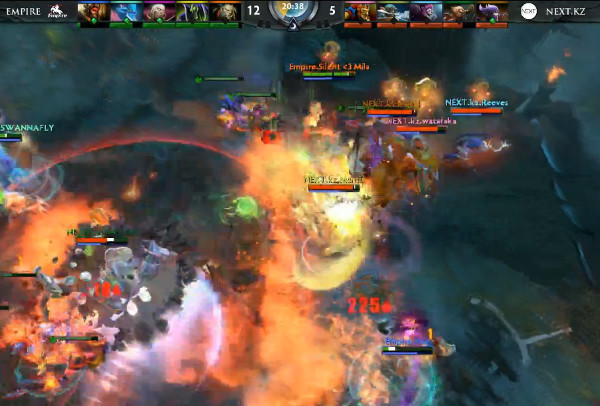 Beastmaster did not get a chance to use his crowd control.


Lycan worked hard to get his core items, and with success. Despite all the effort of Next.kz to shut down Airat "Silent" Gaziev on the wolf, he closes out the game together with the power of Resolut1on's Invoker in 32 minutes. With an Aegis on Invoker, Team Empire was able to force highground and break Next.kz's base.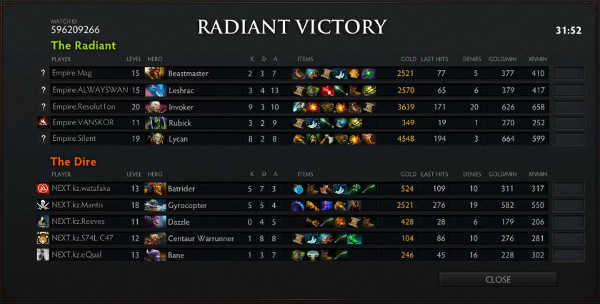 Game 2 : Exort Invoker on the hunt
Before the game

This time around, Lycan and Batrider were removed from the pool right away by Next.kz, while Team Empire banned Naga Siren once more and decided against the arrival of Ember Spirit in this grand final. Resolut1on was granted another game on his Invoker and they picked Bradwarden themselves this time. Next.kz picked up Ancient Apparition and Shadow Fiend to conclude the first phase.

As both drafts started to take proper shape, Viper and Shadow Shaman were chosen by Next.kz after Bane and Visage got banned. Team Empire picked up Dazzle and Luna, while they seemed to be afraid of junglers with Chen and Enchantress getting removed once again.

Team Empire took up an old familiar pick, as Shadow Demon reached the competitive scene again. Clockwerk was the last pick for Next.kz, while Rubick and Brewmaster would not be available for these teams as we wrap up the last phase of this draft.


Summary

Both teams chose to run a defensive trilane in the second game, but one team was collecting more gold than the other. With some smart early rotations from Shadow Demon, Shadow Fiend got crushed in his lane against the Exort Invoker of Resolut1on and Team Empire pulled ahead quite rapidly.

After 15 minutes, Team Empire took down Roshan a first time. With Aegis on Invoker and his Sunstrike on point, Resolut1on killed one after another, making Next.kz crumble and giving up a first teamwipe 5 minutes later.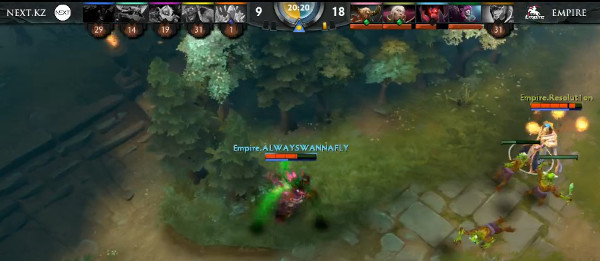 ALWAYSWANNAFLY played an amazing game on Shadow Demon.


For the next 10 minutes, Team Empire extended their lead even further with Disruption and Sunstrike being used very effectively. With another Aegis for Invoker after 27 minutes, Team Empire forced highground, cleared two pair of barracks from the base of Next.kz, who were forced to call the "GG" after half an hour and a score of 11-35.