The Techlabs Cup returns on the 5th of April in Moscow with a hefty prize pool of $20,000 up for grabs. Featuring both established and upcoming teams, the tournament will showcase what the CIS region has to offer as we step towards the International.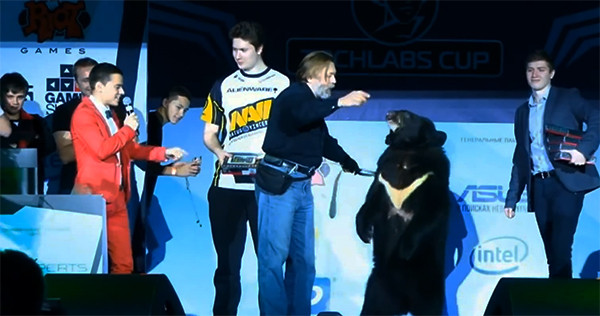 Bear congratulates Puppey on his delicious victory!



Techlabs Cup will take place in Moscow, Russia in the early April. Four teams will battle in a double elimination bracket with BO3 matchups in the upper bracket and BO1s in the lower.
Team Empire and
RoX.KiS received a direct invite and will be joined by another two teams from the eight who'll participate in the online qualifiers. The qualifier is scheduled to start on March 24th, and will feature teams such as
Virtus Pro,
Power Rangers and
Next.kz.



Invited Teams:
RoX.KIS
Team Empire
Qualifying teams:
Power Rangers
Virtus.Pro
Next.kz
Ahead Gaming
Cleave
Insane
The Retry
Relax
Prize pool:
1st place: $10,000
2nd place: $5,000
3rd place: $3,000
4th place: $2,000
Schedule for the Qualifiers:
Monday 24th of March
1/4 Winners Bracket | 19:00 CET | Virtus.Pro vs Ahead
1/4 Winners Bracket | 21:00 CET | Cleave vs Relax
1/4 Winners Bracket | 21:00 CET | NEXT.Kz vs The Retry
1/4 Winners Bracket | 21:00 CET | Insane vs Power Rangers

Tuesday 25th of March
1/2 Winners Bracket | 19:00 CET
1/2 Winners Bracket | 19:00 CET
1/2 Losers Bracket | 21:00 CET
1/2 Losers Bracket | 21:00 CET

Wednesday 26th of March
Winners Bracket Final (leads to LAN) | 19:00 CET
1/2 Losers Bracket | 21:00 CET
1/2 Losers Bracket | 21:00 CET

Thursday 27th of March
Small Losers Bracket Final | 19:00 CET
Losers Bracket Final (leads to LAN) | 21:00 CET