There is just under two hours until the clash between East and West in the D2L Grand Finals kick off. Get yourself pumped up for the impending Las Vegas powerhouse bouts with our preview of the competition.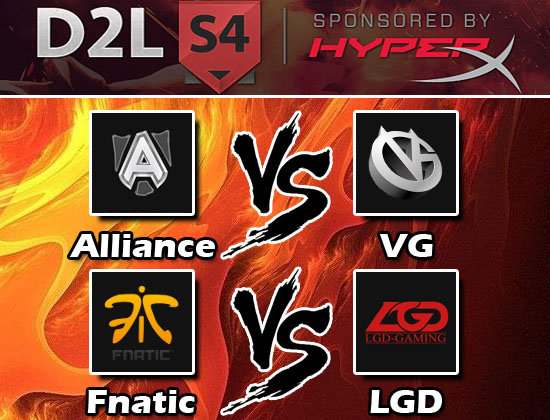 Road to the finals

In the D2L, there are two routes to semi-finals: be the best in the group stage or win a bubble bracket between the 5th-2nd place teams in your region. In the West,
Alliance played without a single match loss, only dropping two games throughout the entire group stage. Not to be outdone, the Eastern powerhouse
LGD.cn had an identical record leaving the group stage. Both were immediately given passage to the semifinals without further competition.

At the end of the group stages, eight teams (four per region) competed for the remaining open slots. With a barely positive 4:3 win rate in the group stages,
Fnatic was hardly the Western favorite. Meanwhile, in the Eastern bracket
Vici Gaming had a much smoother rise through the ranks, coming into the qualifiers in third place and quickly punching their ticket to Vegas.

Surprising most viewers, Fnatic moved through the qualifier rounds with only a single game loss, moving forward with a clear determination. As the qualification match against
Liquid began, it looked like Fnatic's run for the finals would end. After all, in the group stages, Liquid had earned a flawless victory against Fnatic (they only lost games against Alliance).

Liquid won game one, but Fnatic responded with a blitz strategy, taking a 20 minutes win with an early-game push strategy featuring Chen, Nature's Prophet, and Alchemist. The following match was over an hour long, Fnatic refusing to end their finals run prematurely. In the end, they managed to eliminate Liquid with three consecutive games, the first game losses Liquid suffered the entire tournament to a team other than Alliance.

The group stages were played in the middle of LGD.cn's best long-term performance in recent history. Since
Liu "Sylar" Jiajun was replaced by
Wang "xiaotuji" Zhang in the beginning of September 2013, the team posted a total competitive win rate topping 75% of their games. However, after the D2L group stages, their win rate dropped from 86% to 46% for the month of December. Expect a diverse set of drafts from LGD, who sometimes play entire matches without repeating hero picks, as they try to force their way out of their slump against a shorthanded Fnatic.

The playoff tree


Fnatic will be playing with two standins: it was announced a day ago that
Adrian "Era" Kryeziu is flu-stricken and simply cannot travel to Las Vegas for the finals.
Jimmy "DeMon" Ho (formerly EG) will be replacing him. Shortly after that announcement, Fnatic revealed that
Kai "H4ann1" Hanbuckers will be unable to travel to the event after complications grounded him in Germany.
Kurtis "Aui_2000" Ling (Speed Gaming), leaving Fnatic without their normal first or second position. Since this roster announcement, LGD.cn has gone from having a narrow 52% of crowd predictions to an overwhelming 84%. Can Fnatic prove that their strategy and communication can overcome their roster woes, or will this be LGD.cn's opportunity to shake off their ailing performance from the last month?

Vici Gaming passed through their qualifying matches relatively unscathed, losing only two matches as they moved toward the finals. Since the addition of Sylar (formerly LGD.cn) in October, Vici's total-competition winrate skyrocketed: from averaging narrowly above 50% to averaging at 70%. This isn't an easy task considering the number of games played during this period nearly tripled. They will be going up against The Alliance, who are fresh from their Fragbite Masters victory. Vici Gaming took third place at WPC Ace Dota 2 earlier in the month, and two notable first-place finishes in December (EMS One Fall Finals and Sina Cup). Both teams appear to be in top form to compete in the Vegas finals.

The two winning teams of today's matches will play each other for the $25,000 USD grand prize, but none of these teams will go home with fewer than $2,500 for their trouble. The matches are to be played at Caesars Palace, Las Vegas and will be casted by Ayesee and Merlini. The festivities begin at 3:00PM EST.