LGD.cn is now back in the D2L S4 Finals after settling internal communication issues, visa problems and miscommunication between the Chinese team and the organizers of D2L. Team Liquid will no longer be replacing them. Last night it was revealed that
LGD.cn were withdrawing from the HyperX D2L Season 4 Finals due to roster issues and that they would be replaced by
Team Liquid.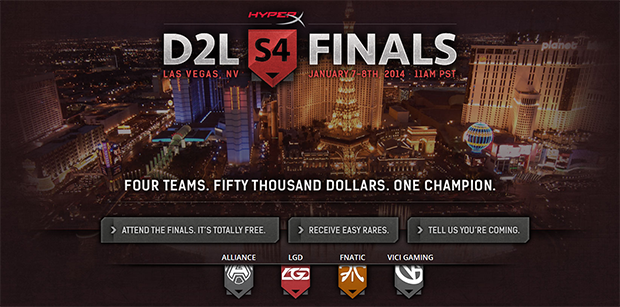 There and back again - LGD.cn



Today Colin, the manager of the D2L, made a statement on Reddit that
LGD.cn are in fact back in the competition. What appeared to be a typical bureaucratic hurdle involving visas, turned out to be an issue of miscommunication between the departments of
LGD.cn.

According to Colin, Kingston stood in and settled the visa issues with the US embassy rather quickly. Both
LGD.cn and
Vici Gaming booked their flights and appeared ready to go. On the 25th of December however, LGD informed the D2L, that one of their players wasn´t interested in playing the D2L finals. Panic allegedly spread, but within 12 hours LGD stated that the remaining player was urged by ACE to still play in the tournament, however he did not have a visa.

Following pressure from ACE to participate the D2L were also made aware of another problem surrounding the LGD player:




A few hours later (still within the 12 hour window) we receive a message from Ruru stating that ACE has urged their fifth, questionable player to participate in the tournament with LGD. The only problem which remains is the player's visa. Visa?! Yes, visa. We are suddenly told, despite previously being affirmed that all was good-to-go, that this fifth and final player had still not received his visa.
12 hours passed by at this point and, as we informed Ruru previously, we needed to make a decision. Invictus Gaming, the ideal replacement, declined because of other engagements, and given the craziness of the visa situation, we knew we wouldn't have the time or luck going down through every single Chinese team seeking a replacement. We chose to pull in Team Liquid who was fortunately available to take the fourth slot of the tournament. - Colin (D2L Manager)



However, a few hours later Ruru spoke out on Chinese social networking site Weibo about how the decision was news to LGD:




Fast forward to a few hours ago and we were getting bamboozled with slander about how we had avoided LGD in the process, that all was okay with LGD's visas, and that we never informed them of our decision and were cheating them out of the event! :( It was very strange to us and we were caught off guard by it given the clarity we felt we had provided everyone in the situation. - Colin (D2L Manager)



The argument was finally settled when Ruru, the manager of
LGD.cn, contacted the D2L management:




We synced with Ruru and her husband directly. After speaking with them at length, it was acknowledged by LGD that there was a bit too much emotion running rampant and some miscommunication in their own ranks. Because of these recent events and the agreements we've come to, we have now made the decision to allow LGD to participate in the finals again, and will be welcoming them to what will surely be one of the most exciting events we've ever run here at the D2L.

Additionally, a big shoutout goes to Team Liquid who have all been absolutely awesome and patient with us in this situation. I am so very thankful for all of their cooperation. - Colin (D2L Manager)




LGD.cn is now back in the HyperX D2L Season 4 Finals where they will battle
Vici Gaming,
Fnatic and
Alliance for $50,000 in Las Vegas.For more information about the LAN Finals go to finals.d2l.gg.