Giants will clash on January 19th 2014 as
Invictus Gaming takes on
Team DK in the Grand Finals of G-League. The grand prize of $33,000 USD will be up for grabs as the two teams set their sights on Shanghai, China.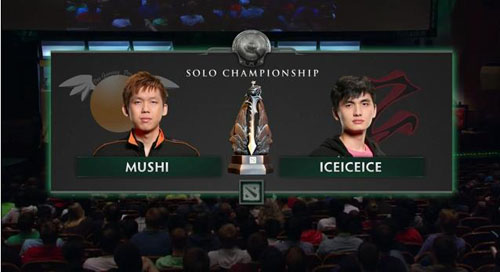 DK's new recruits Mushi and iceiceice as rivals in TI3 (Image:DotaTalk)



DK spent game #1 of their semifinal match against TongFu focused on pushing while picking a strong gank and engagement lineup for game #2. Invictus Gaming took their games on the back of successful transitions into the late game, with their game #2 giving ground to LGD's lineup featuring Chen and Elder Titan. Notably, Bristleback was picked/banned in all four semi-final games, an immense change of meta from the rest of the GLeague bracket season, where Bristleback had only been played once (by Vici's rOtK) and had never been banned.

DK and iG were the clear favorites moving out of the group stage, where DK took every match 2-1 in group A and iG took every match losing only one game. After punching their tickets for the playoffs, both teams have now earned a place in the best of five finals with lossless match victories in the semifinals. Invictus Gaming won both of 2012's G-League seasons, most recently in a near 3-2 victory against DK's 2012 lineup. In 2011, DK won the two previous G-League seasons, meaning that G League has been mastered by these two teams for most recent five seasons. The rivalry between these teams is deeper yet; iG has won 11 out of 15 recorded matches against DK, making DK the historical underdog in this duel.

However, since those competitions DK's roster has changed significantly; they've added
Daryl "iceiceice" Koh Pei Xiang,
Zhang "LaNm" Zhicheng,
Chai "Mushi" Yee Fung, and returning
Lei "X!!" Zhengrong after a month-long hiatus in third-quarter 2013.

Due to these massive changes, DK has been performing strong throughout the season, even though their winrate this month has dropped below 60% for the first time since the roster change. Invictus Gaming's win rate has been stable for months and has not dropped below 60% since TI3.


DK and
iG will fight for the title on January 19th 2014 in Shanghai, China. Tune in to the JoinDOTA Twitch channel to watch the matches commentated by our very own Tobiwan & Capitalist, and be sure to catch up on the season so far on the our Youtube channel.

(Teaser image courtesy of G-League.)