The crown as well as the $15,000 cash prize for the Fragbite Masters will remain in Sweden as the Fragbite Masters 2013 comes to an end. After a hardfought final battle with
fnatic,
Alliance triumphed in Fragbite Masters, an online competition that has seen many up-and-coming teams come of age.
Alliance beats Fnatic on virtual hometurf


From the outset
Fnatic and
Alliance were the only headline teams to be participating in the competition. However, it was not a walk in the park for the two veteran teams with a handful of relatively new teams such as Super Strong Dinosaurs as well as 4FC pulling off some strong performances and making it into the top 8 together with Kawai and Next.kz. The most noteworthy darkhorse of the competition was
WarMaker, who finished 3/4th alongside Power Rangers.

Ultimately, the final matchup was as expected, Fnatic and Alliance would have to battle each other for the crown. Despite Alliance winning TI3 this summer, Fnatic were the favourite team going into the matchup after reaching the Grand Finals of EMS One last weekend. However, any doubts about Alliance's form were quickly put to rest as the Swedes got to work.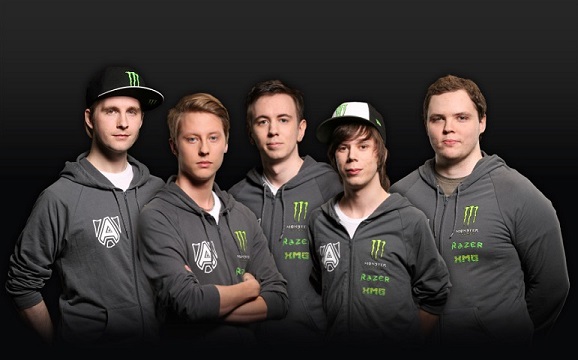 Alliance looking sharp as always




In Game 1 Fnatic managed to snatch the powerful Tiny and Wisp combination for a dual mid lane. Altough being a trademark of Dignitas for a long time they proved that they have mastered this lineup as well and played it to great effectivity. They went with Kai "H4nn1" Hanbuecker on the Invoker one more time as seen a lot in the past weeks. He hadn´t the best start but with a well timed rotation as well as a beastmoded Kalle "Trixi" Sarrinnen on an offlane Slark they managed to bring him back in the game. In the end, the aggression brought by Fnatic was too much for Alliance to deal with and they called the "GG" at 32 minutes with a final score of 32-10.



For the second game, Alliance wanted to go back to their roots, drafting a very pushing heavy lineup. Quite impressive was the Necrophos pick, which might have taken Fnatic off guard at first. Together with a Nature's Prophet for Henrik "Admiral Bulldog" Ahnberg and an Enchantress for Joakim "Akke" Akterhall, Alliance wanted to grind the towers down fast.

Fnatic responded with a heavy teamfight lineup, trying to stop the early pushes. This worked out very well in the beginning putting Fnatic ahead in terms of kills. However, as the game went on, Fnatic took one too many poor fights which lead to Alliance pulling ahead. Despite some good engagements, they were forced to call defeat at 20 minutes with a score of 27 to 20 in favour of Alliance.


With the two previous games being rather onesided, the third game ended up being incredibly close. Alliance combined their own as well as Fnatic's style of game 2 as they went for heavy teamfight and pushing. Fnatic wanted to take the safe route with drafting tanky heroes.

While this worked out really well for them in the laning phase, Alliance slowly started to shrink the map for Fnatic with some succesful teamfights. However, Fnatic managed to stand their ground and farm up their important items for the next head on head engagements. Aware of that, the Swedes didn´t risk anything and slowly pushed Fnatic down, leading them to split up and get picked one by one. Alliance ended the series at 41 minutes with a 25 to 19 score and were awarded with $15,000 for their victory.


Final Standings:


1.
Alliance — $15,000
2.
Fnatic — $7,500
3-4.
WarMaker — $2,000
3-4.
Power Rangers — $2,000
5-8.
Super Strong Dinosaurs — $800
5-8.
4 Friends + Chrillee — $800
5-8.
MCCBT Kawaii — $800
5-8.
NEXT.kz — $800