The group B of the RC EMS One Fall Finals are over with everything going as expected with both Alliance and Fnatic going through to tomorrow's semi-finals. However, not all went to plan when the superb play of Startale allowed them to seize the first ever Korean team victory against a foreign team. [image courtesy of ESL]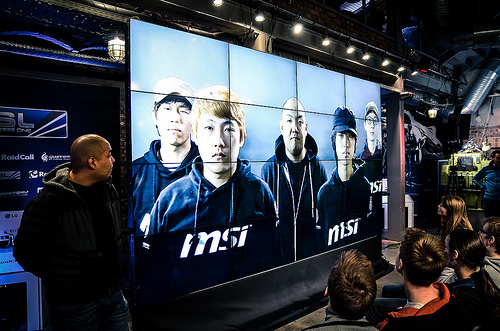 StarTale making history - Image courtesy of ESL

Group B Final Standings



Match Summary

Team One vs Alliance - Weaver on fire

Team ONE vs Alliance kicked off the day with a pretty one-sided game. The Serbian team tried to sneak an early Roshan but Alliance's game sense allowed them to interrupt the attempt and easily grab three early kills on Alchemist, Crystal Maiden and Puck. ONE kept their heads high and put up a good fight nonetheless, but they never really recovered from their blunder.

Getting those early kills let Alliance remained in control of the game pace and even though ONE kept up in kills they were never close to taking the lead. Jonathan "Loda" Berg's Weaver got out of hand after an amazing start and became (almost) impossible for One to stop. When a teamfight broke out at the Radiant tier two tower and ended in a 5-0 trade in favor of Alliance, the deal was sealed and the Serbs called "gg" after 25 minutes.

Startale vs Fnatic - Shot through the heart

The Korean team Startale impressed with a good game against Fnatic with their manager Danijel "Street" Remus standing in temporarily for Kalle "Trixi" Saarinen who's flight was late. FNC, led by Johan "n0tail" Sundstein's Enchantress, got the best out of the early trades in the top lane and used that to snowball into early Hand of Midas on all heroes except Crystal Maiden. As the game kept going the teams clashed time after time, trading equally in kills, leaving the score 12 to 12.

However, the early Hand of Midas allowed Fnatic to have a constant advantage in gold and experience, so they started to pull ahead in kills and objectives. Although ST got two consecutive Aegis steals and had overall good plays from mid player Noa "MP" Pyo's Storm Spirit, along with high-class arrows from Min-Jun "Jyu" Park on Mirana, it just wasn't enough. Fnatic came out on top in this surprisingly even match, still going strong with their shiny glove strategy and Kai "H4nn1" Hanbuecker's Invoker continues to have huge impact in Fnatic's games with well aimed sunstrikes and skilled use of spells.

Startale vs Team ONE - The beginning of something special?

The previous defeat didn't seem to have lowered ST's morale as they went up against Team ONE in the losers' game of the group. They immediately showed that this team is a force to be reckoned with as they put high pressure on ONE with a systematic and effective game plan. An early gank by Chen and Crystal Maiden on Beastmaster in mid got MP going on Tinker and allowed him to pick up Boots of Travel and a Blink Dagger after only 13 minutes.

He continued teleporting around the map, pushing, farming, securing objectives and made life difficult for One was too much for them to handle and they had no way of making a comeback. ST closed out the game in a convincing manner as they patiently pushed the top lane into the base of One, granting them a Korean team's first win ever against foreigners.

Alliance vs Fnatic - SS and LS dominate

Then it was time for the anticipated Clash of titans betweedn Alliance and Fnatic in the group B winner final. FNC started the game in a shaky manner as they gave up 3 early kills to the Swedes. Nightmare from Bane into arrow from Mirana and a follow-up teleport by Nature's Prophet showed to be a deadly combo as Trixi's Elder Titan died to it twice. FNC managed to get their game together in the following minutes and as H4nn1 on Storm Spirit got going the fun was over for Alliance.

When a fight broke out at Roshan the game completely fell out of Alliance's hands as they lost 3 for 1 and H4nn1 could easily pick up the Aegis of Immortal. Now it was a whole other story as FNC got to play their style of Dota, getting pickoffs with the devastating combo of Lifestealer infested in Storm Spirit. With consistently well executed plays they continued on securing the victory and the first place in the group.

Alliance vs Startale - Gyro 15-1

The last game of group B was the 2nd place match between Alliance and Startale. Unsurprisingly, this game was the Swedes from the start. Once again it was Loda that as many times before, showed the way with his Gyrocopter in the toplane. Things started to escalate quickly as he secured a triple kill at the botlane tier one tower on the Radiant side.

MP once again played well and got an early Blink Dagger on his Batrider and Startale did pick up a couple of kills as Alliance started to make sloppy plays. But as Loda picked up an ultra kill in the Radiant jungle the little hope ST had of beating the TI3 champions got crushed. Continuing to get pick-offs and multikills Loda ended up with the insane score of 15/1. Thus the group is finished and Alliance goes through to tomorrow's semi-finals.

What did you think of Group B?