The online part of ASUS ROG DreamLeague took its closure and we are now prepared to enter the final stage of the tournament, the 'playoff'. The playoff will take place at DreamHack Winter 2013 in Jonkoping, Sweden, starting on 28th of November and will last until the 30th. Four teams have qualified for this event.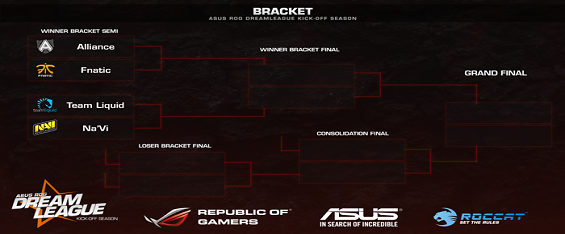 $25,000$15,000$7,500$2,500


LAN Final Teams


Entering the finals as the team with the best groupstage record, two times DreamHack champion
The Alliance got to choose their first opponents. The local heroes, who finished with a total score of 7-3, decided to face .
Fnatic in the upper bracket semifinal. Both teams are returning from a quite disappointing result at MLG, and will certainly be extremely motivated to perform better at their home continent.
The Alliance
Jonathan 'Loda' Berg
Gustav 's4' Magnusson
Henrik 'AdmiralBulldog' Ahnberg
Joakim 'Akke' Akterhall
Jerry 'EGM' LundkvistTeam Liquid
Brian 'FLUFFNSTUFF' Lee
Sam 'Bulba' Sosale
Tyler 'TC' Cook
Peter 'Waytosexy' Nguyen
Max 'Qojqva' BroeckerNatus Vincere
Clement 'Puppey' Ivanov
Danil 'Dendi' Ishutin
Alexander 'XBOCT' Dashkevich
Gleb 'Funn1k' Lipatnikov
Kuro S. 'KuroKy' TakhasomiFnatic
Tal 'Fly' Aizik
Johan 'BigDaddyN0tail' Sundstein
Adrian 'Era' Kryeziu
Kalle Juhanpoika 'Trixi' Saarinen
Kai 'H4nn1' Hanbueckers
Natus Vincere will be attending as well. However, even though they always made it quite far, Na'Vi didn't manage to win any competition at this Swedish LAN until now. Their first opponent will be
Team Liquid, the only non European team participating. Since none of these four giants seems to be in perfect shape right now, we can expect pretty even and exciting matches.


Coverage, Grid, Schedule
James "2GD" Harding will be the host of the English broadcast. Joining him will be Bruno
"Statsman" Carlucci,
Andy "Draskyl" Stiles,
Ted "PyrionFlax" Forsyth, and our very own
Toby "TobiWan" Dawson.


28th November (Thursday):
18:00 CEST – Winner Bracket Semi Final 1
21:00 CEST – Winner Bracket Semi Final 2

29th November (Friday):
13:00 CEST – Winner Bracket Final
18:00 CEST – Loser Bracket Final

30th November (Saturday):
13:00 CEST – Consolidation Final
19:00 CEST – Grand Final