Things have finally come to a conclusion for Major League Gaming and their Pro Circuit stop in Columbus.
Speed Gaming have taken the championship in a 2-1 final showdown over
DK after battling back from a relatively rough day one. Neither of these teams had an easy route to the finals as the playoffs began this morning with Speed up against
Sigma and DK against

Na'vi.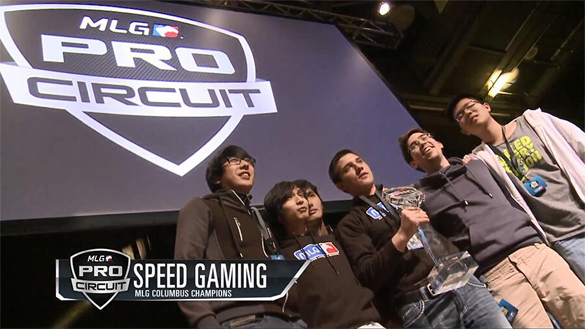 Left to right: Aui2000, SingSing, Arteezy, Pieliedie, EternaLEnVy



After dropping three games day one,
Speed Gaming was riding a day two high of going 5-0, 5-3 overall, when they squared off to open up the day against
Sigma. With confidence building in
Artour 'Arteezy' Babaev and a strong performance the day before, Sigma looked to counter the draft set by picking up Outworld Devourer both games. The first game got off to an even start with Speed running Luna on carry against Sigma's Gyro pick-up. Some of the game's most defining moments revolved around Mirana landing arrows that the Speed was able to pull ahead to take a 1-0 lead. Game two went under the same strategy and this time, Speed went with a different kind of line-up with an Elder Titan and Ancient Apparation. Just when it looked as though Sigma might begin to avalanche into a lead,
Johan 'pieliedie' Åström dashed their hopes with one of the biggest ultimates of the tournament, catching three in an Ice Blast. The play ended up turning the tide of the game which set the tone until Speed were able to advance to the finals with a 2-0 victory.

On the other side of the brackets was
DK, who had gone into the playoffs with a record of 7-1, against
Na'vi who were pushed into the fourth spot on head-to-head at 5-3 due to their Round Robin loss to Speed. The first game saw Na'vi take a risk in picking up Medusa which ultimately didn't attain the farm needed to make an impact. On the brink of elimination in Game 2 with things not going perfect, Na'vi was forced to battle back. It took the purchase of three Divine Rapiers from
Alexander 'XBOCT' Dashkevich and just over an hour to settle the score and force a game three with the score tied at 1-1. The last game was notably the shortest, seeing DK snatch an early victory just 35 minutes in with
Xu 'BurNIng' Zhilei carrying on Luna to an overall K:D of 9:0. DK was able to tear through the opposition as a result and punch their ticket to the finals.

The Grand Finals were set to be a rematch as
Speed Gaming looked to see if they could once again down the powerhouse that is
DK. Game one was a nail biting start which ran nearly an hour and a half. The team fights were wildly unpredictable and it came down to DK inching out the remaining barracks of Speed in order to finally force the game to a close. After a tough loss game one, Speed was able to strike a quick game two victory over DK with aggressive play on Timbersaw early from Arteezy. The time and space he bought with his early kills allowed Clinkz and Mirana to farm through and provide an over the top amount of damage. With everything on the line in game three, Speed kept things more of the same while DK switched up their picks again.
Chai 'Mushi' Yee Fung kept Speed at bay with a phenomenal game on Venomancer. A couple of Venemous Gales before magic immunity was activated kept the opposition slowed so heavily in teamfights that it bought his team precious time to avoid incoming damage. Eventually, Speed was able to get up the hill and take the first set of barracks away from DK with
Jacky 'EternaLEnVy' Mao not looking to stop there. He piloted Clinkz to take the top set with the DK buyback set being down and eventually pushed the final set down bottom to end the game and force out a good game call.




Final Standings & Prize Distribution:


1st -
Speed Gaming (~$68,445)
2nd -
Team DK (~$27,378)
3rd/4th -
Natus Vincere (~$13,689)
3rd/4th -
Sigma.int (~$13,689)
5th-9th -
Fnatic (~$2,738)
5th-9th -
Alliance (~$2,738)
5th-9th -
Team Liquid (~$2,738)
5th-9th -
Evil Geniuses (~$2,738)
5th-9th -
Pretty Boy Swag (~$2,738)