According to 2P.com, legendary Shadow Fiend player,
Yan Jun 'Yaphets' Bu will be making a return to competitive play under the flag of TongFu's third team alongside familiar names such as
Xiang 'LongDD' Huang and
Kai 'Kabu' Zhao.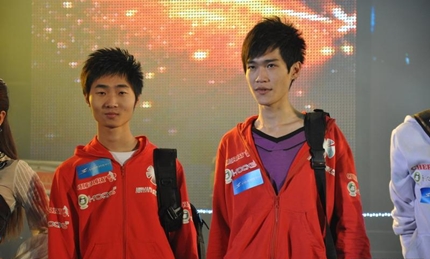 Zhou (Left) and Yaphets (Right) during the World DotA Championship



Formerly a full time coach for TongFu's main team,
Jun Jie 'SYDM' Tong and a new face to the scene,
'zExBinGo' will finish off the roster of the team.

As mentioned, this is TongFu's third Dota 2 team. The first one being the main team that consists of

Yao 'Zhou' Chen and
Pan 'Mu' Zhang while the second team being WPC-Ace's amateur team, formerly known as Team Adidas.

The team will debut in OGN's Dota 2 Invitational Super Match against
Virtus.Pro and
StarTale on the 21st and 25th of November.


TongFu 3 roster:
Jun Jie 'SYDM' Tong

Xiang 'LongDD' Huang

Kai 'Kabu' Zhao

Yan Jun 'Yaphets' Bu

'zExBinGo'