When
Orange's original Dota team left the organization for the newly formed organization
Titan, they made it known that they will return with a new line up. Fast forward three weeks later, Orange announces their new team lineup formed primarily by former MUFC players,
Litt-Binn 'WinteR' Chan,
Daniel 'TFG' Wong and
Woi Cheong 'Ling' Sim alongside
Wei Pong 'NWP' Ng who makes a return to Orange. To finish off the line-up,
Raymond 'Sharky' Wong unhangs his mouse and returns to competitive play.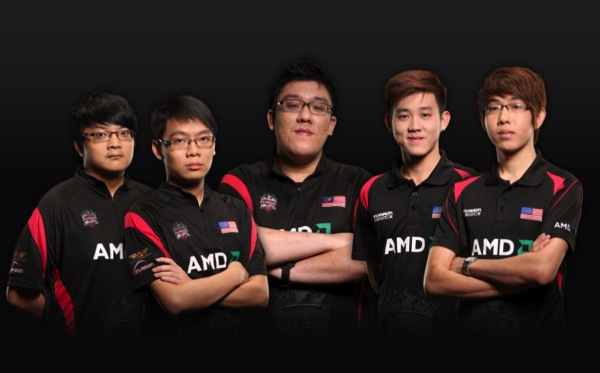 Winter (second from left), TFG (second from right) and Ling (far right) to wear the Orange and Black.




Both Winter and Yamateh have played for Orange before with Winter being one of the founding members of the team. They were part of the Orange roster that placed a joint seventh/eighth place with TongFu at The International 2012. At the end of 2012 when Orange decided to reform the team, the two were let go from the team. Winter took some time off competitive play before making a resurgence with team MUFC, then known as team ABC.

Meanwhile Yamateh joined up with Zenith in 2013 to much fanfare, they were expected by many to do well in this year's The International but failed to break into the top eight placing. He left the team after The International.

Sharky announced his retirement from the competitive circuit early in the year but did not discount a comeback. He was announced as MUFC's sixth member when the team reformed but was given little to no game time.

This means that four of the new Orange dubbed Orange 3.0, have played under the MUFC tag at some point in time with the exception of Yamateh. Ling is the one to have played for MUFC the longest, being on the team since its inception.


Neolution Orange Roster
Litt-Binn 'WinteR' Chan

Daniel 'TFG' Wong

Woi Cheong 'Ling' Sim

Raymond 'Sharky' Wong

Wei Pong 'Yamateh/NWP' Ng