From teammate to rival in just a week: Sumail 'SumaiL' Syed Hassan switched teams and played his first matches for OG. One of their opponents was Team Liquid who he played for most recently. While Samuel 'Boxi' Svahn was taking some time off from Team Liquid, Sumail 'SumaiL' Syed Hassan filled in as their midlaner for the recent WePlay AniMajor tournament. Liquid placed second in the European DPC season, which got their team directly into the Round Robin Group Stage. While Liquid didn't end up advancing to the Playoffs, many analysts were extremely impressed with how well they could adapt in order to fit Sumail into the team. In the games where they did look good, Sumail was a terror for the opponent's midlaners, devastating whole games with his Templar Assassin and Leshrac performances.

Following the conclusion of the AniMajor, Boxi has returned to the official Team Liquid lineup, while Sumail has been revealed to be replacing Anathan 'ana' Pham as the new Carry player for OG. While ana may leave some of the biggest shoes in the world to fill, few can argue against the King returning to his old team to fill them. This will be Sumail's second time playing for OG, who first acquired him in January 2020, shortly before the pandemic brought international Dota to a standstill. Without being able to even play on the same continent, the complexities of long-distance ensured that the team struggled and eventually Sumail parted ways on good terms with OG only six months after his time on the team began.

Today, however, the world is different. International LAN events are being held once again, and teams in Europe who have yet to qualify for TI are assembling their final rosters to make a seemingly impossible assault on the bloodthirsty European last chance qualifier. With only one slot available to attend TI, and many tier one teams to battle through, OG fell back on one of their core tenants to fill their carry position: Friendship. The old lineup that was broken up by a pandemic has been reassembled, and Sumail will be carrying the OG banner into the qualifiers, which will be the final chance for the TI Champions to qualify for this year's tournament.

Before the final fight for the last spots at TI begins, however, we have one final tournament to enjoy where we can catch a few glimpses of how the teams look going into the qualifier: the ESL One Summer 2021. Following OG's hot start to the tournament against AS Monaco Gambit, they dropped a series to a very prepared Virtus.pro team, who were coming off the AniMajor with something to prove. The stage was set for Sumail to battle his recent teammates on Liquid, with both teams fighting for their lives in the losers bracket.

Michael 'm`ICKe' Vu made light of the matchup with this tweet:



Though Boxi is back with the team, m`icke will be taking a short break for the ESL One Summer tournament, with Ilya 'Illidan Stormrage' Pivtsaev filling in for this one event.
While Sumail played middle lane during the time he was filling in for Team Liquid, on OG he will be playing the carry role while Topias 'Topson' Taavitsainen remains their mid. That isn't going to stop Sumail from picking his classic Templar Assassin or Leshrac and just playing it as a safelane carry though. In this series, we got to see how Sumail adapted to playing against a style of Dota in which he was the central piece a mere week ago.


Game One: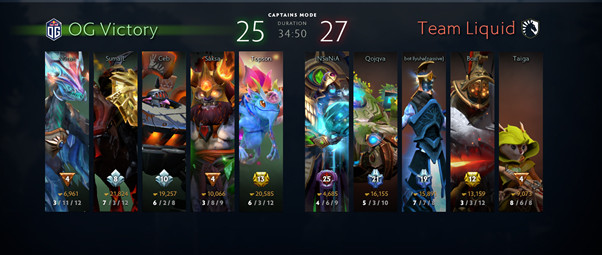 OG's Draft:

Liquid's Draft:



In this first game, OG showed a lot of adaptation in their drafting style, moving away from some of their more conventional comfort picks and instead playing a draft that was much more in line with the metagame established at the AniMajor. The early game was extremely scrappy, with kills being traded back frequently between the Chaos Knight + Winter Wyvern and Broodmother + Hoodwink lane. Liquid were starting to pull ahead on kills but Sebastien 'Ceb' Debs Timbersaw was looking unkillable because Spirit Vessel wasn't quite complete on Liquid yet to reduce his healing.

As the game progressed, Ceb's Timbersaw was found vulnerable as Taiga's Hoodwink was able to apply break using his ultimate, removing Reactive Armour and letting Liquid finally find a kill on him. However, after Ceb respawned OG were able to assemble their five man roster and quickly secure the Aegis by killing the first Roshan of the game.

Due to the lack of reliable crowd control on both sides, the fights became extremely spread out. Through farming more of the map OG managed to maintain even networth, despite Team Liquid having double their kills, with a score of 12-24 at the 26 minute mark.

While Team Liquid's cores looked extremely powerful at this point in the game, Sumail's Chaos Knight was incredibly tanky and was able to secure a decisive victory for OG by using his ultimate. This allowed them to take a free lane of barracks top and secure the first significant gold lead of the game for OG.

With such a commanding lead and their cores seeming unkillable, OG would go on to only give up one or two more kills on their road to a quick game one victory. Because Liquid lost a significant team fight at the absolute peak of their power around 25 minutes into the game, they were in a very difficult position to win future fights. The superior scaling of OG's lineup allowed them to simply have too much survivability. With all of OG's Cores virtually impossible to bring down, they weren't scared to dive their opponent's high ground repeatedly.

While Team Liquid's draft was slightly ahead out of the laning stage in terms of kills, OG simply reached a point late enough in the game where their heroes simply couldn't die anymore.


Game Two:

OG Draft:

Liquid Draft:



In the second game, OG deliberately let Templar Assassin slip through the drafting phase. They were able to secure it first pick for Sumail, who played the hero in the safe lane this game to dodge the Razor counterpick in Midlane. Liquid's answer to this was to initially start with a trilane to secure a quick kill onto Martin 'Saksa' Sazdov, who was on Phoenix babysitting Sumail. The aggressive pairing of Slardar and Wisp allowed Liquid to apply significant pressure to OG's safe lane, which didn't have any crowd control to stop the tethered duo from diving earlygame.

For Liquid's safelane carry, IllidanSTR took a page out of Sumail's playbook, playing Leshrac as the position one this game. In the early game Liquid's mid Razor got off to quite a good start, though he was matched against Puck instead of the Templar Assassin he was drafted to counter. This let Razor secure kills across the map in multiple lanes while roaming with Runes.

OG weren't deterred and were quick to use the first Stampede of the game aggressively at 10 minutes in order to try to set up a play around the Mid tower. Liquid responded with their full five heroes teleporting in to defend, finding two free kills, and cementing the gold lead for their team. Boxi's Slardar quickly built an Aghanim's Scepter, which was finished in 15 minutes, allowing Team Liquid to group up and attempt to take the first Roshan before Sumail's Templar Assassin was able to get it.

Topson secured a very impactful three man Dream Coil around the Roshan fight, which secured two kills in OG's favor without losing any heroes.
Roshan remained low, but neither team was able to secure it confidently. Both teams were poking tentatively around the pit before Ceb managed to jump in and steal the Aegis, however, he lost it immediately afterward.

Following that fight Boxi picked up a Blink Dagger on his Slardar, and the game shifted into Liquid's favour. OG lost three heroes quickly to the reveal of the Blink Dagger, and began to dodge fights until Templar Assassin finished her BKB.

Once it was completed, Sumail's Templar Assassin looked extremely dangerous with overwhelming physical burst damage that caused numerous pick-offs for OG at the start of skirmishes. Nevertheless, Liquid's focus fire was able to kill Sumail as he got overconfident and dove too far in one of the fights. OG re-engaged while TA was dead with a successful Hook Shot from Notail, and Sumail used his buyback. OG were able to suddenly kill all five heroes of the Team Liquid side, securing the crucial second Roshan.

Eager to take a fight with their Aegis advantage, Notail jumped too far in and was picked off for nothing in return. Following this feed, OG immediately smoked up as four, and quickly turned the fight around with a double damage rune on Sumail's Templar Assassin. They killed all five members of Team Liquid and were able to quickly convert the team wipe into a pair of tier four towers destroyed. In decisive OG fashion, they chased their opponents all the way into their fountain. With the throne exposed Liquid were forced to make a desperate last stand with buybacks, and called GG when they simply ran out of heroes who could defend.

This second game showed that OG are already operating extremely cohesively as a five man roster, with Sumail slotting back in with his former teammates during both games of this series. While his experience playing with Liquid at the Major certainly gave Sumail insight against them in this series, it will be even more exciting to see who comes out on top when these two teams face again in the crucial last-chance TI qualifier on July 7th.


Do you think the two-time International Champions OG will be able to qualify with Sumail to defend their title at TI 10?
Photo credit: WePlay! Esports