The online stage of the StarLadder Season VII is taking its closure, while the teams are getting prepared for the offline LAN finals in
Kiev, Ukraine. The LAN finals will kick off on the 10th of October and will last until the 13th.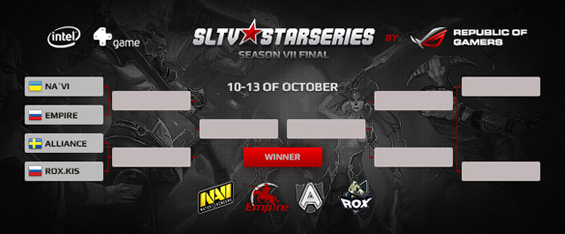 Following their great performance through out the group stage, the two time defending champions
Alliance are entering the LAN finals as the team with the most wins trough the group stage. Notably, Alliance managed to drop only two games in the group stage of the tournament from
Power Rangers and
Na'Vi. The organisers of the StarLadder Star Series decided to let Alliance choose their opponent for the LAN finals in Kiev, following their first place in the group.


Na'Vi,
FlipQ, and
Team Empire are entering the LAN finals as the last three teams that managed to get a spot next to Alliance. The three teams ended up the groupstage with same results, which made the final day of the online stage of the StarLadder Season VII even more interesting.
Rsnake.int didn't manage to win their last games against 4FC, Virtus.Pro and FlipQ, and therefore the chance of a tiebreaker between these four teams didn't occur.

However due to a wrist injury experienced by
Adrian 'Fata' Trinks, FlipQ will not be attending StarLadder's LAN finals. RattleSnake.int is the next team in line to take FliQ's slot but are unable to attend as well due to short notice. Instead the sixth ranked team
RoX.KIS will attend the LAN finals.


LAN Final Teams


The Alliance
Jonathan 'Loda' Berg
Gustav 's4' Magnusson
Henrik 'AdmiralBulldog' Ahnberg
Joakim 'Akke' Akterhall
Jerry 'EGM' LundkvistTeam Empire
Roman 'Scandal' Sadotenkov
Airat 'Silent' Gaziev
Ivan 'Vanskor' Skorokhod
Andrey 'Mag' Chipenko
Andrey 'alwayswannafly' BondarenkoNatus Vincere
Clement 'Puppey' Ivanov
Danil 'Dendi' Ishutin
Alexander 'XBOCT' Dashkevich
Gleb 'Funn1k' Lipatnikov
Kuro S. 'KuroKy' TakhasomiRoX.KIS
Stanislav 'BzzIsPerfect' Glushan
Vladimir 'Yol' Basov
Vadim 'Sedoy' Musorin
Igor 'Nexus' Lisakovskiy
Andrey 'androidP' Pishchikov



$12000$6000$3000$1500



The playoff stage will see a double-elimination system, with the regular best-of-three games until the grand final, where we will see a best-of-five games finale.

English coverage for the LAN finals will be provided by our own
Toby 'TobiWan' Dawson who will be joined by
Bruno 'Statsman' Carlucci this time.


Playoff Bracket:
Schedule:


10th October (Thursday):
1500 CEST
Navi vs
Empire

11th October (Friday):
1200 CEST
Alliance vs
RoX.KIS
1500 CEST Lower Bracket Round 1

12th October (Saturday):
1500 CEST Upper Bracker Final
1800 CEST Lower Bracket Final

13th October (Sunday):
1800 CEST Grand Final