Dk has just announced their fifth and final player. The winner of The International 1v1 solo championship,
Daryl 'iceiceice' Koh will take the last spot on DK roster, making DK quite an international team with players form three different nationality.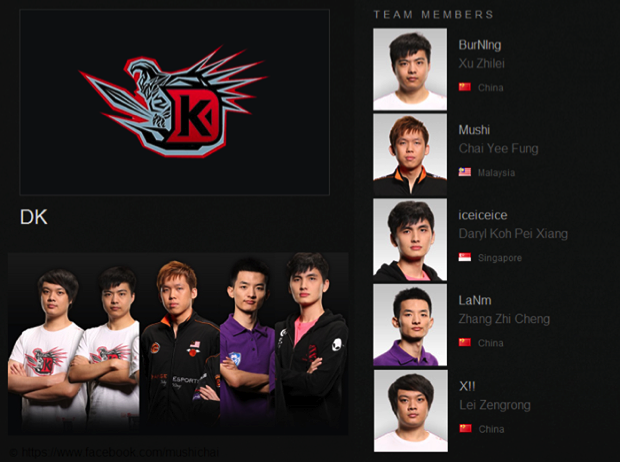 Image courtesy of Mushi's Facebook

Since The International ended,
Zenith has been in a limbo due to four members departing the team due to various reasons, leaving iceiceice the lone member on Zenith. With no team to play with, iceiceice has been seen streaming his pub plays much frequently along with producing some hero guides. Just yesterday, iceiceice urged his viewers not to subscribe to his channel until Friday in case something comes up, hinting at a possible move abroad.

Moments ago, DK announced on their Weibo account(Chinese Twitter) that iceiceice will be their last player. With the addition of iceiceice, the team is expected to make big waves in the scene such a talented pool of players.
Yee Fung 'Mushi' Chai mentioned on Facebook about the role distribution for the team.
Zhi Lei 'BurNIng' Xu and Mushi will be staying on their signature carry and solo mid role respectively while iceiceice will take the solo offlaner. Finally
Zhi Cheng 'Lanm' Zhang and
Zeng Rong 'Dai/MMY' Lei will support the team through thick and thin.




Zhi Lei 'BurNIng' Xu

Zhi Cheng 'Lanm' Zhang

Zeng Rong 'Dai/MMY' Lei

Yee Fung 'Mushi' Chai

Daryl 'iceiceice' Koh