On June 27th 2011, www.joindota.com was released in a beta version, becoming the first Dota 2 community website to focus on the rapidly emerging medium of live streaming. Now, after having worked on the project for over two years, it is time for me,
Moritz `

Moose

´ Zimmermann, to say my goodbyes with the utmost respect to everyone who has been involved in the creation and growth of joinDOTA.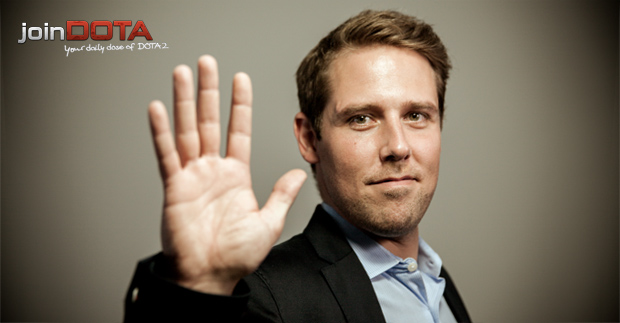 Recapping my DotA / Dota 2 career


This will be quite a long read, but nine years of passion and work on DotA / Dota 2 projects can not be summarized in a few words.

It started in 2004 when I was approached by m0rdiN, Spudlich and Carnage who had a brilliant idea to create a DotA (1) community website for enthusiasts to get together and play in tournaments, leagues and eventually through a web based matchmaking system. A lot of people from the old days will now dearly remember the "Single Instant Game (SIG)". The complete lack of projects around DotA in the early days of the scene gave us the chance to create something out of the ordinary and in May 2005, Dota-League.com was born. The beating heart of Dota-League was a brilliant matchmaking system we had created fairly early on and improved over time, which allowed registered users find team mates and opponents within seconds. This kind of functionality for DotA was completely missing in Warcraft III's Battle.net back in the days, and we were able to fill this gap successfully.

Upon hearing that the development on Dota 2 was about to start and knowing that matchmaking and many other great features that Dota-League was designed to provide for DotA would be implemented right into the game's successor, I expected that Dota-League would spiral downwards soon after Dota 2's release. This I knew almost two years before Dota 2 was publicly debuted at The International 2011 and I was devastated because nearly five years of hard work were to be rendered useless. I knew there would be no chance to transition a DotA website of this magnitude (about 270,000 registered users) with functions designed only for the original DotA over to the game of Dota 2.

We chose to shut down Dota-League back then also because the founders had initially created the project as a hobby and wanted to focus on other projects or on their private lives. However, for me, it had been a full-time job, and the passion I put into it only made me want to carry on.

In the middle of 2010, I registered the www.joindota.com domain, in an homage to getdota.com and playdota.com. Over time I developed the idea of creating a new project that would have a completely different focus to that of Dota-League.com and which would cover everything that Valve would not be able to implement directly into their game, to give myself and the new project a chance to grow a community once again.

In late 2010, I was contacted by the company "Freaks 4U Gaming" and I shared with them my ideas for the joinDOTA project, and that it´s key feature would be the live broadcasts of competitive Dota 2 matches. I met up with Michael Haenisch, who is Freaks 4U Gaming´s CEO, many times, and he showed an interest in not just me working for them, but also to finance joinDOTA and create it with the company´s resources from their office in Berlin. It didn´t take long for him to convince me to join the company and I moved to Berlin early 2011.



joinDOTA comes to Life


Freaks 4U Gaming were the only ones back then to dare to take the risk so early and finance a Dota 2 project, and they gave me the freedom to develop it the way I thought was right and also helped convince
Toby `TobiWan´ Dawson to come over to be part of creating this new big project. We knew that he would be the key to joinDOTA´s success. In late 2010, I called TobiWan on his cell phone and it almost felt like this guy was completely crazy, seeing that he agreed to move from Australia to Germany within the 10 minutes of our first phone call. Later on he told me that he was easily convinced with the knowledge that I was capable of providing whatever he needed in combination with Freaks 4U Gaming giving him a job, the financial stability and resources necessary to make this work out. The leap TobiWan took still blows my mind today, but it all worked out perfectly. I have been very proud of him and thankful for taking this great risk and traveling so far to become the key component of what makes this website what it is today. Without him and Freaks 4U Gaming, none of this would have been possible, not even in the slightest.

Using an old design which was actually meant for a refurbished Dota-League website, I created joinDOTA´s first layout in early 2011 and the logo which it still has today. Of course a lot of improvements have been made over time.

My ultimate wish was to have a website that was so easy to use that you would just need to enter the URL and could start watching awesome Dota 2 matches right away. In addition to that, I wanted to create a place where people could browse and read the latest Dota news and opinions of other users.

To speed up the process of having joinDOTA come to life before the The International 2011 at gamescom, Cologne, I called up my good friend neXXus, who was the brains behind the code of Dota-League.com, in June 2011, and asked him to program a really simple joinDOTA beta website from the designs I had created. There was only little time to create the full version of the website before The International, and to be among the first to open the doors to a promising new Dota 2 community, I was spurred into acting quicker than I had initially expected to. In the beginning the website consisted of just a header, the embedded livestream where people could see TobiWan´s broadcast and a simple set of news items. That was it, and a few days later, on June 27th, we launched the website promising a fully functional and improved version of it to come at a later stage. GosuGamers were so kind to conduct an interview with TobiWan and me back then, which you can read here!

For the following six months we kept this basic beta website running, which still looks almost like the one today, while we worked on the "full" version of the site in the background at Freaks 4U Gaming. The new website was implemented into the company´s gaming network (GameSports) and fully released in early November 2011, offering users a lot more features, a forum, and also a much better server infrastructure to offer better access for everyone around the world.

What I had envisioned so long ago became almost exactly what I expected and dreamed of. Almost, because it became bigger than I had expected.



Good bye from the Witchdoctor and the next to come


Of course I will not leave joinDOTA right away. I will remain with the project and the company Freaks 4U Gaming for the next six months to transition the project over to Jan who will become project manager and who will form a task force with TobiWan and HolyMaster. They will carry on improving this truly great project that I am so proud of and I am convinced that everyone involved will do their best to take joinDOTA a step further in every way.

The focus for them over the next months is to review what makes joinDOTA now and then look to improve and expand upon it, and to create features which the community wants and deserves. They will also look at overhauling joinDOTA as a friendly and interactive place to visit and find everything about DOTA 2.

So why leave such a successful Dota 2 project that I have started? I have thought about this for a long time and the reasons for me leaving originate from several wishes I have had over the past year. The main reason is to go out into the world and do something new and different, and use the knowledge about creating big community projects that I have gathered in the past nine years in different fields. My next line of work possibly might not even have anything to do with Dota 2.

I sincerely want to thank each and every person who has helped and supported me over the past years including my family who has had absolutely no interest and knowledge in gaming but still supported me with what I thought was right. My greatest thanks go to Freaks 4U Gaming who have believed in this project and made it come to life.

The following people I name in alphabetic order are dearly in my hearts and without them, this project would not have become what it is today.


Thanks to everyone involved in joinDOTA

Aerendir bargaw Black^ Blue_Knight bQttger breakthedeskplz bukKkk CaptainCrunch Chairraider cherrylicious Chris92 Chris.Warrior Clairvoyance CutMySoul (Ben) d3r_I3enny d4n13L DangerZ Dasherz Dezix diamond Donathan Dr34m DrunKin DSpirit Dutch_Freak Empty Forge Epi Freakz- h0ly_ hanF HolyMaster hOly_hexOr Infrisios HamSandwich heiki Hilium HumanlyPuma JackMcGurk Jan Jaywalker jarlaxle021 Jens2000 JNCone JustJeka Kaelarok KaliKot Kibyu Knochen kop_ Krjal Kunnia lilamiez liQ LooLooCakes Loqo m0rdiN Maelk Marre Mantis. MeePwn Micha mdnNSK mtrx4u Mulerio neXXus NiceTry nincompoop nooDy Ogre Oleg Orbion- P4iN PaiN-- prohjort Rage_nox RazorEdge ReiNNNN Rime Roegnvaldr Romidar RyanEditor s0n1 Sagaw Salari satsuma Scizon SedulousPanda Shine- Silent.Chill snaykey Sorick Spitty11 Sun_Tzu stylz_p syndereN taytooable Tezzeret(aka MrBlue) The Capitalist Thorpe Tigrish Trickster- TobiWan T_Vidotto towerrrr Ursadon v1lat VALVE Vesca Vixx Wagamama Woodsy Xenorath xiN_ YoungBoy Zaine
…and all the ones I may have forgotten.

I would also like to give my thanks to VALVE and everyone from the community who have supported joinDOTA over the past few years and still supports us today! You have helped made it a better place and I sincerely hope that some of you who have had the wish to work in eSports and around Dota 2 will find a job in this truly fascinating line of work, because it has fascinated me for over a decade and given me the chance to fulfill everything that I have envisioned over the past nine years.

Maybe I will see some of you in the future!

Yours truly,


Moose