Following yesterdays announcement that
Airat 'Silent' Gaziev was returning to
Team Empire, the team has now made public their fourth member, former
RoX.KiS stand-out support player
Ivan 'VANSKOR' Skorokhod, with one more to go as the team complete their roster in preparation for the upcoming season of StarLadder.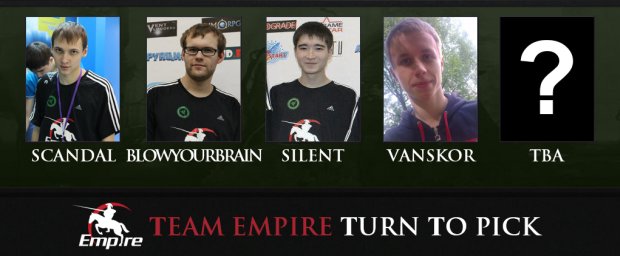 Four down, one left, who is the final mystery man?
Picture by Team Empire.



With the departure of
Dmitriy 'LighTofHeaveN' Kupriyanov, Empire is still missing what is likely to be an offlaner, as while
Roman'Scandal' Sadotenkov has tried out the position in the past he has not favoured it, and is generally expected to retain his mid position.

Silent might become the new hardlaner for the team, depending on who they decide upon for their final player, as two names have been associated with the team so far, in particular former
Devil Mice support player
Kirill 'Sunlight' Kachinsky as well as former
iCCup offlaner
Andrey 'Mag~' Chipenko.




Roman'Scandal' Sadotenkov

Vladislav 'blowyourbrain' Morozyuk

Airat 'Silent' Gaziev

Ivan 'VANSKOR' Skorokhod