Season seven of StarLadder is set to kick off this Saturday on the 31st of August and will run for 30 days with the LAN finals being played on the 10th to 13th of October. Four games will be played each day in the lead up to the grand finals so we'll get to see a steady stream of games while the team play off for $22,500 worth of prize money.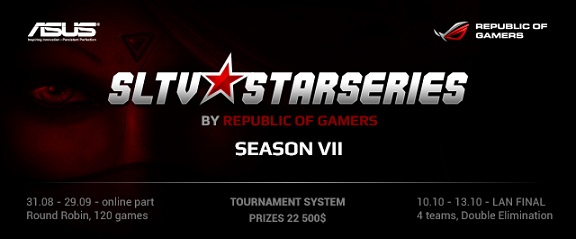 The participating teams for this season of StarLadder is listed below, which includes The International 3 champions
Alliance who have confirmed their participation in StarLadder but their matches will be postponed to start a week later on the 9th of September.

With the post TI3 roster shuffle a lot of the teams have got unconfirmed rosters and wished to have their teams listed with 'TBA' until they can have an offical announcement about their changes. Also to note some teams have not fully confirmed their participation, the biggest example of these is
Na'Vi who intend to announce their plans early next week. Also missing is
Mousesports which we have been informed by the Starladder admins declined to participate.


Team List and Roster
The Alliance (s4, EGM, Akke, Loda, AdmiralBulldog)

Na'Vi (TBA, TBA, TBA, TBA, TBA) Participation unconfirmed

Fnatic (Fly, Era, n0tail, h4nn1, Trixi)

Team Empire(Scandal, blowyourbrain, vanskor, Silent, TBA)

Virtus.pro (NS, Goblak, God, Lost, Resolution)

RoX.KIS (BzzIsPerfect, yol, TBA, TBA, TBA)

aSpera (GoAudio, STompa, Sharfik, Inkvizitor, Zizou)

Kaipi (EternaLEnVy, pieliedie, bOne7, SingSing, TBA)

ex.Quantic (7Sockshka, 7ckngMad, TBA, TBA, TBA)

Duza (Limb0, Kapron, Legion-, Unnstable, MIBTHEBEST)

NEXT.kz (mantis, equal, stalcat, ares, watafaka)

4FC (Blomberg, Chrillee, strangby, boomski, giftig)

Power Rangers (zxc, mooNl1ght, fng, j4, ChshrCt)

Team Menace (lapiz, buugi, sifla, daco, spin)

CDCD (Zonder, Sedoy, Stalianer, Nexus, Sqreen)

ex.VP / Poseidon (kSi, Crazy, illidanSTR, jotm, eLight))