What has been expected for some time now due to the candid revelations of Captain
Daryl 'iceiceice' Koh has now supposedly been confirmed, as
Zenith see no less than three of their players depart, leaving only iceiceice and
Nicholas 'xFreedom' Lim still with the team for now.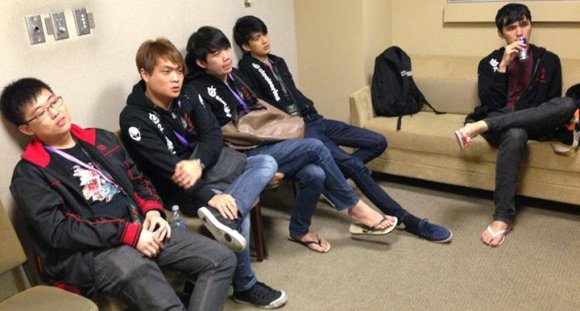 Team Zenith awaiting a match at TI3.
Photo by Team Zenith.



While
Toh Wai 'xy-' Hong is reporedly intent on pursuing studies in the United Kingdom,
Wei Pong 'YamateH' Ng and
Chee Chai 'Ice' Chua had been said by iceiceice earlier to be leaving the team with the intent of retiring from the game. However according to GosuGamers the players would only be looking to take a short break from competitive gaming and will look for a new team after that. Where this might take them is as of yet unknown.

The future of Zenith is likely in question with these departures, as military service and the expensive living conditions of Singapore have dried out what once was a highly energetic part of the South-East Asian Dota community. iceiceice has spoken about wanting to join a Chinese team and leaving Singapore, although he does not seem all that hopeful about finding a Chinese team which would fit him.

There has been much speculation about the future of
Wong Hock 'Chuan' Chuan, currently a member of
Invictus Gaming. Some These speculations have tied Chuan to Zenith, most likely due to his friendship with the Malaysian players on the team and the fact that Chuan used to stand in for the team prior to their addition of
Jonathan 'Loda' Berg in 2012. It was in response to these rumours and questions about them that iceiceice clarified on his stream today that not only was Chuan not joining Zenith but YamateH would also no longer be on Zenith, which lead to these recent revelations.

In response to a viewer question fielded to him during streaming the other day,
Daryl 'iceiceice' Koh said the following regarding Chuan and YamateH:



Stop asking me if Chuan is going to be joining Zenith. Chuan is not joining Zenith. Why would people assume Chuan is joining Zenith? Chuan is close to YamateH and Ice. Chuan is not close to the others, which is me, xFreedom or xy-, and YamateH isn't going to be in Zenith anymore.

iceiceice has still been unwilling to officially comment on the future of his team.




Daryl 'iceiceice' Koh (captain)

Nicholas 'xFreedom' Lim