As we're in full swing with The International 2013 groupstages it's about time we give a place where you can find all of the team presentations we did in the lead-up to the event, as well as update you one the results of all of the voting that was done in connection to the team presentations, and how things are panning out for your predictions. So without further ado, we present to you joinDOTA's take on the teams of the International!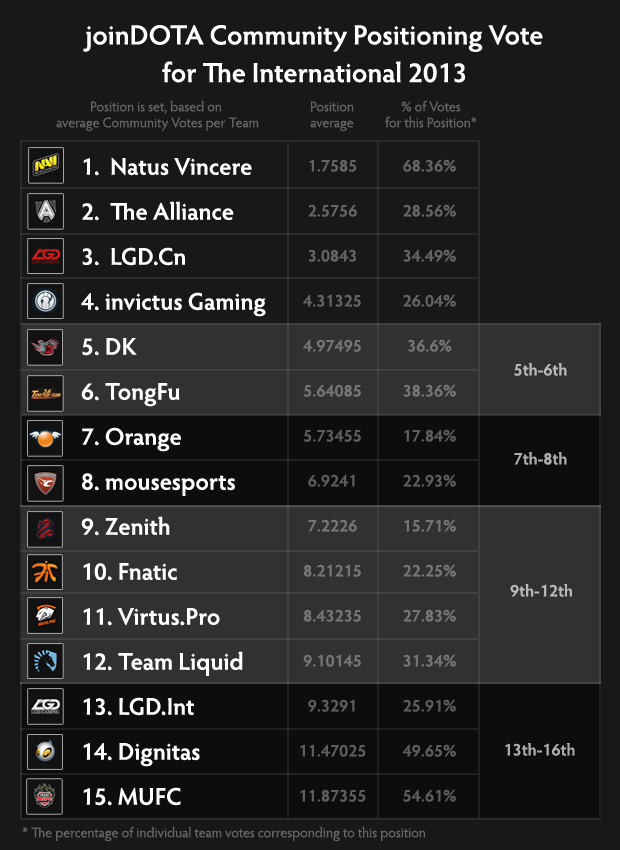 While things are still looking on track for
Alliance and
Na`Vi predictions, even though Na`Vi already suffered a bit of an setback in their first game of the tournament, more surprisingly what looked like a safe bet on
LGD.Cn has been thrown into turmoil after a rough day 1, along with the expectation that
Invictus Gaming would power through on the basis of their experience and the caliber of their players has so far come up short, with both of the Chinese powerhouses going 3-3 so far.

The 3rd and 4th highest ranked of the Chinese teams,
DK and
TongFu had the best runs of the Eastern teams on day 1, indicating that the community might have been slightly underestimating them. This may be because of DK's tendency to come short as of late, or because of TongFu being still a slightly less well known compared to their counterparts for some of the Western fans. Regardless, these two teams are going to have an impact this year, and are well worth getting to know.

The 7th and 8th placed teams on our rankings are even more surprising, as in particular
mousesports had a rough first day. Last year it took eight wins during the groupstages to get into the upper bracket, which means mouz will be looking to drop at most one more game during the groups in order to come through for their fans. Meanwhile
Orange Neolution are looking slightly lower than you expected, going 3-3 with a lot of rough games yet ahead of them.

Of the bottom eight based on your voting, it should be noted that North American Dota 2 is bucking all predictions, with in Parituclar second-to-last predicted
Team Dignitas showing up in big style, ending their day in the top 4 of their group. They are joined in their 4-2 record by
Team Liquid, who were predicted to be 12th but are instead sharing 2nd spot with TongFu in Group 2.

The other big upset naturally was
Fnatic.EU, who had some of the most all over the place voting results, ending them in the middle of the pack in 10th place, with the roughly 17% predicting them for a top 4 finish looking to have some serious precognitive powers.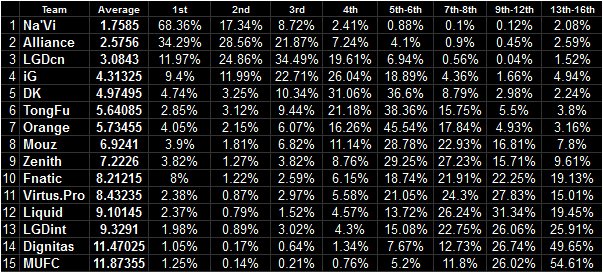 From the above table you can check out the overall distribution of votes for each team. It should be noted that in most cases, their peak in terms of predictions does correspond roughly with where they ended up. Still, certain teams are showing some odd patterns, with Fnatic in particular standing out as the only team outside of the top 4 to receive a considerable amount of votes for them to take 1st Place. Dedicated fans? We had no idea.



The International 2013 Team Presentations