The Grand Finals of the 4th Season of The Defense are about to begin in just a few hours, at 20:00 CEST between Season 1 Champions
Na`Vi and challengers from the lower bracket
Kaipi, who overcame
Evil Geniuses in order to earn their place in the finals, competing for the first place prize of $12,000!




[B]Path to the Grand Final

[/B]

Na`Vi
WON
- 2:1
Kaipi
(WB Finals)
WON
- 2:0
iCCup
(WB Semi-Finals)
WON
- 1:0
mousesports
(Tiebreaker)
WON
- 2:0
RoX.KiS
(Group A)
WON
- 2:0
Team Empire
(Group A)
WON
- 2:0
Keita Gaming
(Group A)
TIED
- 1:1
mousesports
(Group A)
Kaipi
WON
- 2:1
Evil Geniuses
(LB Finals)
LOST
- 1:2
Na`Vi
(WB Finals)
WON
- 2:0
The Alliance
(WB Semi-Finals)
WON
- 1:0
Team Liquid
(Tiebreaker)
WON
- 1:0
Team Dignitas
(Tiebreaker)
WON
- 2:0
Denial e-Sports
(Group D)
LOST
- 0:2
Team Liquid
(Group D)
TIED
- 1:1
Team Dignitas
(Group D)
WON
- 2:0
eL'Pride

(Group D)



Both Na`Vi and Kaipi managed to take top seeds in their respective groups after coming out on top of a two-way and a three-way tiebreaker. This gave them straight seeding into the Winner's Bracket Semi-Finals, avoiding the grueling slugfest that was the Lower Bracket, which seems to be a trend for The Defense, as we had an incredibly stacked Lower Bracket last Season as well.

As both of the teams were able to take their first round matches, up against
iCCup and
The Alliance respectively, keeping them out of harms way while teams like
Virtus.Pro,
Team Dignitas,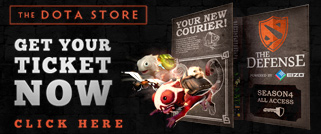 mousesports, The Alliance and
Team Liquid were eliminated one by one, with Liquid going out in fourth place with $2,000 for their efforts during this season.

As Kaipi lost their game against Na`Vi 1-2, they had to face off against
Evil Geniuses in the Lower Bracket Finals, where they came out on top 2-1, as Evil Geniuses left the competition in 3rd place with $4,000 as their prize. Notably, the final stretch of Kaipi's journey has been without
Alex 'ComeWithme' Craciunescu, who has today confirmed his removal from the team. This means that
WehSing 'SingSing' Yuen will likely continue to play with Kaipi in the Grand Finals, as he has for most of the playoffs.


It's Toby's Birthday today!


And as any dedicated caster out there, all he wished for his birthday was to cast a full best-of-five Grand Final with some good teams, so this is precisely what he's getting!
Toby 'TobiWan' Dawson will be joined by
'Clairvoyance' and possibly a surprise guest (I wonder who that might be?) if the series goes long, as he is scrimming feverishly with his team for The International 2013 and won't be able to make it for the earlier matches of the day. The stream will be available on the jD Red Twitch Channel.

Remember, playing the TobiWan Drinking Game is optional but mandatory! So tune in for (missed) first bloods, excitement, great plays, Australian cointosses and much, much more!


Prizepool


$12,000$7,000$4,000$2,000


Grid




For all who want to win a brand new EIZO Monitor, the FORIS FS2333, just click onto the banner below and check out the currently running "The Defense raffle" under "Win Here"