Word has just come out that
Quantic Gaming will not attend the LAN Finals of RaidCall EMS One Summer Season in Poland's Katowice this weekend as their offlane player
Titouan 'Sockshka' Merloz is still recovering from his July 1st injury to his left hand, in addition to carry player
Airat 'Silent' Gaziev having to attend to his visa process for The International.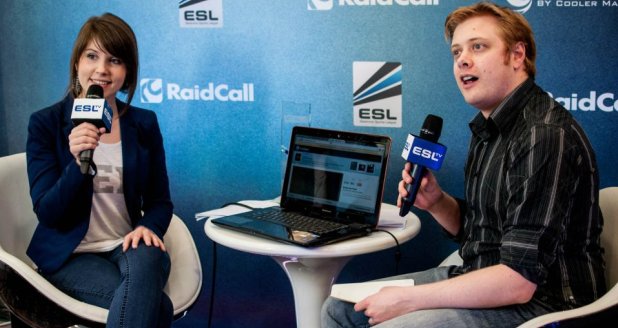 Soe and Toby will both be returning to Katowice this weekend for RaidCall EMS One Summer.
Picture by ESL.



This season of EMS One has been slightly cursed with several factors out of their control and the realities of teams preparing for The International coming in the way of their participation at the event. Coming at such an late hour, ESL are still looking to confirm the replacement for Quantic, in order to ensure that there will still be a full eight team competition.

The following statement was given by Quantic support played
Sébastien '7ckngMad' Debs, explaining why his team decided not to attend:



We are sorry to announce that Quantic Gaming will not be attending EMS Summer 2013. Unfortunately, Sockshka is still unable to compete, and Silent's visa process for the United Stats makes it impossible for him to come to Poland. Attending with two stand-ins is not an option, as we already hesitated a lot for StarLadder.

Update:

The replacement for Quantic gaming has just been confirmed as the former
Keita-Gaming team, who will now go under the name of dargoneblaydes.


dargoneblaydes Roster:
Jan 'Maglev Gank Train' Liu (Captain)

Sanju 'sanju5' Islam

Staffan 'SteffStyle' Solin

Felix 'Floxplox' Strömqvist

Julius 'cYso' Åberg


Casters and Hosts Announced


The casters for the event have been announced as
Toby 'TobiWan' Dawson will be joined by his The International 2013 casting pair and captain of
QPAD Red Pandas;
Niklas 'Wagamama' Högström. Hosting the event will be
Salome 'Soe' Gschwind-Penski, who handled these duties last time around as well.

Also a reminder that there are still tickets available for the venue, which was been expanded from the last time. Tickets can be bought here, at the cost of 7€ per day.


Schedule & Grid


Saturday, July 13th
Showstart: 13:00 CEST
1st Match:
mousesports vs.
Imaginary Gaming
2nd Match:
iNfernity vs. To Be Decided
3rd Match:
Evil Geniuses vs.
Flip.Sid3 Tactics
4th Match:
Rat in the Dark vs.
Fnatic.EU

Sunday, July 14th
Showstart: 13:00 CEST
1st Match: Semi Final #1
2nd Match: Semi Final #2
18:00 CEST: BO5 Grand Final


Grid