Today's games put underdogs
iCCup against
Quantic Gaming in the Loser's Bracket final while in the Winner's Bracket
Alliance faced
Virtus.Pro. The action resumes tomorrow evening at 20:00 CEST with the Consolation Final to determine the other contender for the StarLadder title.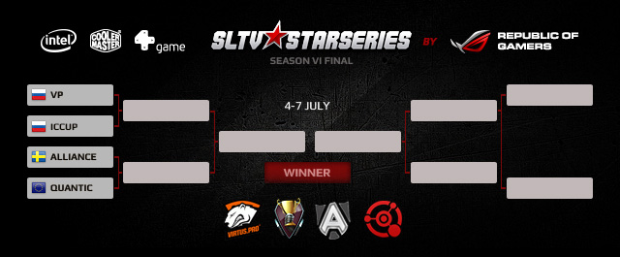 $12000$6000$3000$1000
Quantic Gaming vs ICCup 0-2


ICCup secured opponent-favorite Treant Protector, aggressive long lane Weaver and maximized their teamfight potential with a jungling Enigma. On Quantic's side, the dreaded Chaos Knight and Io combo was picked and topped up with a Bounty Hunter for extra mobility and the ability to find pick-offs fast all around the map. However, the execution of this aggressive strategy was questionable, as the passive early game did not favor Quantic in finding kills and steamrolling out of control, but allowed ICCup's Weaver and Dragon Knight to farm. Few succesful teamfights, spot-on shackles and a four-man Black Hole later, ICCup managed to capitalize on their gold and experience advantage and push into the enemy base, forcing a 30 minute "GG" call.

For the second game, ICCup went for three cores: Batrider, Weaver and Naga Siren, while Quantic picked the Alchemist hard carry to dominate the late game and Nature's Prophet for extra pushing power. The start of the game was exciting, with an aggressive trilane and a Nature's Prophet active accross the map, blows were traded back and forth. However, the initiation from Batrider followed by the great team-fight control of Disruptor and Naga Siren managed to propel ICCup ahead yet again. Despite being two sets of barracks down, Quantic didn't give up and relied on the split-push coming from Nature's Prophet and Alchemist's growing farm. Still, perfectly executed teamfights were the key for ICCup as they managed to claim the remaining set of racks and the victory 2-0 in the best-of-three.

Quantic Gaming leaves the competition unexpectedly early, while the Ukraineans, seen as underdogs by many, will get to fight the loser of the winner bracket final for another chance at the top two spots.


Alliance vs Virtus.Pro 2-0


In the first game, Alliance managed to land two of their signature heroes: Lone Druid and Puck, while Virtus.Pro went for favorite support Venomancer and the farming Alchemist. In the early stages, Alliance's aggressive trilane and along with it Gyrocopter's farm, were crushed by Virtus.Pro, with 5 kills in their favor at 5 minutes. Despite this great start, the Russians didn't manage to gain enough momentum and ended up playing a more passive game, which allowed their opponents to farm and make pick-offs. As a team renowned for their ability to come from behind, Alliance made their way back in the game by teamwiping Virtus.Pro on two occasions. A farmed Alchemist could not deter the pusing power of a Lone Druid and the teamfight control of the Puck and the Gyrocopter as Virtus.Pro lost their barracks and with them a game which they had under control for the most part.

The second game kicked off with Virtus.Pro picking a teamfight oriented line-up, with Phantom Assasin as their main carry, while Alliance went for heavy split push with Anti-Mage as well as Nature's Prophet. The game was a matter of how these strategies turned out and Alliance were very careful in their execution and in countering the opponent's strong points. By playing a defensive game, allowing their cores to farm, they managed to make some good trades across the map both in terms of towers and kills. Virtus.Pro showed their strengths in the teamfights but ended up losing their barracks to a split-pushing Nature's Prophet. Despite being far behind in kills, the defending champions managed to keep their cool and focus on their push and after a pick-off on the farmed Phantom Assasin at Roshan, they managed to take another set of barracks which ended the second game of the series.

Alliance move on to the Grand Final while Virtus.Pro will go to the Lower bracket to face ICCup in the Consolation Final.


Schedule and Grid


July 6
20:00 CEST -
iCCup vs
Virtus.Pro - Best of 3

July 7
19:00 CEST - Grand Final
Alliance vs To be determined - Best of 5