The teams for StarLadder Season 6 LAN Finals in Kiev, Ukraine have been decided, after
Na`Vi were unable to attend due to their trip to China as well as now
mousesports dropping out due to time constraints. The LAN Finals will kick off on July 4th at 15:30 CEST with
Virtus.Pro going up against
iCCup in front of their home crowd.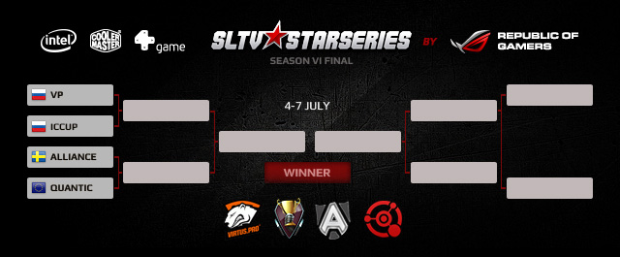 $12000$6000$3000$1000



As Na`Vi and mouz could not attend due to their schedules and
Kaipi were not able to make it either, the groupstage winners Virtus.Pro and last seasons LAN Finals winners
The Alliance were joined by The Alliances DreamHack Summer finalist counterparts
Quantic Gaming who had come in fifth during the groupstage.

The final spot was decided through a tiebreaker game, as
RoX.KiS,
4Friends+Chrilee and iCCup were tied on eight wins each during the groustages. However, as RoX had been penalized for their former player
Aleksey 'Solo' Berezin's actions, it was only iCCup and 4FC who played for qualification, with iCCup coming out on top 2-0.


LAN Final Teams


The Alliance
Jonathan 'Loda' Berg
Gustav 's4' Magnusson
Henrik 'AdmiralBulldog' Ahnberg
Joakim 'Akke' Akterhall
Jerry 'EGM' LundkvistQuantic Gaming
Artur 'Goblak' Kostenko
Sebastien 'Ceb' Debs
Titouan 'Sockshka' Merloz
Thibault 'Funzii' Calonne
Airat 'Silent' GazievVirtus.Pro
Yaroslav 'NS' Kuznetsov
Sergey 'kSi' Kuzin
Oleg 'tmw' Kolesnichenko
Ilya 'Illidan Stormrage' Pivtsaev
Sergey Antonovich 'Ars-Art' ReviniCCup
Maxim 'Jackal' Doroschenok
Oleg 'wejustzik' Zinovenko
Roman 'Resolut1on' Fominok
Andrey 'alwayswannafly' Bondarenko
Andrey 'Mag' Chipenko


Casters


Casting live from the event will be handled as is customary by
Toby 'TobiWan' Dawson of joinDOTA for the English fans and StarLadder's
Vitalii 'v1lat' Volochai,
Roman 'CaspeRRR' Lepekhin and
Vladislav 'mtrx4u' Suzdal for the Russian speaking viewers.


Schedule and Grid


July 4
15:30 CEST -
Virtus.Pro vs.
iCCup - Best of 3
21:00 CEST -
The Alliance vs.
Quantic Gaming - Best of 3

July 5
15:00 CEST- Lower Bracket Final - Best of 3
20:00 CEST - Winner Bracket Final - Best of 3

July 6
20:00 CEST - Consolation Final - Best of 3

July 7
19:00 CEST - Grand Final - Best of 5