Get your popcorn and soda ready, because Netflix offers the DotA documentary Free to Play from 19 April on! The special movie accompanies three legendary players on their journey to the first ever The International. The DotA documentary Free to Play will be added to streaming giant Netflix soon, as shared by Wykrhm Reddy this Thursday. According to Netflix, it will be available to watch from next Monday, 19 April.




Star players in the making


Free to Play is a documentary movie by Valve which premiered in 2014. The three protagonists of the movie are the three legendary Defense of the Ancient players Danil 'Dendi' Ishutin, Clinton 'Fear' Loomis and Benedict 'hyhy' L. H. Yong.

The story revolves around the first ever The International which took place in Cologne, Germany, in 2011. With this event, Valve unveiled their sequel Dota 2 to the world. The video game company accompanied the three players mentioned above on their journey during The International 2011, highlighting their different backgrounds and how their commitment to DotA had affected their lives. Three young stars in the making, all willing to give up everything to win this first ever world championship.

Hyhy is a young player from Singapore. His family disapproves of his passion for Dota. He eventually puts everything at risk and skipps his final exams of school just to play in The International. By winning the prestigious event, he wants to prove to his family that being a pro player can be a respectable career.

Fear is one of the older contestants in the tournament. The American legend lived with his single mother and faced constant financial issues. Playing in a European team, he has to deal with an irregular schedule which causes problems at home.

Dendi spent countless hours in the game as a distraction and means to cope with the tragic death of his father. While he used to go fishing with his dad in their free time, the Ukrainian never returns to this passion and channels all his energy into video games instead.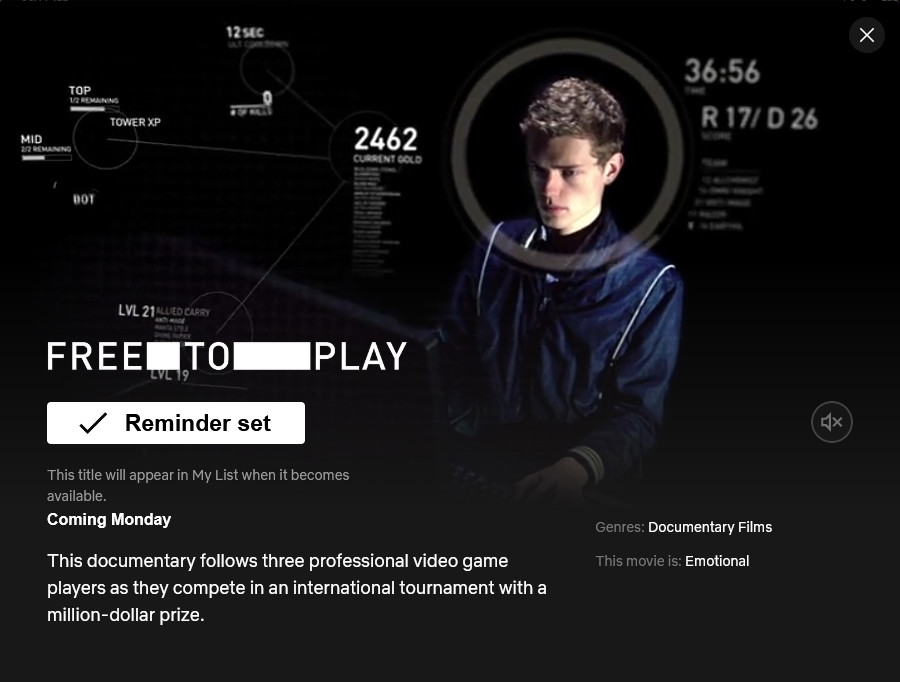 Photo credit: Netflix
Valve steps up their marketing


Free to Play has been available on YouTube since 2014. Adding their documentary to Netflix is still a valuable decision that already received positive feedback from the community. Valve has been heavily criticised over the years for not marketing or advertising Dota 2. With their Netflix original DOTA: Dragon's Blood, a brand-new anime surrounding several heroes of the Dota universe, Valve took a giant step towards reaching a new audience this March. Having Free to Play on Netflix as well might attract more potential players, or at least get more people interested in the competitive scene of the game.


If Valve ever makes a second part of Free to Play: which three players would you like them to highlight?
Photo credit: Valve