After extensive investigation into the matter and allowing for all parties involved to have their case heard,
RoX.KiS have released their final verdict regarding the actions of
Aleksey 'Solo' Berezin, removing him from the team effective immediately.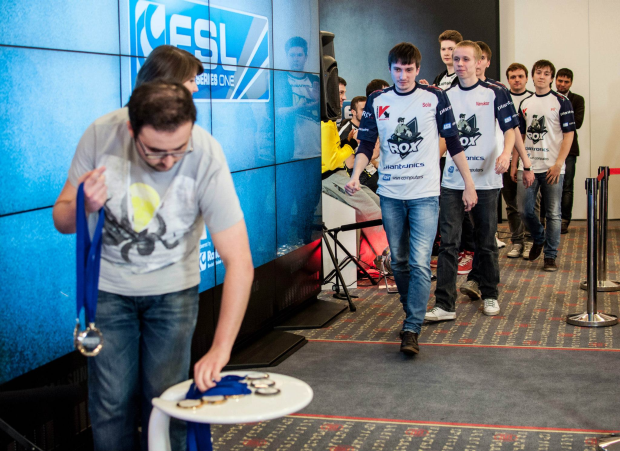 Solo at the head of his team, accepting second place at RaidCall EMS One last season.
Picture by ESL.



Solo first got into hot water when he was accused of placing a bet against his own team for the StarLadder game between RoX.KiS and
zRage, which held no relevance for RoX.KiS and which they proceeded to lose in questionale fashion. Solo's winnings of $322 spawned the "322" meme which has been making the rounds during the last week within the community.

Solo has now admitted that he placed the bet in question through his girlfriends account after which he offered to play the game for fun, in order to experiment. After admitting this to the RoX.KiS organization the team has decided to remove him from their roster due to unsportsmanlike conduct.

StarLadder, who have been conducting their own investigation into the matter, will release a statement regarding their own actions and sanctions as pertaining to RoX.KiS and Solo tomorrow, at which point this news will be updated with their decision regarding the matter.

At this time joinDOTA will take no action regarding the team or the players involved. We have however in the spirit of good will extended the invite to RoX.KiS to participate in the upcoming Bigpoint Battle, which they have accepted. This was done after receiving confirmation of Solo's departure from the team.

The team will also welcomed back
Artem 'Sharfik' Marzavin as an official stand-in, who had a short stint with the team three months ago. This promising Russian solo mid player leaves his ill-fated team zRage, and will be taking over the Captains role for RoX.KiS for the time being.

Update:

zRage disbands after further consideration by the players involved.

RoX.KiS will look to confirm their official replacement for Solo in the near future.


Statements


Outgoing player
Aleksey 'Solo' Berezin has made the following statement (translated from Russian):



Guys, I'm sorry, I'm very sorry ... I kept a secret from the team ... and could not admit it at once. I apologize to the community and in particular to those who have supported us, for my actions. I also apologize to StarLadder and all of my teammates and RoX.KiS. I let you down, I'm sorry, I will be cheering for you and I hope you find a good player and will continue to delight everyone with you play and the streams.

Statement by
Dennis 'PODOX' Pestretzoff about Solo being removed:





On a personal note I want to apologize to the organizers SLTV Starseries, to all lovers of Dota and especially to our fans for such an incident. Many of you, no matter what, have supported our team in the comments on various sites - we saw it, we appreciate it, thank you for your support!

Unfortunately, all accusations regarding Solo were confirmed, and he confessed to the crime. Alexey used the tournament situation (that the match did not mean anything in terms of points), kept it from the other team members that he had bet money on their opponent, and then did his everything in order to make sure that the team lost the game (choice of heroes, in-game leadership). Despite the motives (whatever they are) and the fact that Solo had a great reputation and a great level of play, such an act by Alex has dashed all past achievements, and he has no place any longer among the players of ROX.KIS.


RoX.KiS roster
Stanislav 'BzzIsPerfect' Glushan

Andrey 'Dread' Golubev

Ivan 'VANSKOR' Skorokhod

Vladimir 'yol' Basov

Artem 'Sharfik' Marzavin (Official Stand-In and acting Captain)