The analytical service Esports Charts has posted statistics about the competitive Dota 2 year in 2020. While Nigma defended their title as most popular team, the scene unfortunately declined overall. Esports Charts has revealed some statistics from all professional Dota 2 tournaments in 2020, ranking the watch and air time of the most popular organisations.

Nigma once again claim the title as most watched team, as they were already number one in 2019 when playing for Team Liquid. With 350 hours of air time, Nigma attracted viewers from all over the world to reach a watch time of 38.9 million hours.

Team Secret made it to second place with 61 hours less air time (289 hours in total) and a cumulative watch time of 33.5 million hours.

Interestingly, nine out of the ten most watched teams are from Europe or CIS. Evil Geniuses in ninth place represent North America, while South America, Southeast Asia and China do not have a team on this list.




Smaller viewer and player count


A major reason behind the EU & CIS focus is of course the lack of tournaments in 2020 due to the pandemic. While tournament organisers offered some great alternative events for the lacking DPC, these tournaments were unable to attract as many viewers. Esports Charts also posted a comparison between LAN events pre-corona and online events during the pandemic.

While many assumed the pandemic could help the scene as people have more time to watch and play Dota, the numbers don't support that theory. Compared to pre-COVID-19 events, viewer numbers declined by several tens of thousands of spectators.

The active player count on the other hand did increase during the peak of the pandemic in February, March and April. However, according to Steam Charts it did not have a long-term effect as the numbers are now down again.




Not an overall issue in esports


This phenomenon does not apply to esports in general. Esports Charts also posted a comparison between hours watched in Dota 2, League of Legends and CS:GO. The statistics are split into four quarters throughout 2020.

While Dota 2 maintained roughly the same watch time, CS:GO and LoL managed to increase their viewer numbers throughout the year. Riot Games was able to host their League of Legends World Championship 2020, which is the equivalent to Dota's The International. The championship took place from September to October, leading to the spike of 200 million hours watched in Q3 overall. The World Championship alone attracted over 3.8 million peak viewers, making it the second most watched LoL event of all time.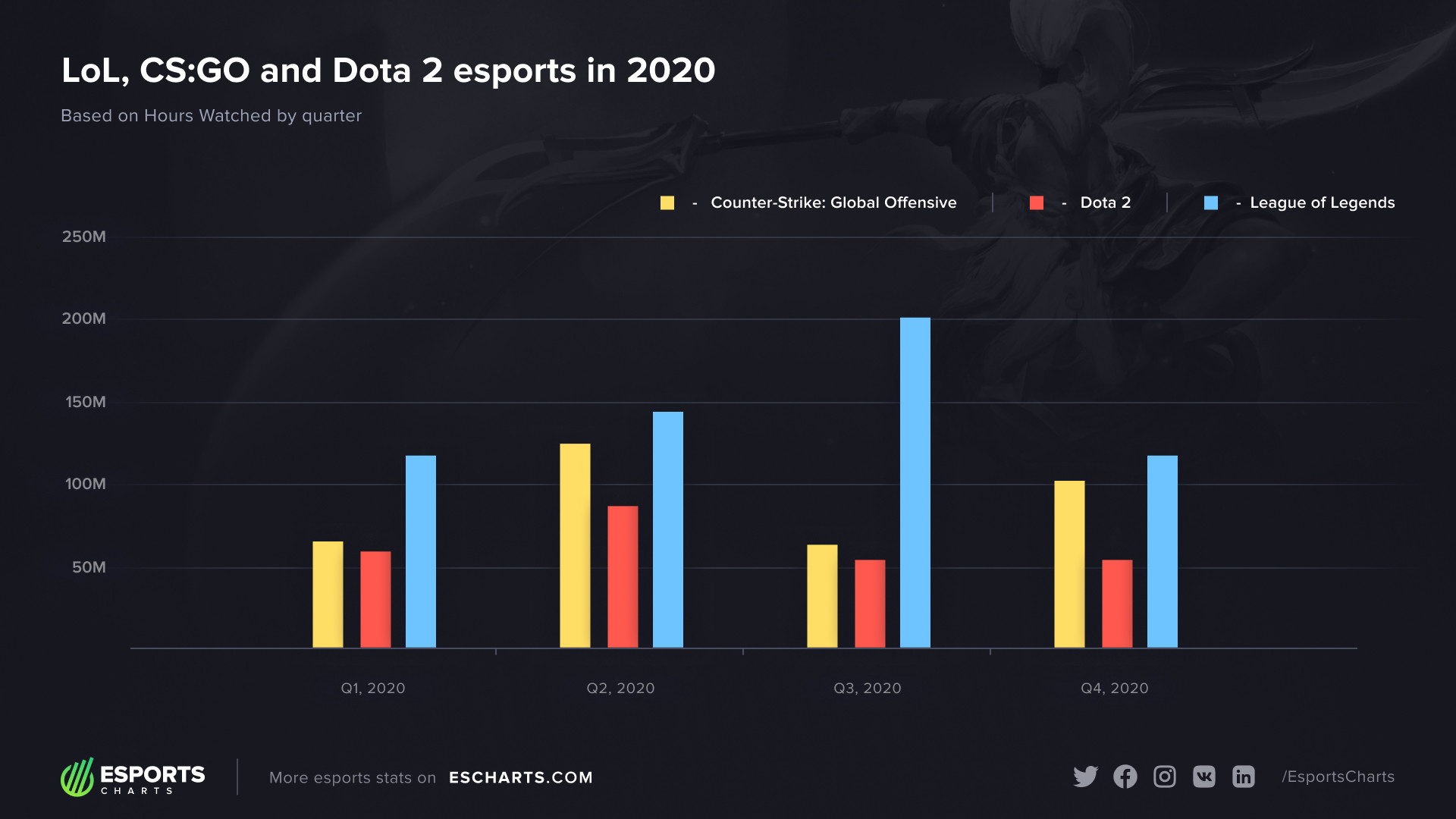 Photo credit: Esports Charts
Photo credit: WePlay! Esports