Valve reworked their in-game client for the start of the DPC and changes the Watch category. Additionally, team packages were teased so fans can support their favourite line-ups. With the start of the DPC 2021, Valve revamped their game to make it easier for players to watch the games and follow each regional league. The developer announced the client changes on social media on Tuesday, accompanied with a blog post.

The article also contains a list of all official channels that are streaming the leagues. Each division is covered by an English, Chinese, Russian, Portuguese and Spanish broadcast. On top of that, the DPC app for Android and iOS was updated.



Apart from the official streams on Twitch or Facebook, players can also watch the matches in Dota 2 directly. The Watch tab was remodelled for the DPC. There are now three sub-categories specifically for the DPC: Home, Schedule and Standings.

As the names suggest, the sections show an overview of all matches and their dates and regional standings. The Home screen features an overview of past and upcoming matches and lets you either tune in live or download the replays. You can also add teams to your favourites to highlight their information in the UI.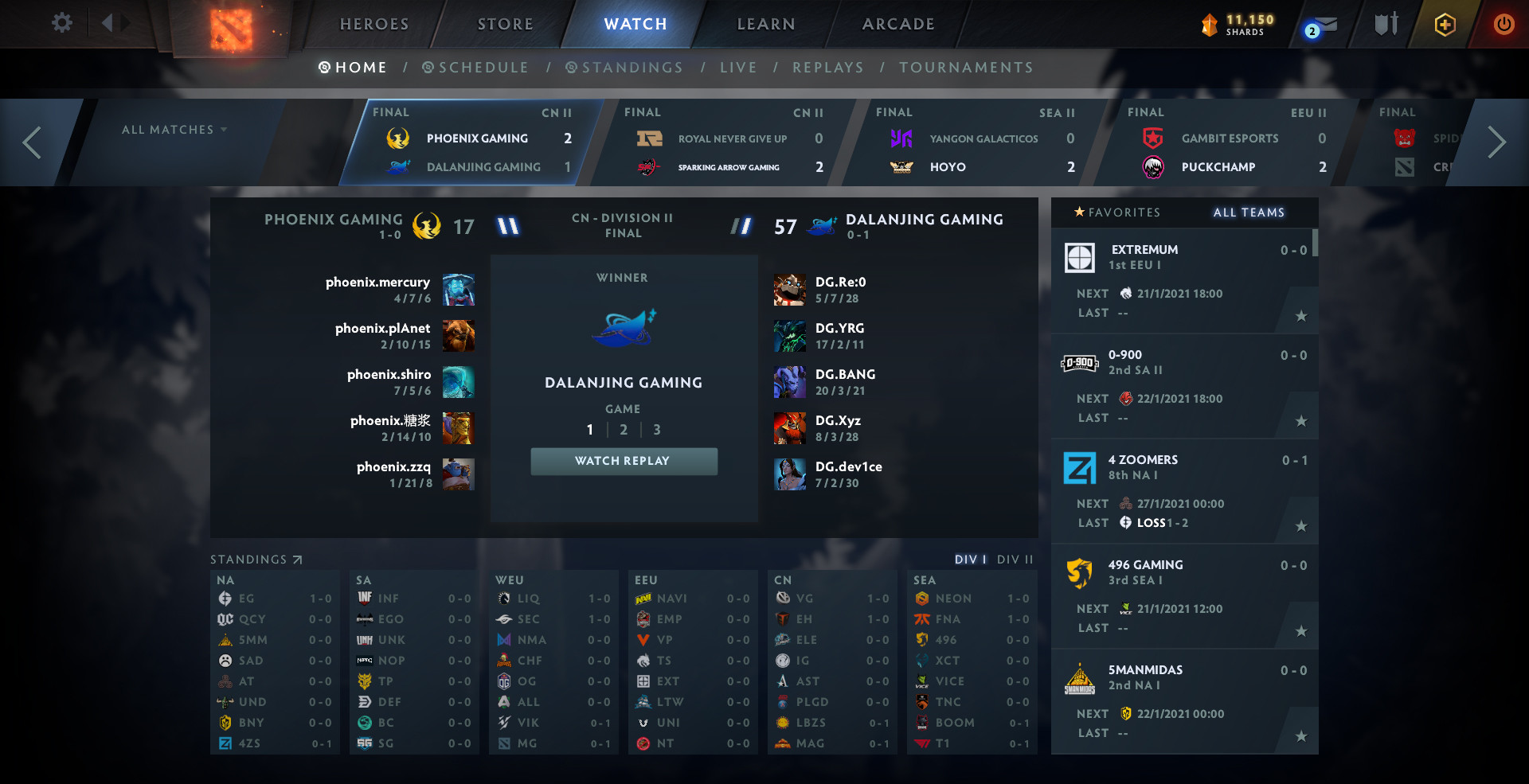 Support your favourite teams


Speaking of favourites, Valve also teased content packages for each team. These packages include in-game effects, sprays, emotes, loading screens and chat-wheel lines. Each organisation submitted content themselves for these sets.

The proceeds from the content packages go to the teams so players can support themselves financially. However, there is no information on whether Valve receives part of the revenue as well and if so, how much per purchase.


As the DPC season kicks off, in the coming weeks, you'll be able to back your favorite teams by purchasing content packages featuring --

- In-Game Effects
- Sprays
- Emotes
- Loading Screens
- Chat Wheel Lines

This content has been created by the teams themselves.#Dota2

— Wykrhm Reddy (@wykrhm) January 19, 2021
The Overwatch patrol comes soon


Another feature that should soon hit the game is the Overwatch system that was already announced in December. Team Secret manager Matthew "Cyborgmatt" Bailey shared some screenshots via Twitter. Players can submit cases where they report other players for either cheating, abusing, griefing or other sorts of bad behaviour.

These cases can be assigned to other users to review the allegations. After watching a replay, the user then has to select if they consider the culprit guilty or not.

Since Dota 2 has a long story of smurfs, communication abusers or griefers, the Overwatch system could regulate the community in a more effective way. It is not yet known when the feature will be implemented exactly, or what the consequences will be if a player is found guilty.



Photo credit: Valve